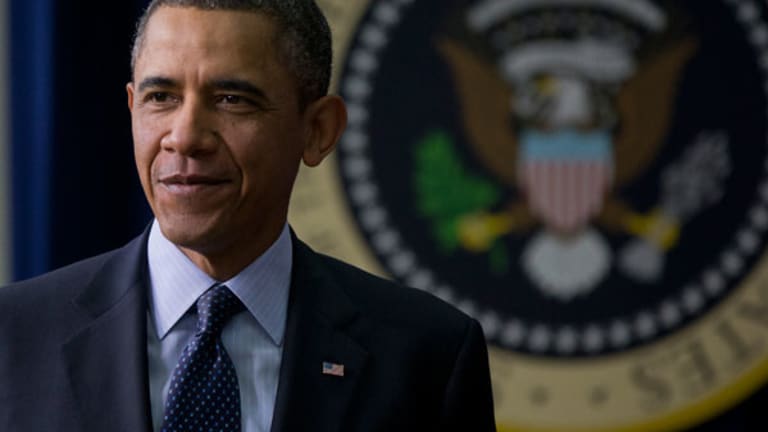 A State of the Union Preview
Here's what my crystal ball is telling me.
NEW YORK (TheStreet) -- Today I'm departing from my typical value-investing column because tonight many will flip on their TV only to find that their favorite 8:00 p.m. show has been preempted. It's time for the annual spectacle in Washington, the president's state of the union address. I've seen many of them over the years, and have a pretty good idea about what will go down this year. Here's what my crystal ball is predicting for tonight.
Smiley Joe Biden will be flanked by sour-faced John Boehner. The grin will never leave Biden's face, as if he is telegraphing that still can't believe he's the VP. Boehner, on the other hand, Boehner will never smile, not once. Viewers will be made to wait while the president makes his entrance, stopping to shake hands, hug or exchange pleasantries. Once the president gets going with his speech, a whole bunch of time will be wasted while the entire Congress occasionally erupts into a standing ovation. More often than not tonight, though, just half of the Congress will rise in applause after certain remarks by the president. Same thing every year.
Then there's the content of the speech -- what the president will and won't say. Here are some of the issues he'll address, taken directly from my crystal ball.
On the Affordable Care Act
Will say: The rollout was rough, but the website is working now and the plan will ultimately work. We just have to be patient. Then he'll cite the case of Joe Smith, from Youngstown, Ohio, who was finally able to get affordable coverage after years of dealing with a preexisting condition. Then he'll add a second example, about Mary Jones from Seattle, another ACA success story. One or both will be in the audience, seated near the first lady.
Won't say: Sorry that this entire initiative is a disaster that negatively affected many times the number of people that it has helped. Sorry for telling America that if they liked their doctor they could keep their doctor, period; if the liked their current insurance, they could keep it, period.
On the Economy
Will say: The recovery is gaining steam, and unemployment has fallen to 6.7%, the lowest level in more than five years. Millions of jobs have been created, and better days are just ahead. He will then tout the creation of a new public-private manufacturing hub in North Carolina, then announce the locations of additional hubs. He will also make a case for raising the minimum wage (more on that below).
Won't say: This is one of the weakest economic recoveries on record, and it is fragile at best. The unemployment numbers don't tell the true story, as the labor participation rate is at a 35-year low, and many are simply giving up the pursuit of employment. Businesses are still uneasy about the effects of the ACA and other regulations, and it is affecting their hiring practices. Raising the minimum wage is popular politically, but will increase unemployment rate for entry level workers.

On The Middle East
Will say: A deal with Iran that lifts sanctions will help the peace process in that region, and keep Iran from getting nukes.
Won't say: Iran got the best of us, and many in both parties are concerned that this move was terribly naive on our part.
On Energy
Will say: We are on our way to being the biggest oil producer in the world; that has happened on his watch. But we still need to pursue an all-of-the-above strategy, including solar, wind, etc.
Won't say: The energy boom in this country happened despite his administration's policies, not because of them. He won't mention the Keystone XL pipeline, or the fact that the decision whether to move forward (allegedly still under review) has already been made, and it's a thumbs down.
On the Do-Nothing Congress
Will say: If Congress won't get things done, he will, via executive order. He will reiterate the notion that he has "a pen and a phone". He will mention an executive order he announced today, increasing minimum wage for workers under federal contracts to $10.10 an hour.
Won't say: There's not a great deal that he can accomplish, at least for very long, using executive order. Much of this is for show anyway. He needs to be seen as tough, decisive leader who can get things done, and this may help bolster that image as lame-duck status sets in.
There you have it.
The long shot of the night would be for Boehner to crack a smile. The odds are against it.
At the time of publication, the author held no positions in any of the stocks mentioned.
This article represents the opinion of a contributor and not necessarily that of TheStreet or its editorial staff.
Jonathan Heller, CFA,CFP® is president of KEJ Financial Advisors, his fee-only financial planning company. Jon spent 17 years at Bloomberg Financial Markets in various roles, from 1989 until 2005. He ran Bloomberg's Equity Fundamental Research Department from 1994 until 1998, when he assumed responsibility for Bloomberg's Equity Data Research Department. In 2001, he joined Bloomberg's Publishing group as senior markets editor and writer for Bloomberg Personal Finance Magazine, and an associate editor and contributor for Bloomberg Markets Magazine. In 2005, he joined SEI Investments as director of investment communications within SEI's Investment Management Unit.
  Jon is also the founder of the
, a site dedicated to deep-value investing. He has an undergraduate degree from Grove City College and an MBA from Rider University, where he has also served on the adjunct faculty; he is also a CFA charter holder.