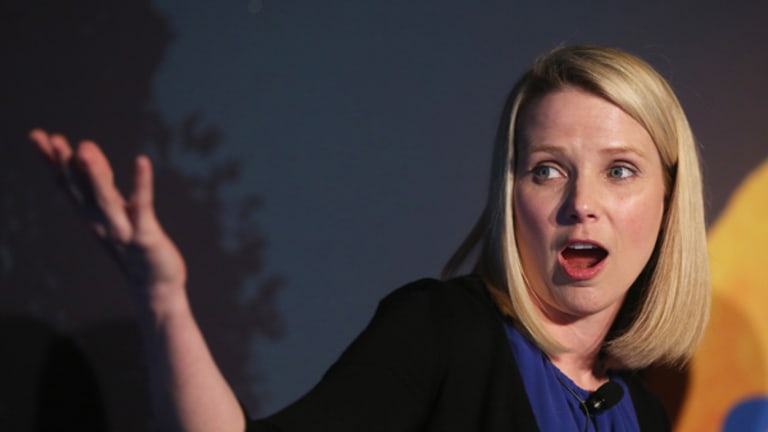 A Security Warning From Yahoo! Mail Alongside Continued Upside in the Stock? (UPDATE 1)
Look out for this Yahoo! Mail security warning as the company's properties begin to take a positive turn.
Updated from 12:54 P.M. EDT to include statement from a Yahoo! Spokesperson
NEW YORK (
) -- As frequent readers of
my articles
know, I use
Yahoo!
(YHOO)
Web properties more than any other, except of course, for
TheStreet
.
Yahoo! Finance and Yahoo! Sports, particularly the NHL section, set the gold standard in those spaces. There's not a better aggregator of content that matters to me than Yahoo!'s homepage. And the recent Yahoo! Mail redesign continues to grow on me.
Because I use Yahoo! Mail so frequently -- several times per hour, 12-to-16 hours per day, usually seven days a week -- this warning message I received Thursday morning gave me pause:
I wonder if others have been receiving a similar message.
*Update
. A Yahoo! spokesperson replied to my email contact Thursday afternoon with the following statement:
We looked into this and can confirm it is a legitimate email. There is not a system-wide issue affecting a number of Yahoo Mail users.
If we detect unusual activity on an account, we will prompt the user to change their password. This is part of our ongoing security efforts to keep our users' accounts and their data secure.
In the not-so-aside meantime ...
The more I use Yahoo! these days, the more I want to return to being bullish. As I discussed last week on
CNN's "The Lead with Jake Tapper"
,
Google
(GOOG)
has this curious edge in that its content seems to stick more. By that I mean it appears users engage more and spend more time with Google content. That's largely because of
YouTube
, but it also has a lot to do with how Google ties search results in with its other still-emerging platforms.
Clearly, Marissa Mayer is trying to get Yahoo! to that place. That's certainly part of the method behind the
Tumblr
acquisition as well as
the recent pickup of the great consumer tech personality David Pogue, formerly of The New York Times
. That's a move we should not overlook.
While it's a different and riskier strategy than Google's, Mayer appears to be assembling talent across Yahoo!'s dynamic platforms. This core of what we can coldly refer to as "intellectual property" can produce Google-like loyalty from Yahoo! users as it comes together.
It just doesn't happen overnight. But that's the hallmark of most long-term and sustainable fixes, not short-term and quick band-aid approaches. In other words, as Mayer's strategy continues to take shape I'm getting closer to the bullishness
I expressed ahead of YHOO's massive run which kicked off last summer
.
--
Written by Rocco Pendola in Santa Monica, Calif.
Rocco Pendola is a columnist and
TheStreet's
Director of Social Media. Pendola makes frequent appearances on national television networks such as
CNN
and
CNBC
as well as
TheStreet TV
. Whenever possible, Pendola uses hockey, Springsteen or Southern California references in his work. He lives in Santa Monica.