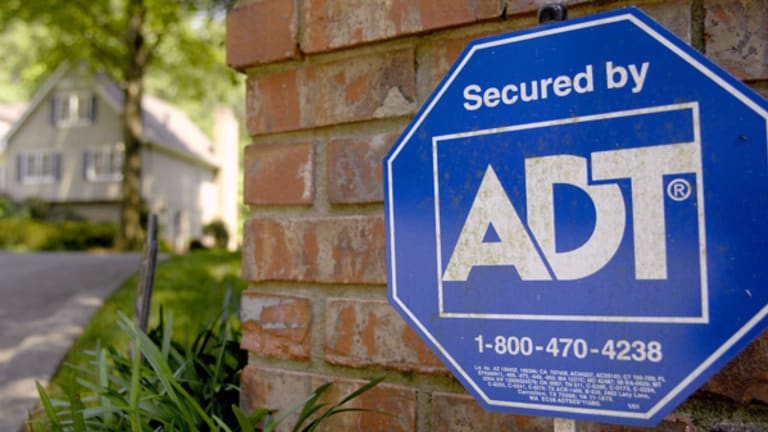 A Secure ADT Is Getting Ready to Leave the Doghouse
In a market where bargains are hard to find this 140-year-old company stands out as it recovers from the doldrums.
NEW YORK (TheStreet) --ADT (ADT) - Get ADT, Inc. Report is the biggest provider of electronic security, interactive home and business automation, and related monitoring services in North America. Around since 1874, it has a reputation to either protect or to lose.
That reputation has been under siege, not from its six million residential and small business customers but from shareholders who've been unhappy with both the company's management and the stock's performance. Shares were trading early Tuesday at $34.39, down 0.8% from the previous session and 15% for the year to date.
How dissatisfied are shareholders? One complaint, filed in the Southern District of Florida, is on behalf of all persons who purchased ADT common stock between Nov. 27, 2012, and Jan. 29, 2014. The complaint alleges the company and its executives "violated federal securities laws with respect to its disclosures concerning its business, operations, and prospects."
This type of shareholder class action is not uncommon, especially when a company overpromises and underdelivers. Supposedly when management announced its first-quarter 2014 quarterly results on Jan. 30 the numbers were much lower than investors had been guided to expect.
After the disappointing news shares of ADT plunged by $6.41, or over 16%, to close at $31.40 that same day. Since then the stock stayed in a funk until May when a rebound began  -- as illustrated in the one-year chart below.
Why the rebound? By May ADT had become one of the 10 most-shorted stocks. As the bargain hunters started buying, the shorts had to cover by buying shares, and that turned out to be the biggest upside catalyst for the stock.

ADT disappointed on its last year-over-year quarterly revenue and the stock was punished down to a 52-week low of $27.93. Eventually shares recovered and moved well above the 50-day exponential moving average (EMA).
As the next chart demonstrates, shares now appear to be mounting an assault on the 200-day EMA.
If shares penetrate the 200-day EMA at $35.12 and close above that level, this may be an auspicious confirmation of my thesis that this dividend-paying "dog" has left its doghouse and is moving higher with staying power.
Speaking of dividends, the company last paid a quarterly dividend of 20 cents on April 28. On an annualized basis that's a 2.32% yield, which is higher than the current average yield on the S&P 500.
ADT will report its current quarterly financial results the week of July 28. Expectations for revenue are slightly higher than breakeven and earnings guidance suggests the same. With a class-action lawsuit hanging over its head I anticipate cautious guidance for the remainder of 2014.
That doesn't mean ADT isn't a profitable business. For the current fiscal year ending Sept. 30 I expect the company's revenue to reach or exceed $3.4 billion. That would be close to a 3% increase from 2013.
The company's balance sheet includes about $4.7 billion of total debt, but as of March 28 it also had total cash of $332 million. Its trailing 12-month operating cash flow of over $1.6 billion and levered free cash flow of nearly $250 million will help with debt maintenance and its modest 34% payout ratio.
With a $6 billion market cap and shares selling at only 17 times forward earnings, I expect ADT to eventually be acquired. This would offer new leadership who can capitalize on this 140-year-old security company and its lucrative operations.
Patient investors may have an opportunity to buy shares below $34 while the stock is still a bargain.
At the time of publication the author had no positions in any of the companies mentioned.
This article represents the opinion of a contributor and not necessarily that of TheStreet or its editorial staff.
Marc Courtenay is a financial research analyst and the founder of Advanced Investor Technologies LLC as well as the publisher and editor of www.ChecktheMarkets.com.