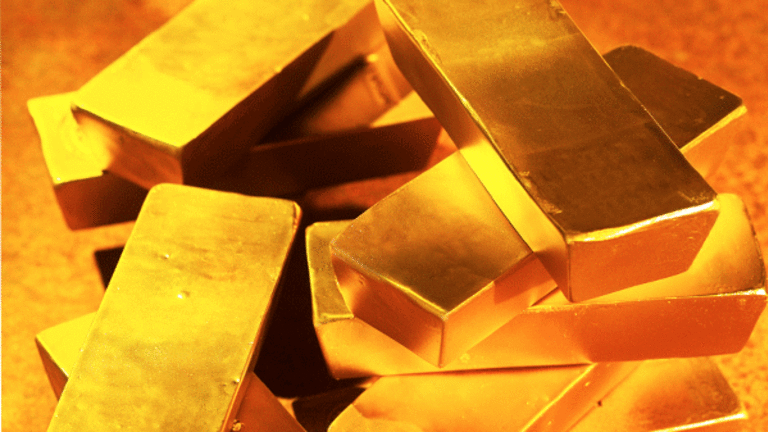 A Perfect Week That Shows Just How Dangerous It Is to Trade Gold
Markets and stocks were very weak and choppy and didn't give us any easy trades this past week.
NEW YORK (TheStreet) -- Markets and stocks were very weak and choppy and didn't give us any easy trades this past week.
We're in the summer doldrums right now. While it's no fun, we are setting up a nice long base that should set us up for nice moves into the fall which is the strongest time of year
Gold showed how hard it is to trade. I've said many times before that living in North America makes it so hard to trade the metals since so much of the action takes place in overseas trading while I'm fast asleep.
As Expected, the Stock Market Rebounds After Thursday's Thrashing
What's Good for General Electric May Finally Be Good for Its Stock
While metals looked great last weekend, that changed drastically in the overnight session last Sunday while I was asleep.
Let's move right into the charts on this beautiful summer weekend.
Gold lost 2.28% for the week after looking so good last weekend. We are seeing a lot of breakout failures in stocks this summer and gold showed the same action this week.
Breakout failures are never good and usually signal more weakness to come. Gold did have a nice pop Thursday as the terrible news broke that a civilian airliner was shot down.
Gold gave back much of those gains Friday and I think it was just a reaction to the news type of move that will not last.

The 200-day moving average at the $1,290 area is key and must hold or we will be looking for lows at $1,180 to be tested and if they can't hold then $1,000 is back on the table.
We still have not seen the so called blood in the streets moment for this large correction in gold.
I would really like to see some genuine panic, not the orderly selling we've seen in this correction to date.
Silver lost 2.83 last week and was wild right alongside gold. It looks ready to break lower now and should soon be back testing $19.75
I know a lot of you were excited about the recent action in gold and silver but I'd taper that excitement and be careful.
Platinum dropped 1.68% for the week and is now back to the strong pivot area at $1,490. That price posed large overhead resistance for platinum since March and we just finally broke out above that level.
It looks like we are seeing a false breakout now and we will move back under $1,490 as gold should continue to weaken. Platinum follows gold.
Palladium was solid and held onto gains of 0.81% for the week. Palladium had a great breakout Thursday and is so far holding it but if gold does continue to weaken then expect palladium to move lower as well back towards $840.
Enjoy this great summer weekend.
Warren Bevan
This article represents the opinion of a contributor and not necessarily that of TheStreet or its editorial staff.
You can find out more about what I do for members as we focus on leading stocks for the most part at