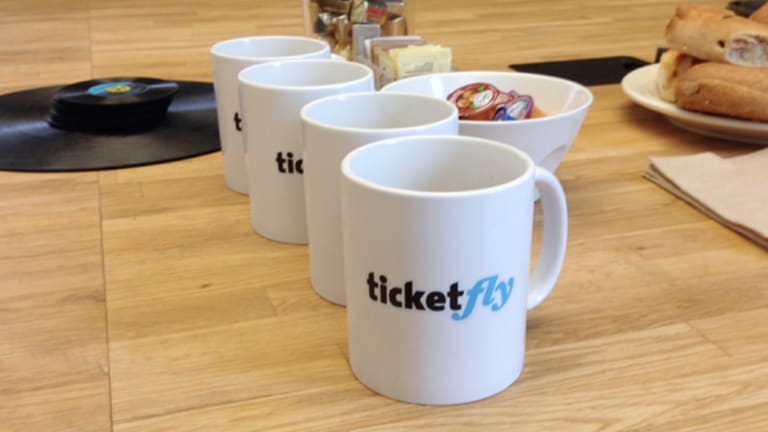 A No-Brainer Acquisition for Pandora
A Ticketfly-Pandora union will help both companies reach peak potential.
NEW YORK (TheStreet) -- When Pandora (P) announced its secondary offering, the company noted it might use some of its cash for acquisitions.
I can state the following with a considerable level of confidence:
It's not a matter of if, but simply when Pandora buys another company
.
As usual, Pandora is tight-lipped about its plans -- for anything -- but expect the company to follow through on the little it said about the way it will spend its extra money. There's no question Pandora can put the additional funds to good use.
I last visited Pandora's Oakland headquarters in February. At the time, it occupied two floors of a downtown tower. When I was there this past Monday, I visited an additional floor in the adjacent tower. Pandora has plans to expand to another floor.
And it's not only getting bigger in Oakland. It's about to move to a larger space in Manhattan. Plus, Pandora continues to extend its geographic footprint, opening up offices in at least a dozen new cities.
This business is growing and my reconnaissance tells me that while it might not be growing as fast as ever on some metrics, it's growing as smart as ever.
More on that
, but, for now, some key information on M&A.
This physical expansion will likely help accommodate employees from an acquired firm or two. I would be shocked if it doesn't. While they might not necessarily be first in line, I wouldn't necessarily be shocked, but I would be not-so-pleasantly surprised if Pandora doesn't buy
Ticketfly
or at least partner extensively with these guys.
I also visited Ticketfly's San Francisco offices on Monday. I met with the company's head of marketing as well as a co-founder, Andrew Dreskin. As co-founder, CEO and President of
TicketWeb
, Dreskin sold the first concert ticket
ever
online in 1995. Mark my words when I say his current company, Ticketfly, is in the process of eating
Ticketmaster's
(a division of
Live Nation
(LYV) - Get Live Nation Entertainment, Inc. Report
) lunch.
Ticketmaster simply has no idea how to combat the threat of a technology company that leverages tech and data to serve venues in ways they have never been served before. All Ticketmaster has going for it is its size and a handful of essentially incestuous relationships that will die hard and fast.
At some point, the world will simply pass the Ticketmaster establishment by, just as it is the music industrial complex.
But I digress ...
In a series of articles --
including this one
-- where I impatiently jumped the gun on criticism that Pandora moves too slowly, I explain why Ticketfly is such a strong company.
Ticketfly continues to evolve platforms that use data to serve artists and venues in much the same way the Music Genome Project and Pandora's extensive listening data serves artists and advertisers. To marry the two and solve problems ranging from ticketing to
the local music injustice that is pay-to-play
truly is a no-brainer.
Unless he's playing his cards close to his vest, I'm not sure Pandora co-founder Tim Westergren necessarily agrees wholeheartedly with my assessment just yet. There's little doubt in my mind, however, after my meeting with him, that Ticketfly's Dreskin feels this way.
And it's not that he's a co-founder looking for a lucrative exit. He has been there and done that before. This guy wants Ticketfly to reach its fullest potential. It's a win-win, because we're not talking a one-way street here. Ticketfly can help Pandora as much as Pandora can help Ticketfly. In fact, I would go so far to argue that without Ticketfly -- or an equally-as-powerful solution -- set square on the ticketing space, Pandora might be leaving a considerable bit of its potential on the table.
From what I understand, people with more power and influence than I have (I have something slightly less than none) are in the process of getting Ticketfly and Pandora together to talk. It's early stage stuff -- not even focused on anything specific -- but, in this world things move fast even for those who are impatient.
--
Written by Rocco Pendola in Santa Monica, Calif.
Rocco Pendola is a columnist and
TheStreet's
Director of Social Media. Pendola makes frequent appearances on national television networks such as
CNN
and
CNBC
as well as
TheStreet TV
. Whenever possible, Pendola uses hockey, Springsteen or Southern California references in his work. He lives in Santa Monica.