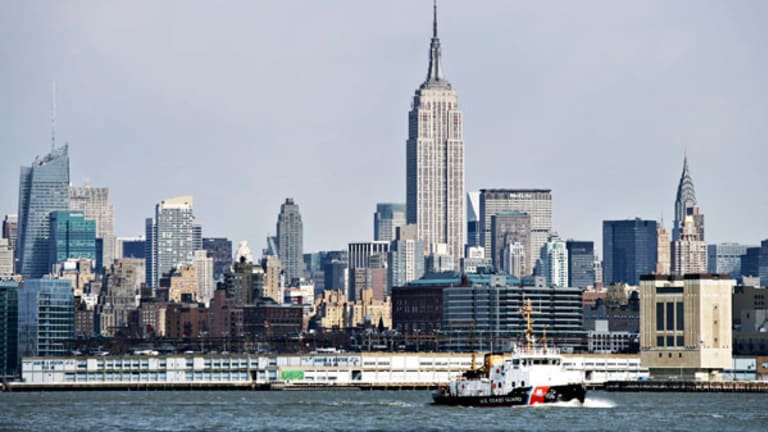 A New Day for Gramercy
Gramercy is getting a new name and a new lease on life, thanks to its new CEO, Gordon DuGan, who visited Brad Thomas and TheStreet.
NEW YORK (TheStreet) -- Prior to the Great Recession, Gramercy Capital( GKK) was a high-flying mortgage REIT. The New York-based company was then a big player in the commercial real estate collateralized debt obligation (CRE, CDO) market -- the riskiest in the higher-yielding credit sector.
In an effort to balance that risk, Gramercy began to diversify into safer equity sectors and the company became a quasi-lending arm for executives of
SL Green
(SLG) - Get Free Report
. By 2009, the debt markets began to unravel and Gramercy's legacy mortgage lending unit started to feel the pressure. The toxic paper originated by the CDOs was virtually worthless and it appeared that Gramercy was going to fade.
Also see: REIT Offers 'Margin of Safety': ROIC
Shares that were higher than $35 in 2007 began to crash and by early 2009 the stock fell below $1. In addition, the company suspended its dividend.
No More Legacy for Gramercy
Last June, Gramercy brought in a new CEO, Gordon DuGan. Previously DuGan had worked at
W.P. Carey
(WPC) - Get Free Report
, where he was the CEO for five years. An industry veteran in net lease investing, DuGan (as well as Gramercy associates Benjamin P. Harris and Nicholas L. Pell) was hired by Gramercy's board to stabilize the operations and build a focused single tenant net lease platform.
Gramercy's new strategic model -- named by DuGan as Gramercy Capital Corp. 2.0 -- was initiated to focus on modest leverage and to create recurring, durable cash flows from net leased real estate. Net leased real estate is the equity ownership of real estate that has a long-term lease with a corporation, with the tenant paying the majority of the operating costs, taxes, insurance and maintenance.
Gramercy, who at one time focused on two extremely different core business lines: High-risk commercial real estate lending and low-risk net-lease real estate, is now focused on investments in the most risk-averse triple-net sector.
Also see: All Bets Are Off for Empire State Realty Trust
While Gramercy is still a small-cap REIT with a market cap of around $275 million, the company is aiming to become a dominant player in the Triple-Net sector. By joining veteran REITs like
Realty Income
(O) - Get Free Report
,
National Retail Properties
(NNN) - Get Free Report
, WP Carey and
American Realty Capital Properties
(ARCP)
, Gramercy is hoping to carve its own niche of investing in banks and industrial properties.
Unlike the other peers, Gramercy is currently NOT paying a dividend. The company suspended both its preferred and common dividends when cash flow tightened. However, even without the sustainable dividend income, Gramercy has been an attractive play of late. Over the last year, Gramercy has returned more than 68%, with shares that have climbed from $2.71 a year ago to around $4.69.
I had an opportunity to interview Gramercy's CEO Gordon DuGan earlier this week at
The Street
. DuGan reflects on the new Gramercy, that includes a name change, (Gramercy Property Trust and a new ticker, GPT) effective on April 15.
At the time of publication the author had no position in any of the stocks mentioned. This article is commentary by an independent contributor, separate from TheStreet's regular news coverage.
Follow @swan_investor
This article is commentary by an independent contributor, separate from TheStreet's regular news coverage.