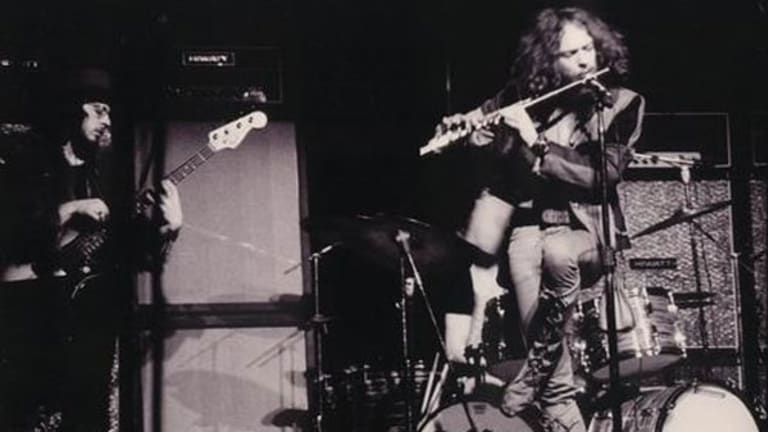 A Music Fan Should Never Watch the Grammys
By steering toward the middle of the road and ignoring provocative, progressive acts, the Grammys have turned into a night of easy listening for voters and viewers scared of change.
By steering toward the middle of the road and ignoring provocative, progressive acts, the Grammys have turned into a night of easy listening for voters and viewers scared of change.
PORTLAND, Ore. (TheStreet) -- The Grammys are for people who absolutely hate music.
They have to be. What person who loves music would subject themselves to this annual punishment and flagellation? What individual with any degree of music knowledge would subject themselves to awards handed out by a body as culturally tone-deaf at the National Academy of Recording Arts and Sciences regularly proves it is?
For anyone associated with music who has no horse in this race -- and even for those who do -- the Grammy Awards is a tedious exercise of patience that almost routinely exceeds expectations for just how awful it can be. Disdain for it isn't built along lines of taste, preference, race, class, creed or heritage. For everyone who has to endure the recording industry's annual pat on the back, it's just a reminder of how out of touch it is with its listeners.
This is the same awards show that overlooked hip-hop until its 1996 installment, when it somehow picked Naughty By Nature's long forgotten Poverty's Paradise over 2Pac's Me Against The World, Goodie Mobb's Soul Food and outstanding solo efforts from the Wu Tang Clan's Gza, Raekwon and Ol' Dirty Bastard. It's the awards show that ignored new R&B from 1968 through 2012 and only picked up "traditional R&B" in 1999. It's the show that only gave Elvis three trophies in categories he competed in -- all three for gospel records. The King has some great company, as the Grateful Dead, Sex Pistols, Janis Joplin, the Beach Boys, Chuck Berry, Bon Jovi, Patsy Cline, Elvis Costello, Creedence Clearwater Revival, Cream, the Doors, Guns N' Roses, Led Zeppelin, Bob Marley, Curtis Mayfield, Queen, the Ramones and the Who never took home Grammys during their most fruitful years. NARAS voters didn't recognize Presley's rock accomplishments until it gave him a lifetime achievement award in 1971. That's well after his prime and just six years before he died.
Speaking of 1977, the Grammys decided to mark the year that punk and disco broke by naming Debby Boone's You Light Up My Life the song of the year during its 1978 installment. The Grammys don't discriminate when it comes to outright ignoring the listening public and handing its gleaming gramophones to whomever it chooses.
It was a lesson this writer learned at age 12. Heading into junior high school and having just discovered Pantera, Megadeth and Metallica, I was naturally curious about which album would win the first Grammy for hard rock/metal performance. Metallica's ...And Justice For All had been released a year earlier and the video for One featuring scenes from the film version of Dalton Trumbo's Johnny's Got His Gun were getting steady airplay on MTV at the time. It seemed like a lock to just about everyone.
Except NARAS voters, who naturally went with the least metal band on the ballot, Jethro Tull. My parents were big Jethro Tull fans and had, several times, repeated a story about how they went to a Tull show in New York and a tiny dot of light on the stage's screen transformed into a spinning ballerina that then "crashed through" the screen's invisible fourth wall just as Tull took the stage. They said it freaked them out, which I discovered soon afterward meant they were enjoying it in a state that's only legal in Washington and Colorado. They loved Ian Anderson's one-legged flute playing, they loved Aqualung and Thick As A Brick, but they never transitioned over to Motorhead's Ace Of Spades or Anthrax's Caught In A Mosh as a result of it.
Chances are it didn't sound like metal to Grammy voters, either. They're a delicate lot and don't like to be jolted unless absolutely necessary, even if they miss some cultural touchstones along the way. They gave Michael Jackson's Thriller a sweep in 1984 basically because the world and the album's sales wouldn't let them ignore it. They were able to shun Eminem's Marshall Mathers LP for Steely Dan in 2001 because their peers couldn't fault them for picking something far more sedate and less abrasive than their sensitive ears could handle. They made 2012 the Year of Adele because consensus was on their side, but passed on Kanye West's Graduation for Herbie Hancock in 2007 because, well, keeping Kanye West off the stage has become as much of a Grammy tradition as picking the Best New Artist that's either least new or has the absolute least staying power (think Starland Vocal Band or Milli Vanilli).
If given the choice between a raw, landscape-changing artist and someone that they and their spouse can listen to while sitting in their respective soaking tubs waiting for the Cialis to set in, Grammy voters will take the pruney latter option every time.
This is why I get not only annoyed, but disproportionately angry when asked if I'm going to pay attention to this year's Grammys. Why? So I can see Kanye West's Yeezus not be among this year's nominees for Best Album. So I can watch the talented Sara Barellies sit there awkwardly and have her name go uncalled just because judges wanted a serene singer-songwriter who could show them what Lady Gaga would be like if Stefani Germanotta took off the makeup and went back to Wednesday night gigs at the Bitter End?
So I can watch Kraftwerk get a lifetime achievement award just so Grammy judges can revise their history and say they've always been hip to those crazy computer sounds Daft Punk is putting down? So Lorde can make the trip from New Zealand just to be the token representative of NARAS' youth movement? So Macklemore & Lewis' Same Love can win hip-hop's first Record Of The Year title ever or Song Of The Year title ever?
OK, maybe that last one I would tune in for. As Steve Hyden over at Grantland points out, a win for Same Love would give Macklemore & Lewis an honor that nominated artists including M.C. Hammer, Coolio, Eminem, Kanye West, Jay-Z and Outkast were denied. Combined with a win in the Best Album category for their self-produced and self-distributed LP The Heist, it would also give Macklemore & Lewis some of the industry's most prestigious hardware for work produced largely without the industry's help.
That wouldn't bring the notoriously anachronistic Grammys up to date, but it would make it clear that the awards have become just about as relevant as the lurching fossil of a commercial recording industry that this broadcast is trying to prop up. Fans streaming their favorite music, buying vinyl and either getting to shows or streaming them into their homes know what they like, and they have myriad award shows including the American Music Awards, MTV Video Music Awards, Billboard Music Awards, BET Awards, Country Music Awards and countless "best of" lists if they're still looking for validation.
By repeatedly overlooking music's growth and progress in favor of middle-of-the-road and diminishing returns, the Grammys have willed themselves into irrelevance. No longer a lock to draw 30 million viewers a night for CBS as they did in the 1980s -- when Michael Jackson and Thriller had 51 million people watching in 1984 -- the Grammys continue to go as broad an inoffensive as possible while shrinking the window for young, exciting, innovative acts and growing genres.
If you hate music and love watching it die, tune in. If you love music, but don't recognize the form it takes on Grammy night, just do what people did when radio and music video became staid and formulaic: Tune out.
-- Written by Jason Notte in Portland, Ore.
>To contact the writer of this article, click here: Jason Notte.
>To follow the writer on Twitter, go to http://twitter.com/notteham.
>To submit a news tip, send an email to: tips@thestreet.com.
RELATED STORIES:
>>Vinyl Is Streaming Music's Flipside
>>The United Playlist Of America
>>Gen X Sold Out Cobain and Biggie
Jason Notte is a reporter for TheStreet. His writing has appeared in The New York Times, The Huffington Post, Esquire.com, Time Out New York, the Boston Herald, the Boston Phoenix, the Metro newspaper and the Colorado Springs Independent. He previously served as the political and global affairs editor for Metro U.S., layout editor for Boston Now, assistant news editor for the Herald News of West Paterson, N.J., editor of Go Out! Magazine in Hoboken, N.J., and copy editor and lifestyle editor at the Jersey Journal in Jersey City, N.J.