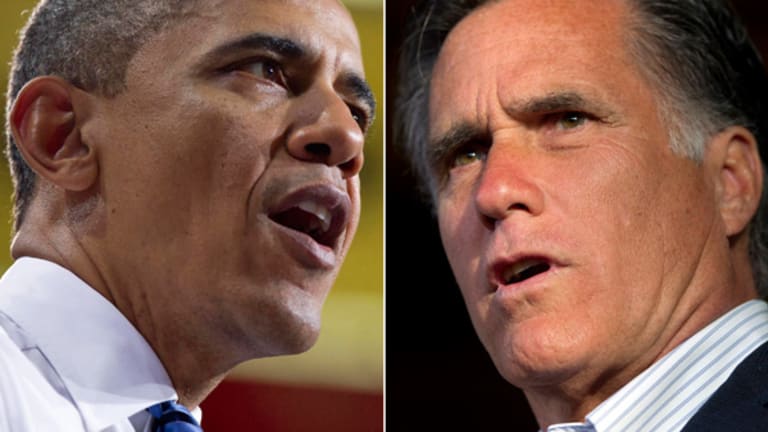 A Market Without Barack and Bernanke
Here's what investors can expect under a Romney administration.
Here's what investors can expect under a Romney administration.
NEW YORK (TheStreet) -- Have you noticed a little bit of increased volatility in the market recently?
As a professional money manager who takes a position on the frontlines of the market every single day, I have noticed a sudden recalibration in many areas of market.
Does this sudden market rotation affect you, the individual investor?
Of course it does!
I am one of the few market commentators who has been predicting a Mitt Romney win for quite some time. The first debate all but sealed that. It does not matter who you want to win, your portfolio only cares about who will win.
What would a Romney win mean for the economy? What does this mean for the various asset classes? What does this mean for the various sectors of the market?
In addition to the almost certain possibility of a Romney win, maybe even more importantly, the market is all of a sudden looking at an economy without
Federal Reserve
Chairman Ben Bernanke. Yes, that is right -- without Bernanke.
I really don't see President Romney renewing Bernanke's term in January of 2014. In fact, I think it likely Bernanke steps down before his term ends if Romney does indeed win in just over two weeks.
If it were up to the market, the quantitative easing would go on ad infinitum. The market is drunk with money printing, and it really does not want to sober up. Getting sober could be painful for bond investors, gold investors and equity investors. A little bit of austerity may be in our future, but in the long run I think that is a good thing; $16 trillion in debt and rising is not a good thing.
Many sectors will suffer under a Romney administration, while others will benefit. I coined the term "Romnify" back on Aug. 30 -- if you don't believe it, just google the word. I wrote an article about
Seadrill
(SDRL) - Get Report
, a stock that would be sitting in a sweet spot under a Romney administration.
Governor Romney has made it very clear that he will take advantage of the energy assets that we have right here in America. He will also take advantage of the numerous energy assets that our friends on the American continent possess. This would be bullish for U.S. energy exploration companies, energy service companies, and pipeline stocks.
I wrote an
article for
The Street
about
Magellan Midstream Partners
(MMP) - Get Report
last week. This is a stock that has performed very well over the years for its investors and should continue to do so under a Romney administration.
Check out the returns of this stock over the years:
Data from
As you can see, the stock has roundly beaten the
S&P 500
over the last one, three, five and 10 years. Not bad for a dividend payer that currently has a yield of 4.2%.
The stock currently ranks 120th out of the 3,080 stocks that I follow. Again, not bad for a stodgy, old, dividend-paying pipeline stock. The stock would more than likely continue to flourish under a "drill, baby, drill" platform. It remains to be seen if the environment can be protected under such a strategy.
Data from
The insurance stocks have also been on the rise lately. They really started to take off after the first Presidential debate.
Data from
The insurance Sector has moved up to fifth overall amongst the 46 sectors I rank on a daily basis. The home building and biotech sectors have been on top almost since the beginning of the year.
What are some of my favorite stocks in these leading sectors? Click
here to get a four-week trial to my weekly newsletter.
Data from
Notice how the insurance sector has been moving up in rank overall since the first debate. You may want to take a look at a company like
Fidelity National Financial
(FNF) - Get Report
, a Jacksonville, Fla., company that provides title insurance and specialty insurance. This stock also gives you exposure to the resurgent housing industry, a subject I
wrote about two weeks ago.
If President Barack Obama does indeed lose his bid for another four years, what industries would suffer? More on that in future articles, but here is a hint: Can it get any worse for the "green energy" stocks? Yes!
At the time of publication the author had no position in any of the stocks mentioned but clients of Gunderson Capital Mgt. have a position in SDRL.
This article was written by an independent contributor, separate from TheStreet's regular news coverage.