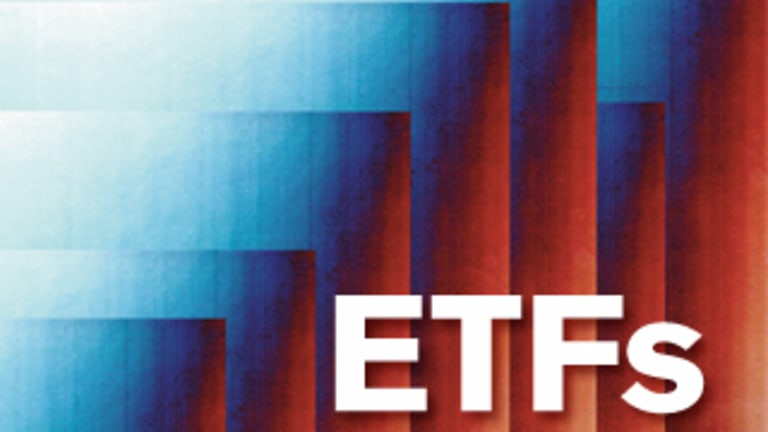 A Leverage-Free Version of the Risk Parity Portfolio
Concentrating equity exposure in more volatile funds means exposing less of your portfolio to the equity market.
NEW YORK (TheStreet) --Well known investment manager and writer Larry Swedroe was recently interviewed by Seeking Alpha on numerous subjects including his thoughts on a specific portfolio strategy called the Larry Portfolio or LP that was first discussed publicly in The New York Times in 2011
It sounds like risk parity-lite portfolio. Risk parity attempts to balance out a portfolio by risk weighting the assets. Two well-known proponents of risk parity are Cliff Asnes from AQR and Ray Dalio from Bridgewater.
The basic idea of risk parity is constructing a portfolio that balances out the risk between equities and fixed income. Usually this requires owning so much fixed income that the portfolio would actually take on leverage to own enough bonds to balance out the risk of the equity portion.
Risk parity has had a lot of negative attention this year because rates have gone up some and bonds, the asset class owned with leverage, have gone down.
Swedroe does not advocate taking on leverage. What he does advocate is owning the equity market segments that offer the highest expected return which "allows an investor to have a lower overall allocation to stocks and achieve the same expected return." The 2011 NY Times article cites data that the Larry Portfolio achieved S&P 500 equaling returns with only one-third the equity exposure.
This is a concept I have talked about many times before on my blog as something I was first introduced to when I worked at Fisher Investments. As a simplified example it would work as follows. If you knew that XYZ would double in price and you were seeking a 10% return for the entire portfolio you could allocate 10% to XYZ, leave the other 90% in cash and obviously achieve the 10% objective (plus a couple of basis points for interest on the 90%).
The idea here is seeking out normal equity returns while taking on less than normal equity market exposure.
Obviously no one knows what will double or have any other return but to the extent that higher expected returns are achieved by owning "U.S. small value stocks, developed markets small value stocks, and emerging market value stocks" then less of the portfolio could be allocated to equities which in turn could mean less exposure to relatively volatile assets.
The Larry Portfolio could be reasonably constructed with the iShares Russell 2000 Value (IWN) - Get iShares Russell 2000 Value ETF Report for domestic small cap value, WisdomTree Emerging Market SmallCap Div ETF (DGS) - Get WisdomTree Emerging Markets SmallCap Dividend Fund Report for emerging market small cap value and WisdomTree International Small Cap Dividend ETF (DLS) - Get WisdomTree International SmallCap Dividend Fund Report for developed market small cap value.
Dividend ETFs are not necessarily pure value funds but ETFs based on a dividend methodology that are likely to skew toward value.
Year to date the S&P 500 is up 28% while IWN is up 31%, DLS up 18% and DGS is down 8%. Collectively an equal weighted portfolio between the three (Swedroe did not offer specifics on how to weight the exposures) would have returned 14% versus the 28% logged by the S&P 500.
One downside to the Larry Portfolio played out in 2013 as two of the three exposures underperformed the S&P 500 by a meaningful margin. Another potential downside is that the market segments identified by Swedroe are likely to face larger declines as was the case going into the March 2009 low when IWN, DLS and DGS all went down more than the S&P 500.
While it is rational that market segments expected to go up more in a bull market should also go down more in a bear market, the ability to reason in this manner is often compromised in the heat of large declines.
The point is not to attempt to invalidate Swedroe's portfolio but to reiterate from many past articles the extent to which no single valid strategy can be the best for all markets. Chances are Swedroe's portfolio blew the S&P 500 away for many years during the last decade. Clearly 2013 has been the year of the broad based passive index but broad based passive indexes cannot be the best strategy every year because, again, no strategy can be the best for all times.
At the time of publication the author held no positions in any of the stocks mentioned.
This article represents the opinion of a contributor and not necessarily that of TheStreet or its editorial staff.