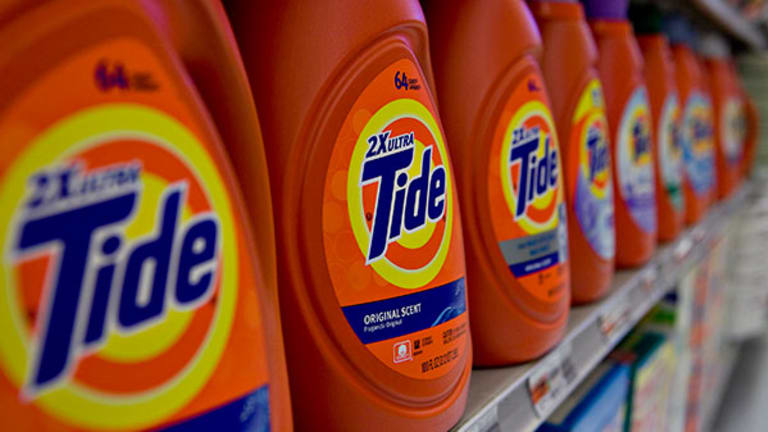 NEW YORK (TheStreet) – Procter & Gamble (PG) - Get Procter & Gamble Company Report , the world's largest maker of consumer products, including Olay skin care, Pampers diapers and Tide laundry detergent, announced on Friday that it will split off its Duracell battery line, part of its strategy to become a leaner company with higher-margin businesses.
The question for investors is, will a smaller P&G be a better investment?
The stock, which closed Monday at $85.95, has been a long-term laggard. During the past 10 years, it has gained 62%, compared with gains of 69% for the Dow Jones Industrial Average, of which P&G is a component, and 79% for the Standard and Poor's 500 Index.
Shares of P&G, though, have gained about 3.5% since the company announced the Duracell separation, along with quarterly earnings. Year to date, the stock is up 5.6%, compared with gains of 1.5% for the DJIA and 7% for the S&P 500. The shares trade at 19.6 time estimated earnings for its fiscal 2015, which ends in June.
P&G has said it will divest or discontinue more than half of its global brands, leaving it with roughly 70 to 80 brands. The brands that will remain account for 90% of the company's current revenue and 95% of its profits. At the company's shareholder meeting earlier this month, CEO A.G. Lafley said the plan to shed lower-margin businesses will take 18 to 24 months.
On Friday, Chief Financial Officer Jon Moeller told reporters that while Duracell is an "attractive" business -- one that generates about $2 billion in annual revenue, P&G's focus is on products that are "even more attractive." Pampers and Tide are two examples. 
With fewer brands, P&G projects it will save $200 million to $300 million annually in manufacturing and supply-chain costs. That comes on top of $1.2 billion in annual savings Lafley says the company has already achieved by using less materials and having more reliable manufacturing.
If P&G's focus on higher-margin businesses pans out, the company should generate higher profit margins and more cash flow, which may mean more cash in shareholders' pockets. The company already has a robust dividend yield of 3% and it is in the midst of a $1.5 billion stock buyback program.
At the time of publication, the author held no position in the stock mentioned.
This article represents the opinion of a contributor and not necessarily that of TheStreet or its editorial staff.