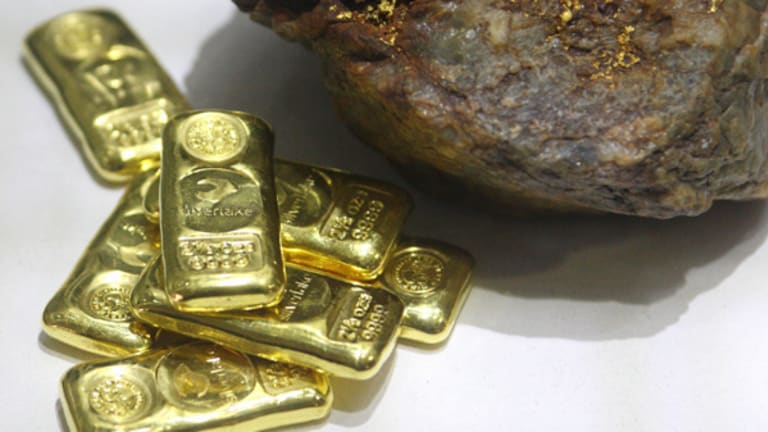 NEW YORK (TheStreet) -- Yesterday the long-suffering shareholders of Seabridge Gold (SA) - Get Seabridge Gold Inc Report finally experienced the sweet feeling of a 10% one-day rally.
Seabridge Gold hasn't been a pleasure to own the past three years. The 5-year chart compares the movement of SA's share price with its price-to-book value. Both have cratered until good news hit the markets Wednesday.
Yes, Wednesday was the day SA reported final results from its 2012 drill program designed to search for high-grade core zones underlying its very large Kerr Sulphurets Mitchell gold-copper project in British Columbia. The remaining hole at Deep Kerr provides strong confirmation that the discovery (part of KSM) has the potential for a very large tonnage of high-grade copper and gold mineralization.
The Deep Kerr hole reported long runs of elevated copper including 22 meters of 0.98%. Drilling also found three more targets with favorable markers characteristic of core zones. The $15 million 2013 drill program to pursue these targets is expected to begin in June of 2013.
Someone said, "A goldmine is a deep hole where people throw away their money." That outlook changes big time when rich veins of gold and other precious metals are extracted as proof that all that digging and exploring was worthwhile.
data by
Seabridge Chairman and CEO Rudi Fronk noted, "when we began our search for a core zone at KSM, we assumed that the four main deposits would probably link to one such zone. We now believe that there may be several deep seated sources.
"Our first priority is to generate a high quality resource for Deep Kerr which could have a very significant economic impact on the KSM project particularly if it proves to be accessible from the Sulphurets valley floor by way of an inclined tunnel.
"Our second priority is to test the deep potential of the McQuillan and Iron Cap core zone targets." The company is "increasingly confident that this core zone program is the game-changing development we had hoped for."
Fronk concluded, "We have demonstrated that exceptional exploration potential remains within the KSM project and that we have the geological team to unlock it. Our aim for next year is to establish KSM as an unparalleled opportunity for the world's largest mining companies."
Jim Cramer's Protégé, Dave Peltier, finds you Stocks Under $10 picks with explosive upside potential. See what he's trading today with a 14-day FREE pass.
Here's a test question for all investors and traders who are interested in precious metals investments. What is better than owning a gigantic gold and copper mine with tons of yet-to-be extracted ore?
The answer is, own a company that has exercised share options to acquire, by way of private placement, C$18 million of the treasury shares of the company that owns this kind of bonanza mother lode.
As Seabridge Gold stated Thursday, "By exercising the share option,
Royal Gold
(RGLD) - Get Royal Gold, Inc. Report
obtains a second royalty option to acquire a further 0.75% net smelter return royalty on all gold and silver production from Seabridge's KSM project.
"Royal Gold can exercise the second royalty option by electing to acquire the 0.75% NSR within 60 days following Royal Gold's agreement that the KSM project is in receipt of all material approvals and permits, full project financing and certain other conditions and
by paying Seabridge C$60 million in three equal payments over the 18 month period after such election."
Now that you speak fluent gold-mining-gibberish, let me introduce you to RGLD. As a royalty-streaming company, RGLD engages in the acquisition and management of precious metals royalties and similar production based interests.
It owns royalty interests in various producing and development stage projects that explore for gold, silver, copper, nickel, zinc, lead, cobalt, and molybdenum. Its 5-year price chart is nothing short of incredible, as you can see below. It's had an overdue 20% correction from its recent high of $100.84.
RGLD's price-to-book ratio has settled down nicely as well. In June 2011, RoyalGold acquired one million Seabridge shares at a 15% premium to the then-market price. For this initial investment, RGLD was granted a royalty option to acquire a 1.25% NSR on all gold and silver production from the KSM project for C$100 million.
The RoyalGold the share option, if exercised, would entitle RGLD to a second royalty option to acquire a further 0.75% NSR on KSM's gold and silver production for an additional C$60 million.
RGLD's exercise of the share option brings its total royalty option for KSM to a 2% NSR royalty for which the exercise price is C$160 million.
Fronk said Seabridge welcomed RoyalGold's decision to increase its royalty option. "Our interests going forward continue to be fully aligned... to find the right partner to build and operate a mine at KSM when the time is right."
data by
The additional C$18 million private placement will be used in part to complete the environmental assessment process.
The company invested more than $100 million at the KSM project and expects to file the environmental applications with regulators in January.
SA's principal assets are the KSM property located near Stewart, British Columbia, Canada, and the Courageous Lake gold project located in Canada's Northwest Territories.
It can be stated subjectively that it appears now is a great time to own these shares. Consider placing a
on the shares you buy to reduce risk while maximizing gains.
At the time of publication the author is long SA and RGLD.
This article is commentary by an independent contributor, separate from TheStreet's regular news coverage.
Jim Cramer and Stephanie Link actively manage a real money portfolio for his charitable trust- enjoy advance notice of every trade, full access to the portfolio, and deep coverage of the latest economic events and market movements.