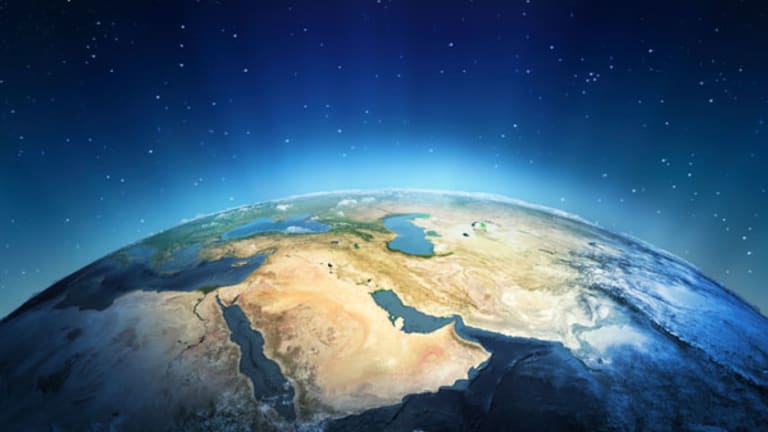 A Few Words From a Climate Change 'Denier'
I don't believe what we're being told about climate change and human activity. Here's why.
NEW YORK (
) -- The great climate change debate has been one of the more polarizing issues of the past several years.
Proponents believe that the recent rash of hurricanes, floods, other disasters, rising CO2 levels and melting polar ice caps are caused by humans.
To not believe that we are the cause is to be a "denier" -- and to be a denier means not only are you naive, but you're also at odds with science and "overwhelming" evidence.
Well, I am a denier, and based on recent polls, our ranks are growing. I've been to this rodeo before -- when science makes bold predictions that don't come to fruition.
In the early 1970s, as an elementary school student, I was frightened into believing that the world would run out of oil within 30 years. That's what science was telling us at the time; and living through a couple of gas crises reinforced the message. Of course, it was not true. Technology got better, more oil was discovered, and we are now experiencing an energy boom right here at home.
In the early 1970s, we were also warned of a coming ice age. Some proponents pushed the notion that all of the fossil fuels we were burning would block out the sunlight, causing temperature to drop.
A 1975
Newsweek
article entitled "The Cooling World" chided political leaders for not taking any action; one of the more radical suggestions was to melt the Arctic ice cap by covering it with black soot.
We've come a long way since then. First to "global warming," and when that term was no longer deemed appropriate -- primarily because the data did not conclusively support the notion that temperatures are rising. It became "climate change."
Do weather patterns change, and can they change over time? Certainly. However, I'm skeptical that temperatures are rising in the long term. And if they are, there is simply not enough conclusive evidence that we are the cause.
As humans, we certainly can be destructive. We can pollute rivers, streams and our own water supplies, and wreak havoc on the environment, but can we drastically alter our own climate?
When we "deniers" were warned by the
BBC
in 2007 that the Arctic would be ice-free by 2013, and now see that not only did that not happen, but that the ice sheets have grown over the past year, our own skepticism grows.
For me at least, my skepticism is accompanied by irritation with the politicians who are using "global warming" as a scare tactic in order to influence our behavior. Some have turned it into a
de facto
religion, and it has backfired on them. The chicken little routine has simply not been effective.
If indeed, global warming is a myth, as I believe it is, I'd look at one of the industries hardest hit by new regulations that are primarily from the Environmental Protection Agency. The coal industry is being decimated given stricter limits being placed on it and the increased costs of compliance.
Names like
Arch Coal
(ACI) - Get Albertsons Cos. Inc. Report
(down about 35% year to date),
Peabody Energy
(BTU) - Get Peabody Energy Corporation Report
(down about 30% year to date),
Alpha Natural Resources
(ANR)
(down 36% year to date),
Walter Energy
(WLT)
(down about 58% year to date) have been hit hard. Yet coal remains one of our most prevalent natural resources and was the source of 37% of our power generation in 2012. The question is, can things get worse for this industry, or are the negatives surrounding it already priced in?
Part of the answer may have to do with our own appetite for EPA regulations that force higher electricity prices, something President Obama publicly stated as a goal prior to his election in 2008. But administrations come and go, science is ultimately proved right or wrong, and regulations change.
At the time of publication, Heller had no positions in stocks mentioned.
This article is commentary by an independent contributor, separate from TheStreet's regular news coverage.
Jonathan Heller, CFA, is president of KEJ Financial Advisors, his fee-only financial planning company. Jon spent 17 years at Bloomberg Financial Markets in various roles, from 1989 until 2005. He ran Bloomberg's Equity Fundamental Research Department from 1994 until 1998, when he assumed responsibility for Bloomberg's Equity Data Research Department. In 2001, he joined Bloomberg's Publishing group as senior markets editor and writer for Bloomberg Personal Finance Magazine, and an associate editor and contributor for Bloomberg Markets Magazine. In 2005, he joined SEI Investments as director of investment communications within SEI's Investment Management Unit.
Jon is also the founder of the
, a site dedicated to deep-value investing. He has an undergraduate degree from Grove City College and an MBA from Rider University, where he has also served on the adjunct faculty; he is also a CFA charter holder.