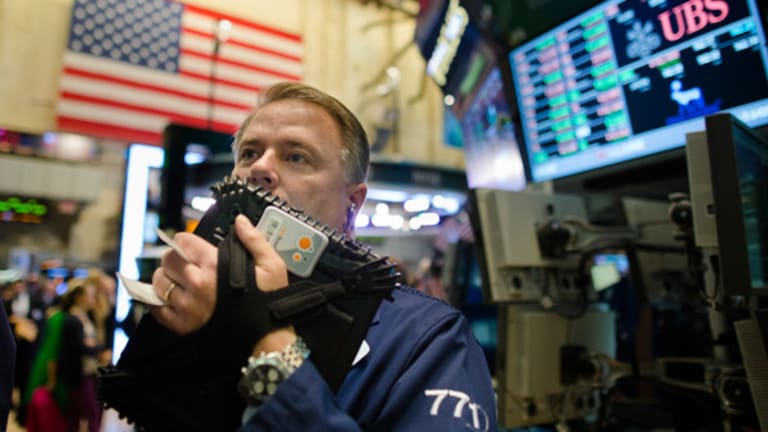 A Euphoric Stock Market Setting All-Time Highs Built on Air
As this stock market continues its parabolic rise on air, the short hedge funds are showing signs of capitulation.
NEW YORK (TheStreet) -- Another new all-time closing high for the DJIA and the S&P 500 on Thursday. Is anyone surprised? I did not think so.
The DJIA closed up 92.02 at 17068.26 while the S&P 500 was higher by 10.82 at 1985.44. The Nasdaq climbed 28.19 to close at 4484.92 and the Russell 2000 finished up 8.65 at 1208.15.
The Russell 2000 is the only index that has not surpassed its March 2014 highs. It is very close but still a fraction away.
Thursday's holiday-shortened close had the same exact feel that the other trading days have had. The stock market was higher on air.
>>FIFA World Cup Still a Huge Draw Without U.S. Team
The S&P 500 Trust Series ETF (SPY) - Get SPDR S&P 500 ETF Trust Report volume closed at 52.5 million shares traded. One year ago today, July 3, 2013, the SPY closing volume was 75.2 million shares. I will continue to highlight this trading volume fact because it will become a huge issue. That issue will come to the forefront when the short hedge funds are at the end of their "throw in the towel, cover at any cost" mindset.
I suspect we are closer to that reality than any perma-bull may think. The amount of chest pumping, euphoric excitement over this bull stock market is now at the extreme level.
One issue that has been extraordinarily important in this bull run to all-time highs with no correction has been the shear number of hedge funds that have been short the S&P 500. Hopefully, these past few days, with this no-volume melt up, took down some of the two-year highs in S&P futures/options net short positions. I suspect that is what occurred this past week.
Time will tell, but the internal evidence, according to my algorithm process, is confirming this phenomena. The lack of trading volume is also suggesting no players in the stock market other than hedge funds.
For the first time since I started time-stamping my stock trades according to my algorithm process for the world to see, which is one year ago this month, I have "0" large-cap stocks on my extreme oversold scans. That is unprecedented and a sure sign of a bubble. The amount of negative divergences within the stock indexes is another reason for concern.
I will continue to point out these internal indicators. These are the indicators that will cause the downside avalanche in stock prices. So, I will continue to be extremely cautious on the buy side and use my indicators opportunistically. They all point to stocks that are extraordinarily overbought, both small cap and large cap.
On Thursday I closed out the remaining short position in Twitter (TWTR) - Get Twitter, Inc. Report for another win and started a long position in the UltraPro Short QQQ (SQQQ) - Get ProShares UltraPro Short QQQ Report. SQQQ is extremely oversold. My positions, all 760 trades, are time stamped at www.strategicstocktrade.com.
At the time of publication the author was long SQQQ.
This article represents the opinion of a contributor and not necessarily that of TheStreet or its editorial staff.