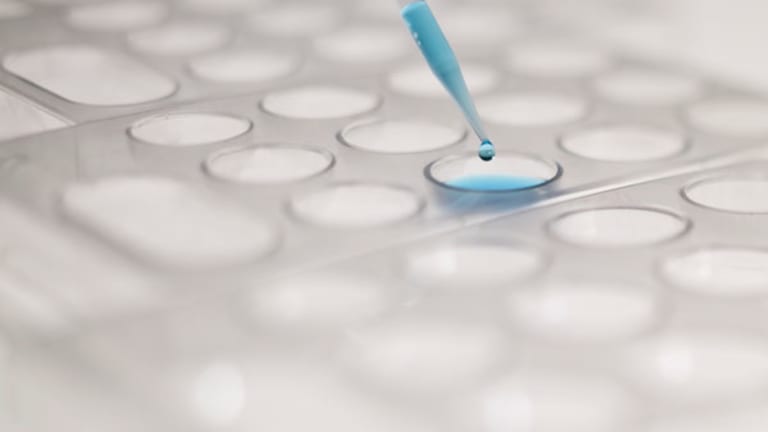 NEW YORK (TheStreet) -- Diagnostics providers such as Quest Diagnostics (DGX) - Get Quest Diagnostics Incorporated Report, Lab Corp (LH) - Get Laboratory Corporation of America Holdings Report and Hologic (HOLX) - Get Hologic, Inc. (HOLX) Report have long been sleepy and stable performers. While the Affordable Care Act may not send these stocks rocketing higher, it is likely to give them meaningful boosts to their revenue over the next 12 months.
For every individual diagnosis or treatment, there are often numerous diagnostics that must be run. But in many cases even very simple tests can be out of reach for those without insurance. Obamacare coverage is likely to result in much greater use of diagnostics for as many as 30 million new covered individuals.
However, it remains to be seen how pricing and reimbursements will be affected. Diagnostics providers have been understandably vocal against any changes that will affect pricing and margins, even though there may be a rise in volume that could more than offset declines in pricing.
Of the three diagnostic companies mentioned above, Quest is most likely going to be the safest and most stable long-term winner. At around 11 times earnings, the stock is fairly cheap, but is typically under-appreciated by the analysts.
For the first nine months of the year, the company threw off nearly half a billion dollars in operating cash flow, and it has a 2% dividend yield. Revenue has been fairly constant at around $1.8 billion per quarter, but following the onset of Obamacare, revenue could be due for a moderate increase. Gross margins are around 30% and net margins come in at around 20%, impressive for a company of this size.
In October, the company reported a slight revenue miss, resulting in numerous analyst downgrades. However, the share price has been only minimally affected. One key driver will be the recently launched BRCAdvantage gene sequencing test for hereditary breast and ovarian cancers.
The recent weakness in Quest revenue has made it a somewhat unloved stock for the short term. But this is likely to reverse itself over the next two quarters and the dividend means that investors get paid to wait.
In contrast to Quest, Lab Corp recently reported a slight beat on third-quarter earnings. Over the next year, it will likely see a bump in revenue from an increase in applicable patient populations. But in the short term, it has been suffering slightly from lower health care utilization and Medicare payment reductions.
Despite the slight beat, Lab Corp reduced its revenue estimate for the remainder of 2013.
Most analysts seem to have a preference for Lab Corp over Quest, but it should be noted that the stock is slightly more expensive at 17 times earnings and the company doesn't pay a dividend. However, the company has already bought back nearly $300 million in stock over the past quarter and has over $300 million more authorized in its buyback programs.
Of these three stocks, Hologic is clearly the growth pick. Hologic makes and develops diagnostic tests, rather than provide test services. Much of the company's product line is dominated by women's health diagnostics.
Profitability has been mixed, but revenue growth is strong. The company also continues to hold nearly $1 billion in cash and has generated more than $400 million in cash so far in 2013.
Despite its $6 billion market cap, this company seems to be somewhat below the radar for most investors in the diagnostics secor. The company has reported steady revenue growth and will generate over $2 billion in revenue this year, but the share price is up by only around 13% for the year to date.
The biggest risk to all of these stocks will be any potential changes in the payment landscape. On its recent earnings call, Lab Corp CEO David King noted the company is continuing to experience challenges with recently implemented molecular pathology codes among various payors including Medicare, Medicaid, Tricare and commercial carriers.
It specifically cited this as hurting third-quarter earnings per share and incorporated these delays into its lowered outlook.
But the upside for all three will likely come from the increased rollout of new genetic-based tests such as Quest's BRCA test and Lab Corp's KRAS and EGFR tests.
At the time of publication, the author had no position in any of the stocks mentioned.
This article was written by an independent contributor, separate from TheStreet's regular news coverage.
Rick Pearson is a private investor focusing on U.S.-listed China small-cap stocks. Until 2005, Pearson was a director at Deutsche Bank, spending nine years in equity capital markets in New York, Hong Kong and London. Previously, he spent time working in venture capital in Beijing. Mr. Pearson graduated magna cum laude with a degree in finance from the University of Southern California and studied Mandarin for six years. He has frequently lived, worked and traveled in China since 1992.