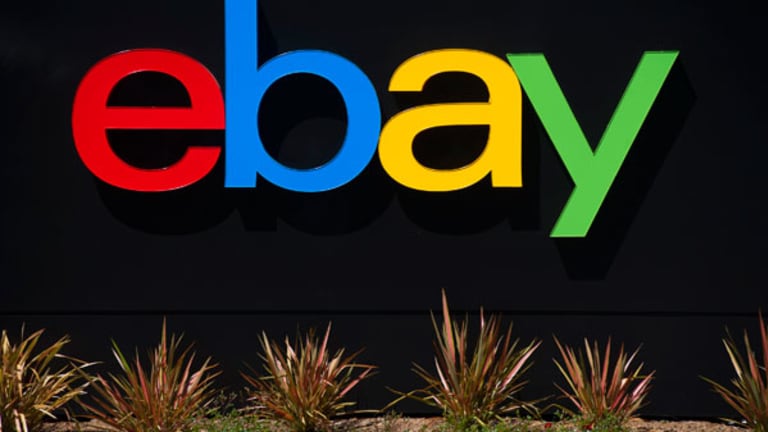 A Case for eBay
Look past eBay's disappointing fourth-quarter outlook, and you will see a compelling stock.
NEW YORK (TheStreet) -- Shares of eBay (EBAY) - Get eBay Inc. Report whipsawed in the 48 hours following the company's third-quarter earnings report.
While results for the most recent quarter met expectations, a lower-than-expected estimate for the fourth quarter sent shares lower in after-hours trading last Wednesday.
On the earnings conference call, management seemed fairly optimistic regarding eBay's PayPal division, which continues to show respectable growth. The dismal outlook on the e-commerce market for the holiday shopping period, however, disappointed investors.
But on Friday afternoon, shares of eBay suddenly spiked higher, as the stock muddled near the lower end of its one-year trading range of $50 to $57.
At first, the move could have been confused with fund managers, or "smart money," gobbling up shares near year-to-date lows with a strong finish for equities expected in the last two months of 2013.
But as per usual, a report responsible for the move
, this time from
AllThingsD
.
In it, eBay CEO John Donahoe admitted that his company's outlook may have been a bit too downbeat. He said, "the truth is Bob
Swan, CFO and I both have colds. I think it came across more negative than intended."
While blaming a cold may perhaps be a first, it was good for the CEO to clear the air for shareholders. Although in the report he still expressed caution, Donahoe did suggest that the government resolution could help holiday shopping.
Regardless, I think shares could be undervalued.
Up 2.3% this year, the stock is lagging the
S&P 500
, which is up nearly 22% in 2013.
Using the middle of eBay's fourth-quarter estimated earnings range, we can predict that eBay will earn $2.70 a share on $16.06 billion in revenue in 2013, an increase of 14.4% in earnings and 13.9% in revenue from 2012.
Of course, just because the company has demonstrated double-digit growth year-over-year, doesn't mean the share price
has
to appreciate.
If the company isn't growing as fast as analysts had hoped, the valuation will compress, adding downward pressure to the stock price.
But shares are semi-compelling for a few reasons, valuation one of them.
The stock has drifted lower to $50 three times dating back to December 2012. Each time, buyers flooded the stock, driving the price back higher.
Although the stock has become exhausted five times this year over the $56-level, that's still a ways away for those looking to get long the stock at the current price of $52.
Aside from the low-$50 level acting as excellent support, the PEG ratio, which incorporates price, earnings and growth, is relatively low.
A PEG measurement equal to 1 would represent a fairly valued stock. The lower the measurement, the cheaper the stock is and vice versa.
Also, growth companies usually have a high PEG ratio, along with other high valuation measurements.
EBay has a PEG ratio of 0.99, based on a one-year forward outlook.
Yahoo! Finance, the five-year PEG ratio is still 1.31, which isn't ridiculously high.
However, five years is a long time frame and I prefer to use a one-year outlook, or possibly a two-year outlook in some situations.
Given that eBay's posts double-digit earnings and revenue increases, has an acceptable valuation and is resting near solid price support, I favor the long side.
I'll admit, I used to own the stock with a long-term outlook, but it proved too frustrating. With management constantly sandbagging guidance and the disappointing price action made it hard to own compared with other growth stocks in solid uptrends.
For those with experience in the options world, selling short some $50-strike put options could prove rewarding. Depending on what the premium is, put-sellers will be assigned shares of eBay only if it closes below $50 on expiration day.
Given the price action over the past 10 months, that outcome seems unlikely. Nevertheless, should eBay close below that benchmark, the put-seller would own shares of eBay below $50, a level not really seen since November 2012.
At the time of publication, the author was long eBay.
-- Written by Bret Kenwell in Petoskey, Mich.
Bret Kenwell currently writes, blogs and also contributes to Robert Weinstein's Weekly Options Newsletter. Focuses on short-to-intermediate-term trading opportunities that can be exposed via options. He prefers to use debit trades on momentum setups and credit trades on support/resistance setups. He also focuses on building long-term wealth by searching for consistent, quality dividend paying companies and long-term growth companies. He considers himself the surfer, not the wave, in relation to the market and himself. He has no allegiance to either the bull side or the bear side.