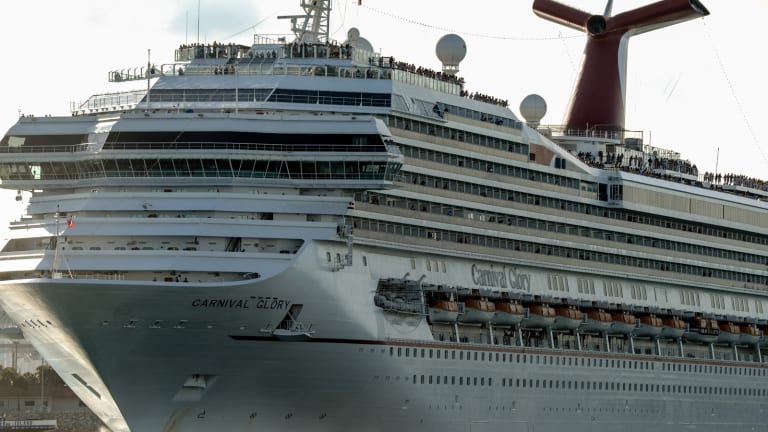 A Carnival Cruise Liner Will Be First U.S. Ship to Visit Cuba in 50 Years
Carnival received approval from the Cuban government to begin operating passenger cruises to the island country, part of its 'social-impact' travel packages.
Editors' pick: Originally published March 21.
The world's largest cruise line is about to make some history.
On Monday, Carnival (CCL) - Get Carnival Corporation Report announced that Cuba has agreed to let the company begin cruises to the island country starting May 1, the first time in more than 50 years an ocean liner from the U.S. has been allowed there. President Obama said two years ago that the U.S. would begin rebuilding diplomatic relations with Cuba, which collapsed during the Cold War. The U.S. embassy there reopened in 2015.
Carnival will take the 704-passenger MV Adonia to Cuba through its newest brand Fathom, which focuses on what it calls "social-impact travel." For $2,990, passengers will get seven days of purpose-oriented experiences, such as teaching kids in a village how to read and write English.

So far, Carnival says bookings to Cuba have been "strong," but the ship is not yet sold out.  That may change in light of the Cuban government's approval, Carnival execs suggested on a call with media from Cuba.
Still, investors shouldn't expect an immediate pop in Carnival's profit due to Cuban travel.
"We are very excited about Cuba -- it won't provide an immediate bottom-line benefit, but what it does is increase interest in taking a cruise and helps raise awareness," Carnival CEO Arnold Donald told TheStreet.  "Over time, we will have other ships going to Cuba and more ports will open up, which will drive interest in cruising to the Caribbean -- we think it will be a major positive economic driver" 
Donald says he doesn't see any major risks with the service, since European ships have been sailing to Cuba for some time, but did acknowledge being "sensitive" to the land experiences for guests.
The news comes on the heels of Obama's historic visit to the country, which began Sunday. On March 17, the U.S. said it would remove Cuba from its list of countries deemed to have insufficient security in their ports, removing a major obstacle.
The shift in policy cleared the path for U.S. cruise ships, cargo vessels and even ferries to travel back and forth with far less hassle. All ships will no longer have to wait for the U.S. Coast Guard to board and inspect them.
Suffice it to say that other major cruise lines are likely waiting in the wings to cash in on Cuba at long last.
Norwegian Cruise Line (NCLH) - Get Norwegian Cruise Line Holdings Ltd. Report said in August that it applied for licenses from the U.S. Treasury and the U.S. Department of Commerce to offer direct voyages to Cuba. The company signaled the first vessel that it may send to Cuba would be under its Oceania line but has not disclosed specific plans.
In a note to clients on Monday, Nomura analyst Harry Curtis said Norwegian Cruise Line was expecting the Cuban government to approve the proposal around the end of the month.
To say Norwegian Cruise Line's CEO Frank del Rio is bullish on Cuba is an understatement.
"God put that body of land in the right place for the cruise industry, given its proximity to Florida," Del Rio told TheStreetlast year. "Cuba is exciting for other reasons, too -- it's the pent-up demand, it has history, it has culture. It has multiple ports, too."
So far, Royal Caribbean (RCL) - Get Royal Caribbean Group Report has not disclosed its plans for the Cuban market, but Curtis anticipates the line will receive approval around the same time as Norwegian.