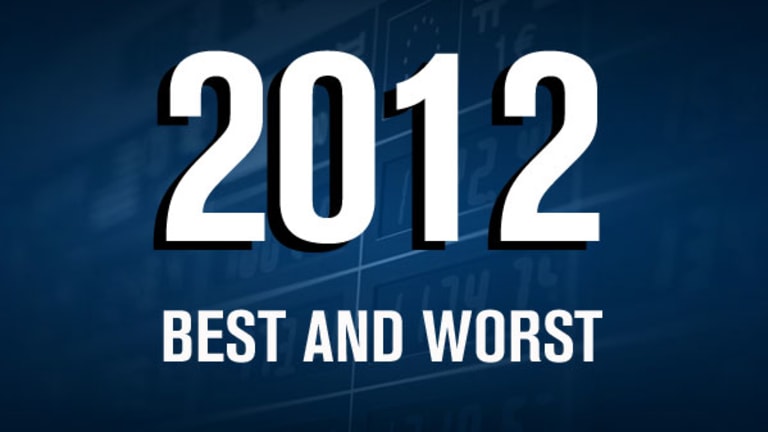 Publish date:
A Call to Action: The Best and Worst of 2012
Before running through some of his 2012 highlights, <I>TheStreet's</I> Rocco Pendola has a small favor to ask.
Before running through some of his 2012 highlights, <I>TheStreet's</I> Rocco Pendola has a small favor to ask.
NEW YORK (TheStreet) -- You can give me a free and easy holiday gift right here, right now.
Please
share this article
on your social networks, particularly
Twitter
and
Facebook
(FB) - Get Facebook, Inc. Class A Report
. We even have share buttons available for your convenience, free of charge, just below the headline.
In this article I link to some worthy charities. My favorites. If you can and are inclined, consider throwing one or more of them a couple bucks.
The Best Has to Come Out of the Worst
I don't want to be a downer so I will get the serious stuff out of the way first, followed by a more lighthearted look back on 2012. But, it's that time of the year and, after what happened in Newtown Friday, I'll use whatever platform I have to raise a little awareness for great causes.
Plus, the best has to come out of the worst. You really have no other choice. Otherwise, you'll be even more anxious and depressed than the reality of our world predisposes us to be.
It must be because I'm getting older, but the tragedies that struck this year hit me harder than whatever chaos that took place in previous years.
It started in January of 2012 when I pretty much knew cancer was set to kill my mother-in-law. It went from her lungs to who knows where else, but it did what it does best when it got into her brain. She fought remarkably hard for more than two years, but that was it.
When she was diagnosed, I sent her Lance Armstrong's book. Shortly after she died,
I lost faith in Lance Armstrong
. But I never lost faith in his wonderful LIVESTRONG Foundation
.
Her death also triggered the discovery of another great group that hates cancer and does something about it. A worthy
and a great place to send a few spare dollars: a charity registered in the U.S. and Canada, F**K CANCER
.
Every time you turn around somebody gets cancer. Too many die.
Newtown and Aurora
I have very few answers, only questions. That's probably best.
I'm not sure if the people of Newtown need your money, but they could use your support. The U.S. Postal Service set up a P.O. Box you can use to write to the residents of this devastated community:
P.O. Box 3700, Newtown, CT, 06470
.
A few months back, a gunman stormed into an Aurora, Colo. movie theater and killed a whole bunch of people who were just trying to having a night out. While every victim deserves space in an article like this, I single out one, simply because I had a very indirect connection to her.
In my radio days, I covered hockey. That put me in touch with various hockey people. Many of them knew Jessica Redfield Ghawi, who passed away in that movie theater. By all accounts, she was going to be a great sportscaster. Because she cannot realize that dream, friends and family set up a scholarship in hopes that others can.
.
If these mass murders didn't hit close enough to home, the senseless killing of two young children, Lucia and Leo Krim, did. Their father, Kevin, is an executive at
CNBC
. I don't know Kevin. Never met him. But I work with people every single day who do know him. We can't lose sight of what the Krim family is going through, particularly with the holidays here.
Shortly after Lucia and Leo's deaths, the Krims set up the
Lulu and Leo Fund
, which supports arts and science education. You can find details and
.
I would have much preferred to spend my time in this article focusing on what I consider the best things happenings in 2012:
Yahoo! (YHOO) names Marissa Mayer CEO. This bold move by the YHOO board should go down as 2012's best stock market-related moment. Since Mayer came aboard and I called a $20 price target, YHOO is up roughly 26%. If Mayer is the best and most exciting thing to happen to tech this year, the move Tim Cook and Apple (AAPL) - Get Apple Inc. (AAPL) Report made ranks a close second. A big highlight for me in 2012 -- making my first-ever appearances on CNBC. In the second one, I went bullish iPad Mini under one condition: Apple does not get involved in a price war. I wanted a premium-priced product. That's what I got and this slightly diminutive iPad continues to sell like mad. I got this gig at TheStreet (TST) - Get TheStreet, Inc. Report. If somebody told me at the beginning of 2012 I was going to be in a conference room with this incredible crew at TheStreet by the end of the year, I would have told them they were crazy. It's a dream come true. And we're working on 2013's biggest turnaround story right alongside Marissa Mayer's Yahoo!
Thanks for reading. Much appreciated and eternally grateful.
Rocco Pendola is long shares of TST
.
--Written by Rocco Pendola in Santa Monica, Calif.
Rocco Pendola is
TheStreet's
Director of Social Media. Pendola's daily contributions to
TheStreet
frequently appear on
CNBC
and at various top online properties, such as
Forbes
.