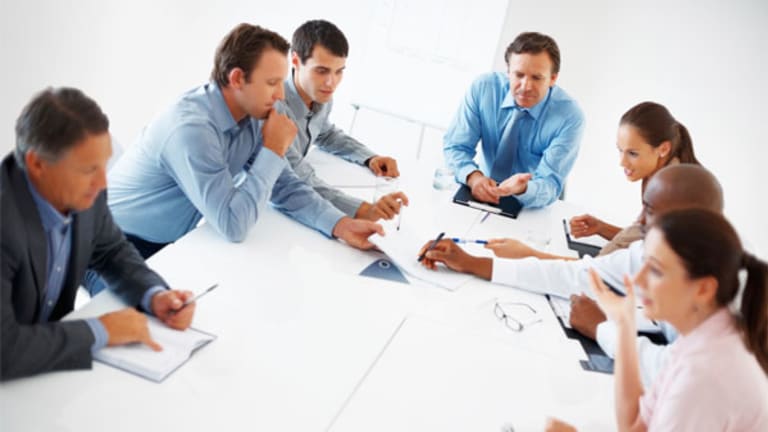 A Browser Window Into SIRI Psychology
This time killer of a hobby can yield useful insights.
NEW YORK (TheStreet) -- Yahoo! (YHOO) may be a mess, bordering on unmitigated disaster, but I still find myself drawn to its Web sites for a few specific things -- hockey coverage, for one.
Among the tools I use is the stock search on the Yahoo! Finance page. Like Amazon's searches, the Yahoo! ticker search points out other stocks that investors have looked up:
People viewing XXX also viewed ...
.
I started off just playing a game with myself when I was bored -- trying to get from one stock to another with the least amount of steps. But this gadget also offers an interesting way to peek into investor psychology.
The game goes like this: First, I pull up the quote for "SIRI," which is, of course, satellite radio company
Sirius XM
(SIRI) - Get Sirius XM Holdings, Inc. Report
. Then I challenge myself to get to the quote page for
Apple
(AAPL) - Get Apple Inc. Report
using only the following links to related tickers --
People viewing SIRI also viewed: P RAD NFLX ALU LMCA S
.
That one is actually pretty easy. Linking to NFLX allows you to link to AMZN, which provides GOOG as a "people viewing ..." choice. GOOG then naturally includes a link to get to AAPL's quote page. Perfectly logical.
And, of course, this exercise, which you can really up the level of difficulty on, only proves what a complete and total geek of a loser I am.
But then I took a closer look at the SIRI ticker results. For obvious reasons, it includes
People viewing ...
links to
Liberty Media
(LMCA)
and
Pandora
(P)
. I'm not sure why SIRI watchers also view
Netflix
(NFLX) - Get Netflix, Inc. Report
, but it's pretty obvious why they track
Rite Aid
(RAD) - Get Rite Aid Corporation Report
,
Alcatel-Lucent
(ALU)
and
Sprint
(S) - Get SentinelOne, Inc. Class A Report
.
As Cramer
cautioned
last year, the hands that hold SIRI are attached to "penny stock guys" and that's often not the best crew to be in the company of. It should come as no surprise that the folks who check SIRI's price obsessively also concern themselves with other low-priced hopes and dreams such as RAD, ALU and S.
For the most part, these stocks represent dead money. But they also serve as poster children for the penny stock dream SIRI's most ardent bulls chase.
Cheap Thrills
There's a reason why SIRI bulls lash out like children in the comments' sections of articles. For every one long who became wealthy riding SIRI from nickels and dimes to the current $2.00 level, you likely have dozens of others holding the bag at frighteningly high costs bases. Don't mistake the confidence they show in their stock for anything but what it is -- a pathetically desperate attempt to pump themselves out of a hole.
These folks are not traders. They're not investors. They're gamblers. They're junkies. Low-priced stocks capture the weakest parts of their imaginations.
Why own 10 shares of a truly cheap company like Apple or Google when you can own thousands of shares of SIRI, RAD, ALU or S for the same amount of money? It's flawed logic, but we've all been taken by it at one time or another. That's not a sin; you can learn from the experience. You put yourself into an entirely different risk pool, however, when you join the cult and allocate a considerable chunk of your capital to sub-$5.00 traps.
The
People viewing ...
links at Yahoo! Finance can help illustrate another important mindset for investors to consider.
Wednesday, I wrote
for
TheStreet
describing what
Best Buy
(BBY) - Get Best Buy Co., Inc. Report
needs to do to survive. In a nutshell, it should name a young executive as CEO. A person who has come through the Silicon Valley ranks (I submit Stephen Gillett), to turn Best Buy into something that looks more like a cross between
Lululemon
(LULU) - Get Lululemon Athletica Inc Report
,
Starbucks
(SBUX) - Get Starbucks Corporation Report
and the most aggressive and innovative technology companies.
At present, investors do not view Best Buy in that regard. It's not even close. With the exception of AMZN, people who view the BBY quote view the quotes of other traditional retailers. That's to be expected.
When you pull up an AMZN quote, however, you can readily link to NFLX, GOOG,
Priceline.com
(PCLN)
,
Bidu.com
(BIDU) - Get Baidu Inc. Report
,
Mastercard
(MA) - Get Mastercard Incorporated Class A Report
and
Chipotle Mexican Grill
(CMG) - Get Chipotle Mexican Grill, Inc. Report
. CMG, PCLN and SBUX are among the tickers that show up when you query Yahoo! Finance for a LULU quote.
Of course, this is hardly scientific, but it's a fun and often worthy endeavor. And it's just one ingredient to use when evaluating a stock and the space(s) it runs in.
If nothing else, it should provide resolve when potential dead money like SIRI, ALU or S tempt you. Do you really want to follow the lead of the standard SIRI bull?
It also helps illustrate how other investors perceive certain stocks. At the moment, I want to buy retailers people associate with innovative high-flyers like CMG and SBUX not retail's old guard.
At the time of publication, the author was long LULU and P.