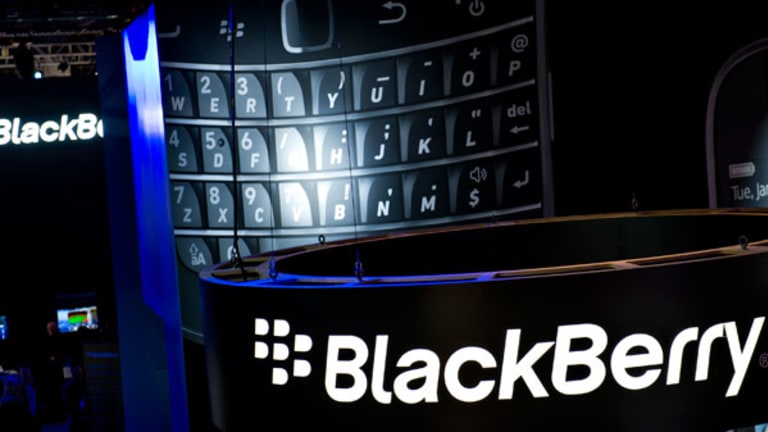 A BlackBerry Bull Who's Way Above Consensus
Gus Papageorgiou of Scotia Capital is BlackBerry's biggest booster, and he has high expectations for its earnings.
NEW YORK (TheStreet) -- On Friday morning before the open, BlackBerryundefined will report its May quarterly earnings. It's a big report for BlackBerry.
Bears have driven the short interest to 35% of the overall float. They believe BlackBerry is the next Palm and that it should be revealed in this quarter's numbers, which will be the first with evidence of how the two new BlackBerry phones (the Z10 and Q10) are actually selling. Even if BlackBerry beats estimates of how well it sells its new phones this quarter, the bears complain that it will only be because they stuff the channel.
The bulls think that if BlackBerry beats this quarter, it will be a sign the existing subscriber base is still embracing the new BlackBerry phones and the stock is still trading too cheaply relative to others. They expect there will have to be a revision of how the stock is priced relating to its fundamentals. This will likely mean a massive short-covering.
Who's the most bullish analyst on the Street about how BlackBerry should do on Friday? That would be Gus Papageorgiou of Scotia Capital, based in Toronto.
Gus came out with his pre-earnings update on Tuesday and he had some big "out of consensus" estimates compared to the rest of the Street. Whereas the consensus at the moment is for BlackBerry to do $3.4 billion in revenue and 7 cents a share in EPS, Papageorgiou sees BlackBerry doing $4.1 billion in revenue and 72 cents a share in EPS.
Just to put that 72 cents EPS number in perspective for the quarter, the consensus estimate for BlackBerry's full year (ending February 2014) EPS is 45 cents.
>>Also see: Pandora Pops Despite Microsoft's 'Pandora Killer'>>
So what's going on here? Someone must be way off in the calculations.
Here are the main reasons Papageorgiou cites in why he thinks this quarter for BlackBerry could be a blockbuster compared to the consensus view:
BB10 devices are very profitable. Papageorgiou believes the new phones generate a gross margin of about 45% on an average selling price (ASP) of $550. That's significantly more than the consensus view that these new phones will sell at an ASP of $485. Additionally, the Street is modeling in a drop in BlackBerry gross margins from 40% last quarter to 38.4% this quarter. He is perplexed how that's possible given that the company will sell a lot more of the more profitable BB10s in the quarter. There should be a very healthy improvement in BB10 device shipments in the quarter. Papageorgiou is projecting 3.6 million BB10 phones shipped in the quarter. This is up from 1 million in the prior quarter. The consensus view is that BlackBerry will ship 3.3 million BB10 devices. Some analysts like SocGen have even said BlackBerry could ship five million BB10s in the quarter. The BB7s don't make any money for BlackBerry anyway. A big assumption Papageorgiou makes is that BlackBerry actually doesn't make any money selling its old BB7 phones. I agree with this view based on some research we've done. In the past year, when the company has only been selling the older BB7s, how else was it possible to make a loss when they were still doing around $1 billion a quarter in high margin service revenues each quarter? So, if the customer base is rapidly shifting to BB10s from BB7s, this should be enormously profitable for BlackBerry. Services won't be down nearly as bad as most expect. One of the things that really spooked BlackBerry investors a few months ago was the idea -- badly communicated by CEO Thorsten Heins -- that BlackBerry's $1 billion-a-quarter high margin service revenue stream might be reduced. Immediately analysts started imagining that it would drop to zero. Then, management clarified that it should shrink no more than single digits each quarter and they were rapidly working to replace that revenue. Papageorgiou thinks that the service revenue line will only be down about 3% this quarter from last to $938 million. BlackBerry's subscriber count will actually stay flat this quarter. The consensus view is that BlackBerry could see another three million to five million loss in subscribers this quarter, continuing the trend of the last year. Papageorgiou is actually calling for no losses. It's a big call. I'm not sure I -- as someone who's bullish on the company -- believe it. But it is possible with a full quarter of new devices preventing many subscribers from defecting. If they've waited this long and there is no more than just light at the end of the tunnel, it is possible. Next quarter will get even better and estimates will have to be revised upward. Another big difference between Papageorgiou and the Street is he thinks things will just keep getting better and better for BlackBerry after this quarter. Sales will keep building. Enterprises will keep approving the new BES 10 servers and ordering new phones, so orders will increase accordingly. Most on the Street believe this will be a last gasp quarter for BlackBerry. These bears think management will try to stuff the channel but demand for the new phones won't be there. Papageorgiou thinks it will keep improving. He sees next quarter with the company doing $5.1 billion in revenue and $1.28 in EPS. Consensus on next quarter calls for $3.5 billion in revenue and 46 cents in EPS. BlackBerry management has totally sandbagged estimates. At one point, Papageorgiou says: "We believe many analysts have kept their EPS numbers consistent with management's guidance of a break-even quarter. However, we just flat out do not believe that guidance. We expect both gross margins and ASPs to be significantly higher on the back of the BB 10 launches and as a result drive decent profitability for the company." Papageorgiou has been a long-time analyst for the company and is geographically close to the headquarters. He knows it a lot better than most covering it from afar only because they have to. I think he's probably right about gauging this point.
There's one other interesting little tidbit in the back of Papageorgiou's report: He expects
Sony
to soon start selling BB10 devices in Japan.
Here's why.
The former
Sony-Ericsson
CEO is on the BlackBerry board. This ex-CEO is also a big backer of another company working closely on the "Internet of Things." A few months ago, BlackBerry decided to pull out of Japan entirely, perhaps setting the stage to return with Sony as a partner. Finally, Sony has already indicated that it would support three mobile OSs: Android,
Microsoft
(MSFT) - Get Microsoft Corporation Report
and another. BlackBerry is the next most popular. Therefore, BlackBerry could likely benefit from this kind of licensing relationship.
I'm not sure that Papageorgiou is correct that BlackBerry will ship four million BB7s this quarter. This won't affect his EPS estimate, though, since he's expecting no contribution from these phones. If it is light, though, it would mean it would be unlikely the company could hit $4.1 billion for the quarter.
>>Also see: Sallie Mae Shows Learning is Lucrative for Lenders>>
However, I agree with Papageorgiou much more than I disagree with him on this quarter. Some of the other sell-side reports on BlackBerry make bold predictions on device sales but have a difficult time explaining where they came up with that number and how it trickles through to lead to an EPS estimate.
Papageorgiou may be way "out of consensus" on his call for BlackBerry this quarter, but I expect him to be closer to the mark than anyone else.
At the time of publication the author was long BBRY.
This article was written by an independent contributor, separate from TheStreet's regular news coverage.
Eric Jackson is founder and Managing Member of Ironfire Capital and the general partner and investment manager of Ironfire Capital US Fund LP and Ironfire Capital International Fund, Ltd. In January 2007, Jackson started the world's first Internet-based campaign to increase shareholder value at Yahoo!, leading to a change in CEOs in 2007. He also spoke out in favor of Yahoo!'s accepting Microsoft's buyout offer in 2008. Global Proxy Watch named Jackson as one of its 10 "Stars" who positively influenced international corporate governance and shareowner value in 2007.
Prior to founding Ironfire Capital, Jackson was President and CEO of Jackson Leadership Systems, Inc., a leadership, strategy, and governance consulting firm. He completed his Ph.D. in the Management Department at the Columbia University Graduate School of Business in New York, with a specialization in Strategic Management and Corporate Governance, and holds a B.A. from McGill University.
He was previously Vice President of Strategy and Business Development at VoiceGenie Technologies, a software firm now owned by Alcatel-Lucent. In 2004, Jackson founded the Young Patrons' Circle at the Royal Ontario Museum in Toronto, which is now the second-largest social and philanthropic group of its kind in North America, raising $500,000 annually for the museum. You can follow Jackson on Twitter at www.twitter.com/ericjackson or @ericjackson.
You can contact Eric by emailing him at eric.jackson@thestreet.com.