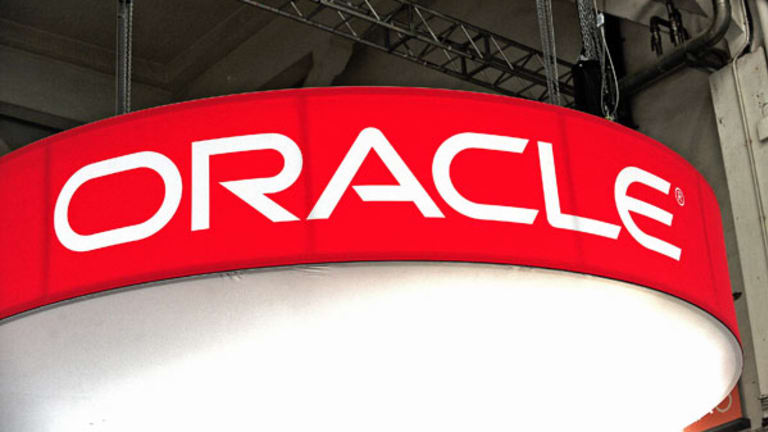 NEW YORK (F.A.S.T. Graphs) -- Oracle (ORCL) - Get Oracle Corporation Report announced fiscal third-quarter 2013 earnings that theoretically missed the consensus estimate by 1 cent.
If you consider that Oracle's normal PE ratio over the past decade has been approximately 20, then logic would dictate that Oracle's share price should have dropped by 20 cents, or 20 times 1 cent. Instead, Oracle's stock price fell by $3.47, or 9.69%, Thursday. How is it logical that the market value of a $169 billion technology stalwart could fall by that much in a matter of minutes?
When I was a boy I used to love reading superhero comic books, and Superman was one of my favorites. In the 1950s DC Comics introduced Bizarro Superman from Bizarro World. Bizarro Superman was the exact opposite of Superman, and in the alternate world he lived in everything was the exact opposite of normal. Today, more than five decades later, I often wonder if Wall Street is the true life version of Bizarro World.
With my feet planted firmly here on Earth, allow me to review some of Oracle's operating metrics for the third quarter, which, by the way, is typically one of the company's weaker quarters. There certainly were some negatives as revenue in many of its key lines were weak or even slightly down. Consequently, total revenue was flat to slightly down. On the other hand, earnings per share for the quarter grew 5% on a non-GAAP basis in US currency, and 6% GAAP earnings per share growth in US dollars.
Operating cash flow increased to $13.7 billion and free cash flow grew to $13 billion, both third-quarter records. Therefore, Oracle now has $33.4 billion in cash and marketable securities. Thereby, according to President and CFO Safra Catz, "we remain committed to returning that value to our shareholders through technical innovation, acquisitions, stock repurchases, dividends, and the prudent use of debt."
Oracle has hired over 4,000 new sales associates, and during the earnings call management indicated the pipeline is full and conversion rates are up. Mark Hurd, president, announced several key wins, citing: "Travelocity, Walt Disney World, Kaiser Foundation, Office Depot, Match.com, CGI group, Southwest Airlines, Dow Chemical, Union Bank, Renault, National Instruments, and Lender Processing services. " It seems like business is pretty robust to me.
Let's take a look at Oracle's historical operating performance over the past decade (since calendar year 2003), and see what kind of track record we have to go on. The following F.A.S.T. Graphs reflect Oracle's operating earnings (the orange line) and dividends (the light blue shaded area). Operating earnings growth has averaged 17 ½% per annum, and the dividend has grown along with earnings since Oracle first instituted a dividend in 2005. This is clearly the record of an extremely well-managed and very fast-growing enterprise.
When we bring Oracle's stock price into the picture, we discover the market has typically applied a normal PE ratio of 20, which I referenced above. Consequently, a normal blended PE ratio of 13.6 after Thursday's drop in price seems to indicate a below-normal valuation.
In the normal world, logic would dictate the wisdom of buying low in order to sell higher later. However, in my Bizarro World, aka Wall Street, the current mantra seems to be sell low, or as stated above, the opposite of what should happen in a more logically normal world.
Oracle's strong operating results have also generated strong shareholder returns. Even at what I consider to be historically undervalued levels, Oracle's stock has soundly outperformed the
S&P 500
.
Oracle's CEO, Larry Ellison, offered only some brief comment during the conference call. However, even though his comments were brief, his remarks were very enthusiastic regarding Oracle's future.
He focused on Oracle's product transitions to the more powerful and lightning-fast next generation of servers built utilizing the new SPARC T5 microprocessor, which he called the world's fastest. Ellison teased us by announcing that next week Oracle will publish 17 world-record benchmarks showing that SPARC T5 is the fastest processor in the world for a database.
Although I'm not a technology expert, I believe speed in the database space as The Cloud continues to evolve and grow would seem like a strong advantage to me. Consequently, I do not find it hard to believe Ellison when he stated that he believed that the first quarter and all of next year will be a big growth year for Oracle's entire hardware business.
In other words, it appears to me that Oracle's growth is far from over.
The following Estimated Earnings and Return Calculator is based on the consensus of 41 analysts reporting to Standard & Poor's Capital IQ that forecast Oracle's five-year earnings growth rate of 11.5% per annum. Based on what I heard in the conference call, I believe these estimates could be conservatively stated. Nevertheless, they imply double-digit returns, including dividends for Oracle shareholders over the intermediate to long-term future.
Summary and Conclusions:
Based on fundamentals, I believe Oracle was undervalued prior to its third quarter 2013 conference call on March 20. After what I consider to be a rather "Bizarro" reaction on Wall Street, I feel the stock has moved into a compelling long-term buying range.
I can't believe that such a small miss would create such a hugely negative reaction. In my logical world, I believe buying low in order to sell higher later is the more logical action over the opposite that is currently taking place.
At the time of publication the author was long ORCL.
This article was written by an independent contributor, separate from TheStreet's regular news coverage.