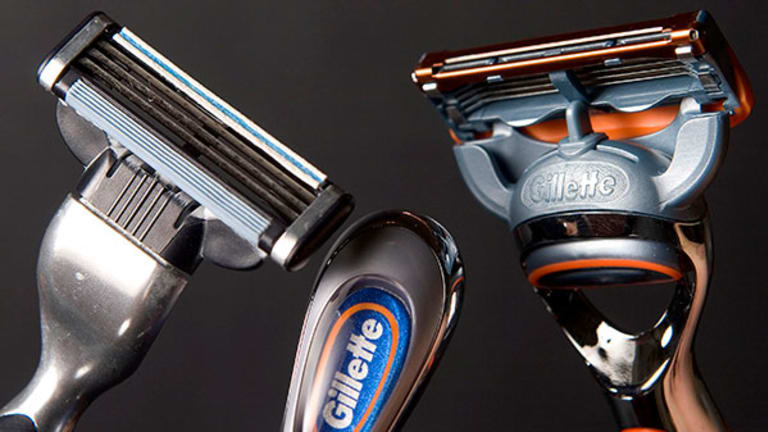 A Battle for Your Face: Online Startups Take On Procter & Gamble's Gillette
Shaving wars go to the Web as two startups ply razors online.
NEW YORK (TheStreet) -- Procter & Gamble (PG) Gillette unit dominates the razor market, but it now faces competition from startup e-commerce companies that offer subscription models.
Two such companies are Dollar Shave Club and Harry's. Dollar Shave Club offers monthly subscriptions for shaving products, ranging from $1 to $9 a month. Its most popular plan is $6 a month. In October, the company raised $12 million in private-equity funding. At the time, it had 330,000 subscribers.
The company was started in 2012 and became a sensation on Google's (GOOG) YouTube with videos of CEO Michael Durbin doing wacky things such as dancing with a bear and with its motto, "Our blades are f--- great."
Harry's was started in March of last year by Jeffrey Reider, who was also a co-founder of Warby Parker, an eyeglass retailer founded in 2010. In January, Harry's bought a factory in Germany to increase its production capacity.
[Read: Microsoft Leaves Staples to Drown]
In its first nine months, Harry's sold more than 100,000 shaving kits, which consist of a razor, shaving cream and a set of blades. Harry's has a $10 Truman razor and a $20 Winston. The company sells cartridges for $1.88 each.
Harry's also offers a subscription model. The auto refill offer costs $31 for every two months.
Gillette is working on its own subscription models. Customers can customize subscriptions for Gillette products on Amazon (AMZN) , Soap.com (an Amazon company), drugstore.com and Target (TGT) .
Meanwhile, Gillette is introducing a higher cost razor called ProGlide FlexBall, which is designed to shave more precisely. The razor will cost $11.49 to $12.59.
[Read: How to Make Credit Cards Work for You]
On Wednesday, Procter & Gamble reported a slightly higher profit for its fiscal third quarter ended on March 31. Volume from the company's grooming unit rose 2% during the quarter. The unit made up 9% of P&G's overall revenue, but 18% of its unit, and so if competitors take market share from Gillette, P&G's profits and stock price could suffer.
Shares of P&G closed Thursday at $81.15. The stock is about flat during the past year, compared with 20% rise for the Standard & Poor's 500 index.
At the time of publication, the author held no positions in any of the stocks mentioned.

This article represents the opinion of a contributor and not necessarily that of TheStreet or its editorial staff.