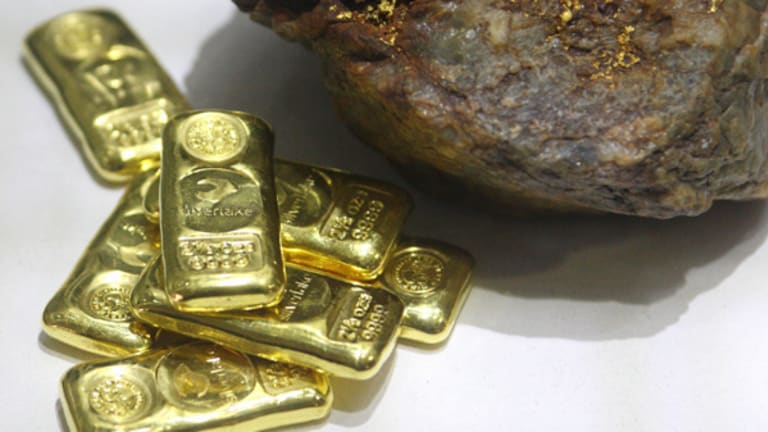 [video] Quick Take: Gold Tumbles as Fed Gets Hawkish
Gold tumbles as a hawkish tone grips the Federal Reserve. Capital Gold Group's Jonathan Rose explains what to expect for gold prices.
NEW YORK (TheStreet) -- Gold prices are lower, following the Federal Reserve's FOMCstatement, which investors viewed as being more hawkish than anticipated.
TheStreet's Joe Deaux talks with Jonathan Rose, president and CEO of Capital Gold Group. Rose says that stocks will likely pull back when the Fed announces its plan to taper asset purchases, since equities have been moving in tandem with monetary stimulus. 
He adds that the first signs of tapering appeared earlier this year and quickly sent equity prices lower. 
Rose says that stimulative monetary policy can create inflation, causing the dollar's value to fall and gold to appreciate.
Although inflation can quickly get out of control, the Fed has largely done an excellent job keeping it steady, he says. 
But Rose warns that the U.S. can't keep printing money without eventually having negative consequences. Although gold has been volatile, it should be viewed as the ultimate safe haven, Rose says. 
So what happens when tapering is finally announced? Rose says that both the stock market and the yellow metal will sell off.
He concludes that there will likely be money to be made on the downside in gold over the short term when that announcement is made.
-- Written by Bret Kenwell in Petoskey, Mich.
Bret Kenwell currently writes, blogs and also contributes to Robert Weinstein's Weekly Options Newsletter. Focuses on short-to-intermediate-term trading opportunities that can be exposed via options. He prefers to use debit trades on momentum setups and credit trades on support/resistance setups. He also focuses on building long-term wealth by searching for consistent, quality dividend paying companies and long-term growth companies. He considers himself the surfer, not the wave, in relation to the market and himself. He has no allegiance to either the bull side or the bear side.