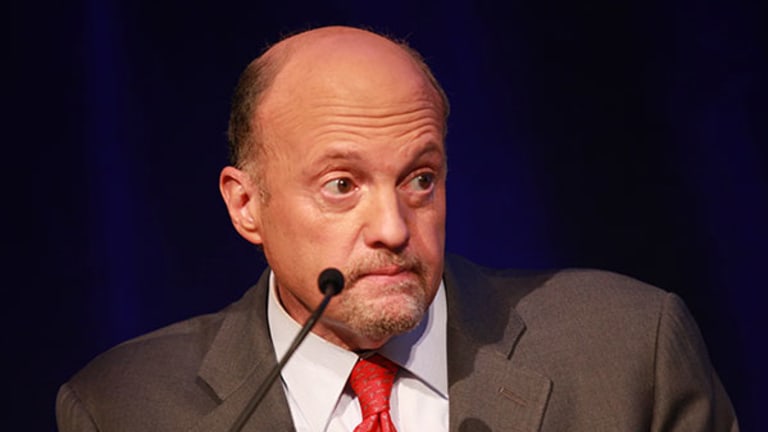 [video] Jim Cramer Quick Take: Don't Bet Against the Consumer
<i>TheStreet's</i> Jim Cramer and Stephanie Link discussed how retailers are 'on fire' this week, and how investors need to have faith in consumers.
NEW YORK (TheStreet) -- Don't lose faith in the consumer, TheStreet's Jim Cramer and Stephanie Link agreed in a video discussion.
Link observed that retailers are "on fire." Home Depot (HD) - Get Free Report, Lowe's (LOW) - Get Free Report, Target (TGT) - Get Free Report, Macy's (M) - Get Free Report and TJX (TJX) - Get Free Report have all reported in the past week. In the charitable Action Alerts Plus portfolio, which they co-manage, they hold Home Depot, Macy's and TJX stock.
Some bears have been skeptical about retail. But Cramer quoted from the Macy's conference call this week: "Since Valentine's Day, things were terrific." That has been the case throughout retail.
Sure, there was a "period of frost," as Cramer put it. But retailers had no need to "fire sale" their merchandise, and gross margins were solid. Link added that the underlying economy is strong, and she expects that to become more obvious when the weather improves.
After all, Link said, consumer spending is 75% of GDP.
Why did retailers bounce? For one thing, "the bears who did press these stocks have not found the sellers they need to cover their shorts," said Cramer. Plus bad news in the earnings reports could have been worse. Investors seemed relieved that the damage was limited -- even at Target, with its data breach fresh in memory.
Housing-related numbers really did "stir the pot," said Cramer. The Home Depot and Lowe's reports show that January wasn't a bad month for sales, even if some consumers decided to "hibernate until it got nicer." Also, Frank Blake of Home Depot was full of positive reports on housing in investor call.
"People were wrong to bet against the consumer," Cramer declared.
--Written by Nora Morrison in Cleveland.
This article represents the opinion of a contributor and not necessarily that of TheStreet or its editorial staff.
Nora Morrison is a researcher, writer and editor on music, popular culture, and business topics. She is an associate editor at
TheStreet
, and is on Twitter at
No Ticker.