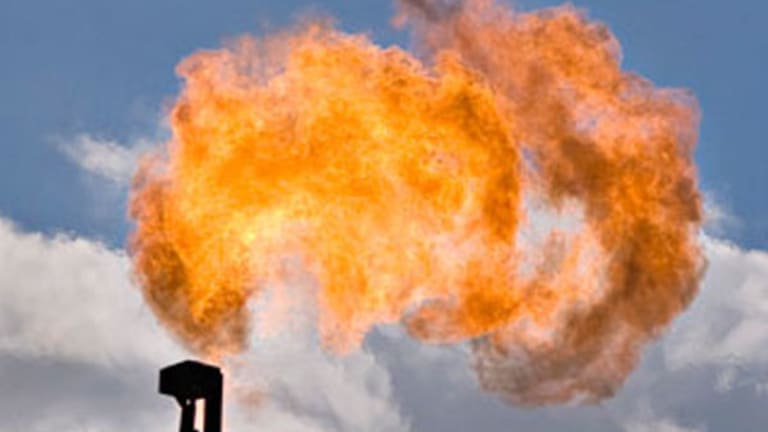 [video] Dicker on Natural Gas: Party Like It's 2007
Dan Dicker talks with Jill Malandrino about the lunatic natural gas trade, and where it goes from here.
NEW YORK (TheStreet) -- I was talking to Jill Malandrino today about the crazy natural gas trade and what to expect from it in the near future. In the last week, natural gas has traded much like it did back in the day when I was trading it on the floor of the New York Mercantile Exchange in the mid-2000s. On Monday we saw a move of more than 6%.
Much of this volatility has been obviously related to the tundra-like conditions we've been seeing throughout the United States, but particularly here in the Northeast. But each new frigid blast of cold temps has brought with it another important catalyst to the volatility of the "nat gas" trade: day traders.
Big moves inspire day traders looking to make quick money, but in most cases it has resulted in bigger losses than gains -- the move of nat gas futures two weeks ago above $5.60/mcf was only possible because so many traders were stuck short going into the expiration of the February contract. Similarly, you just do not get a 35-cent move down in the futures market in one day, as you did on Monday, unless you've got a lot of day traders long the futures looking for a quick rise because of cold forecasts.
So we know that much of the volatility is trader-driven, but that doesn't mean there aren't fundamentals to help us guide a more long-term view. There are strong reasons to believe that Nat gas is now more sustainable above $4.50/mcf for the long haul: Sequestration and cold temps have dropped stockpiles, domestic exploration and production (E&P) companies continue to forsake nat gas production for natural gas liquids (NGL) and shale crude and deals for liquified natural gas (LNG) exports that are supporting new LNG terminals are being inked.
Indeed, the State Department just approved another LNG terminal to be built in Louisiana today, this one owned by Sempra Energy (SRE) - Get Sempra Energy Report -- Export terminals are slow to build but are coming online in 2015 with signed export arrangements impacting domestic supply and ultimately price.
That's why long-term energy investment in dedicated natural gas producers is still undervalued, despite the recent volatility in the futures price. While Cabot (COG) - Get Cabot Oil & Gas Corporation Report and EQT Corp (EQT) - Get EQT Corporation Report are well priced in the Marcellus, Fayetteville shale leader Southwestern (SWN) - Get Southwestern Energy Company Report is my best recommendation.
I talk more about natural gas with Jill in the video above.
At the time of publication the author had no position in any of the stocks mentioned.
This article represents the opinion of a contributor and not necessarily that of TheStreet or its editorial staff.
Dan Dicker has been a floor trader at the New York Mercantile Exchange with more than 25 years of oil trading experience. He is a licensed commodities trade adviser.
Dan is currently President of
a wealth management firm and is the author of
published in March of 2011 by John Wiley and Sons.
Dan Dicker has appeared as an energy analyst since 2002 with all the major financial news networks. He has lent his expertise in hundreds of live radio and television broadcasts on
CNBC
,
Bloomberg
US and UK and
CNNfn.
Dan obtained a bachelor of arts degree from the State University of New York at Stony Brook in 1982.