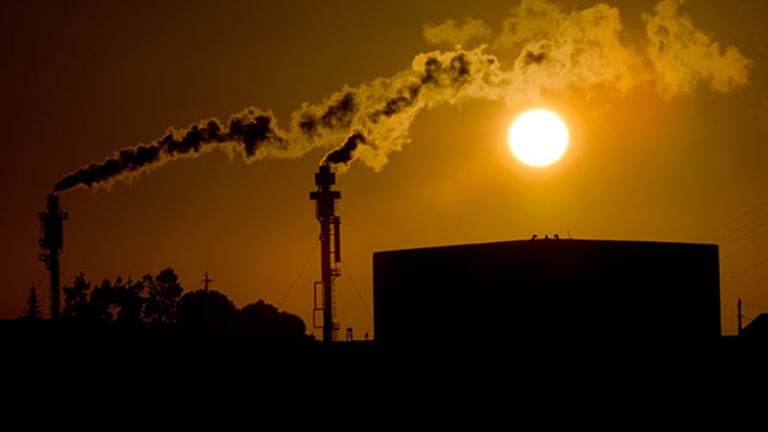 [video] Dicker: Brent, WTI Oil Grow Further Apart
The Brent-WTI oil spread is widening, and the move won't end soon. <I>TheStreet's</I> Dan Dicker tells Joe Deaux why you can't ignore it.
NEW YORK (TheStreet) -- I was talking today to Joe Deaux about the drop of crude under $100 a barrel, but even more important, the huge move in the spread between West Texas Intermediate crude (WTI) and Brent crude.
This relationship isn't as obscure as it sounds and helps to set the price that many exploration and production companies can get for their product and what many refiners pay for it. Therefore, we need to pay attention to the spread so that we can judge the relative value of these stocks.
But first, it is important to understand why the spread is moving and why WTI crude, which is the benchmark for the United States, is under $100 a barrel.
Two major trends are pushing prices lower -- increased production of crude from the major shale plays and a number of major refinery outages on the Gulf coast. While supplies have increased, the marginal demand for those barrels has decreased.
In Europe, where Brent crude is priced, the story is different: Continuing difficult geopolitics in Syria and Libya are squeezing supplies, while a renewed Europe is finally increasing demand.
Both of these individual trends are likely to continue. If the spread between the two remains as wide as it is today, or even goes further, there are stocks that will be directly affected.
One area that will do worse are the domestic exploration and production companies, which have been on a major tear in the last several months. A lower price for crude, one that hovers below $100 or even below $95, will cut their profitability compared to the previous three quarters of 2013.
One area that will fare better are the refiners, who will be able to buy crude at a cheaper U.S. rate, while selling refined products whose prices more closely reflect the European crude price.
I talk more about this critical spread relationship with Joe in the video above.
At the time of publication the author had no position in any of the stocks mentioned.
This article was written by an independent contributor, separate from TheStreet's regular news coverage.
Dan Dicker has been a floor trader at the New York Mercantile Exchange with more than 25 years of oil trading experience. He is a licensed commodities trade adviser.
 
Dan is currently President of
a wealth management firm and is the author of
published in March of 2011 by John Wiley and Sons.
 
Dan Dicker has appeared as an energy analyst since 2002 with all the major financial news networks. He has lent his expertise in hundreds of live radio and television broadcasts on
CNBC
,
Bloomberg
US and UK and
CNNfn.
 
Dan obtained a bachelor of arts degree from the State University of New York at Stony Brook in 1982.