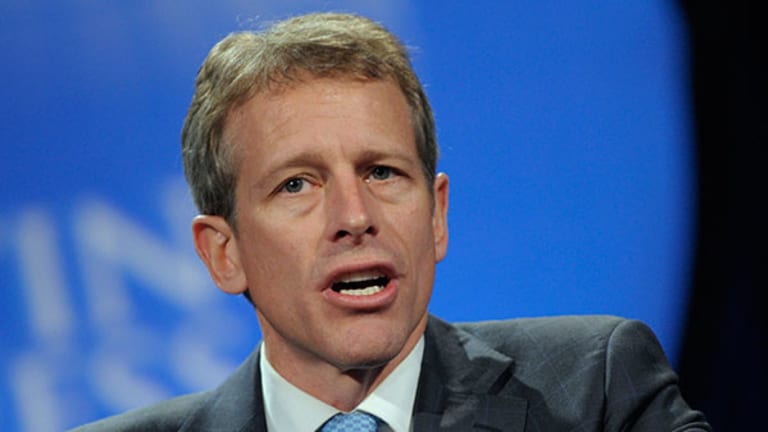 9 Stocks Whitney Tilson Likes a Whole Lot More Than Lumber Liquidators
Whitney Tilson might be famously short Lumber Liquidators, but here are nine stocks that make his buy list.
NEW YORK (TheStreet) -- There is no love lost between Whitney Tilson and Lumber Liquidators (LL) - Get Free Report, but there are plenty of stocks out there the manager of New York-based hedge fund Kase Capital does like.
Tilson, a value investor whose idols include Warren Buffett and Charlie Munger, has been publicly short Lumber Liquidators since 2013. He appeared in a 60 Minutesepisode that aired in March alleging its Chinese-made laminate flooring contains toxic amounts of formaldehyde. "In 16 years of professional money management, I've seen companies do all sorts of bad things to get their stock prices up," he said at the time. "But this has got to be the worst."
On Tuesday, Tilson continued his anti-Lumber Liquidators campaign after uncovering that the firm's chief compliance officer, Ray Cotton, had exited the company.
Although Tilson is no fan of Lumber Liquidators, there are plenty of companies out there he does like. In his most recent regulatory public holdings disclosure, Tilson lists 15 positions in his public equity portfolio. He demonstrates a clear penchant for firms in the industrials and basic materials sectors, which comprise nearly 50% of his fund.
Howard Hughes  (HHC) - Get Free Report is Tilson's top holding. As of March 31, he holds 50,425 shares valued at $7.8 million. 
He discussed his take on Howard Hughes at the 2012 Value Investing Congress after visiting a handful of the real estate development and management company's properties and, apparently, liking what he saw. In a presentation given at the event, Tilson concluded that HHC had a strong balance sheet and attractive assets, provided downside protection and offered an attractive risk/reward scenario with multiple free options.
He also gave mention to the company's "world-class" management and board, including fellow hedge fund manager and HHC shareholder Bill Ackman. 

Howard Hughes isn't the only top stock on which Tilson and Ackman overlap. Platform Specialty Products (PAH) - Get Free Report, Tilson's No. 2 holding, has caught  Ackman's eye, too. As of March 31, Tilson holds 271,140 shares valued at nearly $7 million, while Ackman's stake is worth more than $1 billion.
The Pershing Square manager touted PAH at the 2015 Sohn Investment Conference in May, pointing out in a presentation that the company is trading at a roughly 175% increase from its public offering in 2013. He also applauded its acquisition efforts and likely continues to do so today, as Platform Specialty Products recently bought OM Group's industrial chemicals business for $365 million.
Tilson's fourth-largest position, Air Products and Chemicals (APD) - Get Free Report, overlaps with Ackman as well. As of the end of the first quarter, Tilson has invested $4.5 million in the company and Ackman $3.1 billion.
Tilson's No. 3 position, separating PAH and APD in his portfolio, is Reading International  (RDI) - Get Free Report. He owns 371,106 shares valued at just under $5 million as of March 31. RDI is an internationally diversified hard asset company focused on the development, ownership and operation of entertainment and real estate assets in the U.S., Australia and New Zealand.
Rounding out the top five holdings in Tilson's public equity portfolio as of the end of the first quarter of JetBlue (JBLU) - Get Free Report, in which he has invested $4.3 million. In fact, it would appear the hedge fund manager is rather bullish on the airline industry overall.
Tilson also has stakes in Delta Air Lines (DAL) - Get Free Reportand American Airlines Group (AAL) - Get Free Report, valued at $3.7 million and $2.2 million, respectively. And in a related travel realm, he has invested significantly in car rental companies Avis Budget Group (CAR) - Get Free Report and Hertz Global Holdings (HTZ) - Get Free Report, with his stakes valued at $4.2 million and $3 million, respectively.
This article is commentary by an independent contributor. At the time of publication, the author held no positions in the stocks mentioned.