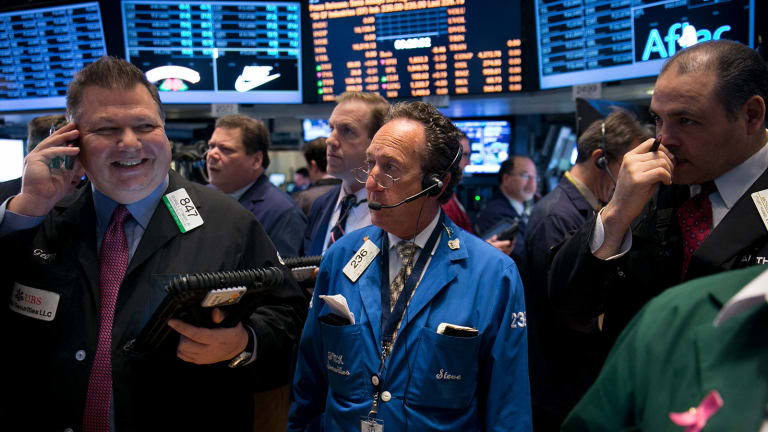 9 Stocks That Will Make Big Gains in This Month's Market Rally
Here are nine stocks that will make major gains as the stock market embarks on a multi-week rally.
NEW YORK (TheStreet) -- On Friday morning, before the stock market opened, we published a warning to short-sellers that stocks were about to embark on a multiweek rally. Sure enough, all three major stock market indices ended Friday's session higher.
But which stocks are poised to benefit the most from the rally? Today we'll look at nine that will make excellent bullish trades.
First, however, let's take a quick look at what happened after we made our warning on Friday, which was based on objective, multivariable technical analysis by the decision support engine. That warning was that minimal conditions had been met for a multiweek rally for the first time since stock indices peaked in the summer and began moving lower. Although the best pattern would have been for a quick blast lower into a Monday/Tuesday low and then reversal higher, the decision support engine Friday morning was flashing a red alert for an imminent change in investors' mood from bearish to bullish. 
Stock index futures had been higher, going into Friday's nonfarm payroll report, but they reversed to being sharply negative before the opening bell. Within minutes of the market open, the indices were all down sharply, until about 10 a.m. EDT, when stocks suddenly stopped falling, paused and then began monster rallies that ended with the stock indices closing at their highs for the session.
What changed from the crowd hating the jobs report number to loving it within 90 minutes of the data release? Mood. The crowd just ran out of hate ... but only for the very short term. In fact, a slightly lower low than last week's low cannot be ruled out early this week, but then the market will embark on the three- to five-week rise that the decision support engine flagged last Thursday night begins. Friday's market activity shows that the herd is running out of negativity. 
Now let's look at the stocks that should be out front during the coming rally.
On Friday, we predicted that shares of Goldman Sachs (GS) - Get Goldman Sachs Group, Inc. Report had finished the selloff that began from the high in June near $218 and that traders and investors should exit their short positions and establish long positions. Following is the chart from Friday's analysis:
Click here to see the following chart in a new window.
From Goldman Sachs' low last week near $168, you should expect a rally into the $190, +/-$5 zone.
If you're short, use buy stops to protect profits at $176, while trying to buy to cover your position on any test of $169 +/$2. If you're flat, start setting up a long position on further weakness toward $169 +/-$2, or upon a break above $176. If you're long, hold on here, and use the preceding parameters to maintain your exposure and add more if tolerable. Then, hold on for a quick up-down-up journey toward the pink box that now surrounds $195 +/-$5. When the stock gets into that zone, you should exit all long exposure, because the stock likely will plunge toward $145 +/-$8 in the first half of 2016. 
Wynn Resorts (WYNN) - Get Wynn Resorts, Limited Report
Second on the list is Wynn Resorts, on which we issued a buy recommendation on Sept. 24, back when everybody was hating this stock. The monthly chart above is from that earlier recommendation, which is worth reading again.
Now, six days after the decision support engine's warning to end selling actions and begin buying actions, the news is arriving to justify the objective technical conclusion. The Chinese government wants Macau to prosper in the long run. Without looking at any news stories, however, we were able to write "odds are now extreme that the $55 +/-$8 zone will provide at least a multiquarter to multiyear rally," back when Wynn's price was at $60. We also wrote that the target of the bounce is "100% higher than the current pricing, and likely (due) 18-24 months from now."  The stock reached an extreme low of $51 last week, reversed, and closed the week at $63.50. We would augment the parameters given in the Sept. 24 report to use any retest of $58 +/-$1 to cover shorts not covered last week and establish long exposure. Once $80 is surpassed, it will be hard to find a pullback to place your bets on this likely winner.
Click here to see the following chart in a new window
Qualcomm (QCOM) - Get Qualcomm Inc Report
Qualcomm has just been identified by the decision support engine as one of the few stocks with a chance of new all-time highs in the coming months, as most other stocks will only make lower highs on this general market's oversold bounce into Thanksgiving. Although the $49 +/-$2 zone cannot be ruled out first, it's not required, and Qualcomm is now probability-ranked very high for at least a rise to the $72 zone this year, with more bullish potential thereafter toward the upper $80s. A move above $82.92 will satisfy the decision support engine's forecast for a new all-time high.
The monthly bar chart above shows the most oversold stochastics since 2002, which followed the crash from the 2000 peak. That oversold extreme resulted in a 70% rally within four months, and 370% rally in 28 months. The current situation is very different than back then, but the slide in Qualcomm from the 2014 highs to the current lows (18% in 13 months) is corrective in pattern. Therefore, the rise off the 2002 low is not likely complete. One tick above $79.35 is sufficient to complete the entire rally, which would be a nice 43% move from Friday's close of $55.07.
Click here to see the following chart in a new window
GoPro (GPRO) - Get GoPro, Inc. Class A Report
GoPro appears to be ending the decline that has battered it since the August swing high, near $65. With the stock now near $30, down more than 53% in just a couple of months, it is at its most oversold since March. With prices at lower lows now vs. then, and stochastics at higher lows, a bullish divergence buy signal has been triggered. Another buy signal will be triggered as the price moves back above the lower two-standard-deviation band (now $31.63 on daily bar charts), which contains 95% of normality. The weekly bar chart above shows both of these indicators, along with a mature impulsive decline (labeled 1 through 5 off the August highs). The bold red vertical lines show theFibonacci relationship between waves A-circled and C-circled. The latter is Fibonacci 62% of the size of the former. This common symmetry is highly supportive of the decision support engine's forecast that now is the time for buying actions only. The blue arrows chart the path of the forecast for the next several months to quarters.
Click here to see the following chart in a new window
Applied Materials (AMAT) - Get Applied Materials, Inc. Report
Applied Materials is at its most oversold condition since 2012. This year's decline has chipped 40% off its value from its March highs. With price probing below the Fibonacci 62% retracement level of the advance from the 2012 low, the current conditions are similarly attractive now, as they were then, for a rally into year-end. Although a quick test of $14 cannot be ruled out, it's not required for a meaningful low to be in place, as one may have already been formed at the August spike and reversal near $14.25. Once the stochastics curl back up, they should leave a higher low in place, which will be another buy signal, along with those already listed.  In addition, the current support being offered by the lower two-standard-deviation band appears to be significant, and not likely to be closed below until the path of the blue arrows is explored first. The initial target for the coming bounce is near $19, where a 30% rally will have been manifested. The decision support engine warns that buying actions only are implied from the neighborhood of the green boxes in the price and stochastics panes. 
Click here to see the following chart in a new window
Twitter (TWTR) - Get Twitter, Inc. Report
Twitter was recommended by the decision support engine on Sept. 4. That was after it had bottomed near $21 a couple of weeks before and had risen to $28. The forecast was for a corrective decline to hold $24 +/-$1, and for those investors who were short to use that move to lock in their profits, if rising above $30 didn't take them out first, using buy stops. As the chart above shows, the stock didn't see $30, and it saw the $24 area last week. All short-sellers should now be fat and happy, but they should exit this short exposure, because the new game in town, as least in the short term, is for a rise to reach toward the upper $30s, with more bullish potential thereafter.  
The daily bar chart above is updated from the forecast a month ago and shows yet another higher-stochastics low, this time with a higher price low than in August. This is a different kind of diverging buy signal. The decision support engine suggests using $28 as a buy stop to exit short exposure and go long. If you're already long, add to that exposure on breaks above $28. If you're flat, get on board the next multimonth move, which the green arrows show could be very profitable.
Click here to see the following chart in a new window
Google (GOOGL) - Get Alphabet Inc. Class A Report
The seventh stock that passes the decision support engine's filters for good bounce candidates is Google. Although this stock came into our sights last on Aug. 11, causing a forecast for a move toward $745 +/-$5, the pattern after that came under intense pressure during the late August stock swoon. The newly optimized target price has been reduced to $712 +/-$5, giving the stock enough latitude to barely make a new historical high, while satisfying all the rules of both Elliott Wave and Fibonacci price behavior models.
The projection is for a $95 +/-$5 finale, which, now measured from last week's $617 low, aims at $712. In order to tick above the all-time high, however, the stock must see $713.34 at least. Regardless of the final print, Google shares should rise approximately 60 points from Friday's close of $657, which is a 10% move. The most important part of this bullish trade will be to exit completely by the time the stock breaks through $700. Otherwise, you risk a situation where the stock can gap to fulfill the target of $713 and reverse below $700 again before you have time to take protective action. Several opportunities today have better risk/reward calculations than Google, but it did come up as a likely participant in the market's bounce, so we included it here.
Alibaba (BABA) - Get Alibaba Group Holding Ltd. Report
We explored Alibaba on Sept. 15, after Barron's forecast it would fall 50% from the price level that day of $64. We ran Alibaba through the decision support engine's algorithms and came up with a dramatically different forecast. The chart above is the same one that we published with that forecast. Although it's not required, the decision support engine calculated that the worst-case scenario should be no lower than $52, well above $32, which would be 50% below the $64 level when Barron's published its article. However, the decision support engine's actual forecast, regardless of any near-term weakness toward $58 again, was (and still is) for a multimonth rally into the $85 +/-$5 zone. This makes Alibaba one of the members of the basket of stocks in this report that should do very well in the coming bounce. 
Click here to see the following chart in a new window
Shake Shack (SHAK) - Get Shake Shack, Inc. Class A Report
Since its post-IPO peak, this darling of the dining crowd has been shaken, not just stirred, for a 57% decline. However, as the daily bar chart above shows, the lows of last week were made at higher lows than the August extreme, while stochastics made higher lows, as well, but from the extreme oversold 10% threshold. The crossing up in the stochastics (red above green) means the herd has become much more interested in the burgers, shakes, and fries of this name. In addition, the lower Bollinger Band (purple dotted line) supported the recent slide, and Friday's reversal off the Bollinger Band appears to promise good things to come. The decision support engine strongly suggests that shorts use protective buy stops, to lock in prodigious gains, at $52, and for those flat to establish long exposure there, too. Those painfully long and wrong should hold tight, and add to positions upon a move over $52. For safety, $41 should be used as sell stop levels, but that price zone is not currently anticipated by objective analysis. 
For more of this kind of analysis, join our new real-time, live-market analysis chat room. Come benefit from decision support engine analysis from bell to bell, addressing indices and stocks, as well as member questions throughout the day. Special founding member pricing is available for TheStreet.com readers who subscribe early, after enjoying a complimentary trial week.
This article is commentary by an independent contributor. At the time of publication, the author held no positions in the stocks mentioned.