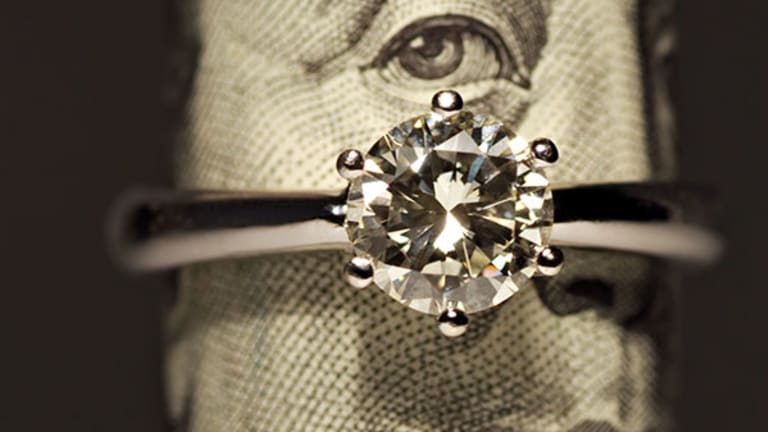 9 Hidden Dividend Stock Gems Priced to Buy Now
These nine hidden dividend gems offer investors a mix of high yield and growth. All are small- or mid-cap stocks that are overlooked or misunderstood.
Editors' Pick: Originally published March 23.
Dividend stocks have historically outperformed nondividend stocks over long periods of time. Good dividend stocks can help generate outperformance for investors thanks to their strong business models and rising dividend payouts over time.
Small-cap and mid-cap stocks can outperform their large-cap peers because of their higher growth potential: Many have long growth runways ahead.
This article takes a detailed look at nine dividend stocks that are priced attractively and offer sizable dividends. Many are consistently high-paying dividend growth stocks. Many of these nine hidden dividend gems have been flying under the radar of investors for too long. In fact, two of them have dividend yields of more than 10%.
1. Kohl's (KSS)
Retail stocks are universally hated. It's almost impossible to find anything positive about bricks-and-mortar retail right now. That's what makes the retail industry a great place to look for hidden dividend gems.
There is no shortage of bearish sentiment on Kohl's. Its sales growth has stalled, leading many to think bricks-and-mortar retailers are going the way of the buggy whip. It's hard to ignore the existential threat posed by Amazon.com and other Internet retailers. But value investors should see a lot to like with Kohl's. The company's price-to-earnings ratio is just 13.5. The stock also has a high 4.2% dividend yield.
The company also has a strong brand and loyal customer base. This is evident from its relatively steady earnings and successful membership program.
Kohl's has indeed struggled. Its earnings per share fell 15% year over year in the latest quarter. But its same-store sales increased 0.4% year over year. Sales growth disappointed because of unseasonably warm weather in the fourth quarter, and also lower tourism as a result of the strengthening dollar. But by no means is Kohl's going out of business. The company is merely in a macroeconomy-induced downturn, and will recover.
What investors need to remember is that even though growth has slowed, Kohl's is still a highly profitable company. Kohl's operates approximately 1,200 stores across 49 states, and generates sales in excess of $19 billion each year. It earned $4.00 a share last year.
With its profits, Kohl's rewards shareholders with stock buybacks and dividends. It announced a $600 million share repurchase along with its quarterly earnings. Kohl's also recently increased its dividend 11%, to $2 per share annualized.
Kohl's has a major potential catalyst up its sleeve: the potential to go private. News of this surfaced in January, when reports citing people familiar with the situation said Kohl's was considering taking itself private through a buyout or breaking itself up. If Kohl's takes the buyout path, it's likely it would fetch a significant premium. Even assuming a relatively modest multiple of 8 times earnings before interest, taxes, depreciation and amortization, the company's enterprise value could easily be $20 billion, vs. its current enterprise value of $13 billion.
2. Terra Nitrogen (TNH)
Terra Nitrogen is a bargain right now. This fertilizer company is trading for a price-to-earnings ratio of 10 and a dividend yield of 9.6%.
Agriculture is a tough business right now. The past few harvest seasons were poor in the U.S., due to unfavorable weather. This is affecting Terra Nitrogen's results. Earnings per share dropped 17% last year to $10.06, due to lower ammonia prices and higher natural gas costs. But farmers need fertilizer, and there will always be a need for food. With a better harvest season this year, Terra Nitrogen's results should improve.
Terra Nitrogen is also suffering from lower realized prices for its products, as the collapse in commodity prices over the past two years has taken its toll.
To that end, its average ammonia price fell 8% last quarter. But the company continues to ramp up production. Ammonia volumes soared 31% year over year. This indicates the company could see better results once the deflationary pricing environment fades.
These negative forces have kept a lid on valuations for most agriculture companies, including Terra Nitrogen.
It's true that the company is suffering from broad headwinds, but it is a strong underlying business and a great dividend stock. Terra Nitrogen offers a combination of a juicy dividend yield and a cheap valuation. Its P/E is less than half that of theS&P 500.
Investors should not ignore this hidden dividend gem.
Looking to the long term, agriculture has a bright future. The world's population continues to grow, and as underdeveloped nations grow, millions and millions of people across the globe are entering the middle class as we speak. That places an enormous strain on food production, which means productivity of farmland is a key issue going forward.
3. Alliance Resource Partners (ARLP)
Alliance Resource Partners is one of the deepest value plays around. 
The company has a price-to-earnings ratio of 5.9 and a dividend yield of 22%. No, these numbers are not reversed: The company is a deep value play with an absurdly high dividend yield.
It's easy to see why investors are so pessimistic. Alliance Resource is a coal miner, which is obviously a major problem right now, because the U.S. is gradually turning away from coal as an industrial input.
Coal has endured escalating public and regulatory scrutiny in the U.S. for its environmental effects. And abundant supply and low prices of natural gas have caused electric utilities to switch from coal to gas as a cleaner, cheaper source of power.
Alliance Resource's share price has collapsed over the past two years, which has elevated its dividend yield to more than 20%. This appears to be a sign that investors are anticipating a significant distribution cut. But this negativity could be overblown. Even a 50% drop in dividends would still give this stock a tremendously high 10% dividend yield.
The company has some operating advantages that separate it from its competition and could be its saving grace while so many other coal companies go bust. What separates Alliance Resource from its competitors is its operational efficiencies, brought about by its geographic focus. Alliance Resource's coal mines are situated close to its customers, which helps keep production and transportation costs low.
Moreover, Alliance Resource focuses on thermal coal from the Illinois Basin, where the coal economics remain sound. Thermal coal has held up much better than other forms of coal such as metallurgical.
As a result, Alliance Resource's fundamentals are in relatively good shape. Last year it somehow achieved company records for coal production. Revenue fell only 1%, although EBIDTA fell 17%. Still, Alliance Resource generated $562 million in distributable cash flow, or DCF, which is a metric often used to analyze limited partnerships instead of traditional GAAP earnings. This was actually a 3% increase from the previous year.
And Alliance Resource held DCF coverage ratio of 1.62, meaning it generated 62% more DCF than it needed to pay its distribution to shareholders. Although there is certainly no guarantee that Alliance Resource can buck the trend hitting the coal industry, its fundamentals remain fairly intact, meaning it could be a huge winner if it survives this crisis.
4. Helmerich & Payne (HP)
At first glance, oil and gas services firm Helmerich & Payne doesn't look like much of a value. After all, its P/E ratio, at 27, is higher than that of the broad market. But the company's earnings have been crushed by falling commodity prices and asset impairment charges.
Focusing on EBITDA paints a much better picture of Helmerich & Payne's valuation. The stock currently has an enterprise value-to-EBITDA ratio of just 6.
Helmerich & Payne has an excellent dividend history: 43 years of dividend grow, according to Dividend.com. That's a streak that comparable to industry juggernauts and Dividend AristocratsChevron and ExxonMobil. If oil prices manage to recover at all in the near future, Helmerich & Payne should be able to return to dividend growth once again. Helmerich & Payne is an owner and lessor of drilling rigs. This would normally be a red flag. As oil exploration and production firms slash capital spending, this means less demand for rigs, and Helmerich & Payne is not immune.
What separates Helmerich & Payne from the rest of the oil drillers is that it has built a newer fleet of rigs than its competitors. Furthermore, Helmerich & Payne's fleet is technologically superior to the competition. The company specializes in advanced rigs built for drilling complex shale wells.
To be sure, the company is getting hit by the oil crash. In the company's latest fiscal year, revenue fell 15% while EPS dropped 40%. The company's advantage comes in its ability to remain profitable in such a challenging environment. While many of its competitors are posting huge losses, Helmerich & Payne still earned a profit and generated satisfactory free cash flow.
In 2015, Helmerich & Payne generated $285 million of free cash flow. That nearly covered its dividend, which cost $298 million in the same period. Helmerich & Payne currently has a high dividend yield of 4.6%. This is why Helmerich & Payne should be valued in the context of its EBITDA and cash flow, instead of traditional earnings. In a terrible year for the energy sector, the company deserves credit for not only generating positive free cash flow, but also nearly covering its dividend entirely from free cash flow.
5. Sonic (SONC)
Sonic isn't a screaming value with its price-to-earnings ratio of 25 and dividend yield of 1.4%.
When investors consider its rapid earnings growth, a higher valuation multiple seems appropriate. Value isn't always reflected in a low price-to-earnings ratio; high-growth stocks with reasonable price-to-earnings ratios can also be undervalued. Sonic is one such hidden dividend gem.
Sonic is a fast-food company, but it stands out from the competition due to its differentiated business model and unique menu offerings.
Sonic is the nation's largest drive-in restaurant chain and is an innovator within its industry, with signature products like Master Blast Real Ice Cream treats that break the mold of the traditional burger-and-fries offerings. More recently, it has added to its unique menu, with newer offerings such as premium chicken sandwiches that have proved to be a hit with customers.
This is paying off. Last quarter, Sonic's earnings soared 33% from the same period last year. The main reason for its strong growth was another impressive quarter for customer traffic. Comparable sales, a critical measure of sales growth at locations open at least one year, rose 5.3% last quarter.
The company's unique experience has received a great response from customers, and Sonic is responding by opening new restaurants. In the first quarter, Sonic opened 13 new drive-ins, and the company expects to open 50 to 60 new franchised restaurants in fiscal 2016.
As Sonic reaps high earnings growth, the company is sharing its success with investors. Late last year, Sonic raised its dividend by 22%, to a quarterly payment of 11 cents a share. That is a very high rate of dividend growth, and after only a few years the stock will provide its investors with a high yield on cost.
Sonic also returns cash to shareholders through stock buybacks. Last quarter alone, Sonic repurchased 3.4% of its outstanding shares. Continued buybacks will boost future earnings growth.
6. Jack in the Box (JACK)
Fast-food stock Jack in the Box is valued about on par with the broader market with it's price-to-earnings ratio of 22 and dividend yield of 1.9%.
But the company deserves a higher P/E because of its above-average growth. Jack in the Box operates its burger-and-fries chain of the same name. The company also owns the Qdoba Mexican restaurant, which competes directly with Chipotle Mexican Grill.
To put it bluntly, Chipotle's pain is Jack in the Box's gain.
As its E. coli outbreak spread, Chipotle's brand image worsened. It then suffered from an outbreak of novovirus. Some former Chipotle customers are now choosing to frequent Qdoba restaurants. 
Jack in the Box should be a major beneficiary. Its Qdoba banner grew same-store sales by 9% last fiscal year. Meanwhile, the Jack in the Box segment grew same-store sales by 6.5% in fiscal 2015. This led to 34% growth in earnings per share last fiscal year, a far better result than Chipotle, which in its last fiscal year had same-store sales growth of only 0.2% and earnings per share growth of 6.9%. In Chipotle's latest quarter, things were much worse. Same-store sales fell 15% and EPS plummeted 44%.
Jack in the Box is an excellent dividend growth stock, having increased its dividend by 50% last year. Further dividend hikes are likely, due to the company's excellent growth and low payout ratio.
The company's current dividend represents less than half of its annual earnings per share. While Jack in the Box's current 1.9% yield looks tiny, that yield could meaningfully grow over time.
If the company raises its dividend by 25%, which could be an overly conservative estimate given its historical earnings and dividend growth, the stock would provide a 4.5% yield on cost in five years.
7. PetMed Express (PETS)
There is no doubt that Americans love their pets. Sometimes people will sacrifice their own well-being so that their furry friends are taken care of. In fact, the Bureau of Labor Statistics conducted a study on pet spending in the U.S. from 2007-2011 and found that there are about 218 million pets in the U.S.. According to the study, spending on pet care grew to $61 billion by 2011, and it's very likely that pet spending has grown since then, along with the broader economic recovery.
This is a huge tailwind for PetMed Express, a licensed pharmacy which operates through the 1-800-PetMeds brand and dispenses prescription medications in all 50 states. It offers more than 3,000 different products, including a variety of private label products. According to the company, it's the largest pet pharmacy in the country.
The company is trading for a price-to-earnings ratio of 17, well below the S&P 500's P/E of nearly 24. Investors searching for current income will benefit from PetMed's high 4.1% dividend yield.
PetMed's sales were basically flat over the first nine months of the fiscal year, but the company grew EPS by 21% thanks to cost-cutting.
The company is focusing on its e-commerce business, which is the right strategy for the long term. Online sales rose 5.4% last quarter, and now represent more than 80% of the company's total revenue.
PetMed Express has a great balance sheet, with $62 million in cash and no long-term debt. The company generates plenty of free cash flow to sustain its dividend. Its dividend payout ratio as a percentage of free cash flow was a very healthy 49% over the first nine months of the fiscal year.
As a result, PetMed Express is a great dividend stock to capitalize on the boom in pet spending.
8. Aqua America (WTR)
Aqua America is a water utility. Its business model is very similar to electric utilities, and the company is every bit as stable. Aqua America has richly rewarded shareholders with a strong dividend and compelling share price appreciation. Based on its recent price of $31.55, the stock has gained 18% over the past year, not including dividends.
Aqua America has raised its dividend 25 times in the past 24 years, and has paid a dividend for 71 consecutive years. 
The investment case for Aqua America is fairly straightforward: Water is a basic need and is vital for human life. Demand for water should only grow from here, due to modest population growth as well as economic growth. Aqua America has been rewarding investment thanks to its increasing dividend stream and earnings growth over the past several years.
Aqua America grew both revenue and adjusted profit from continuing operations by 4.4% last year. The company said that 64% of its revenue growth came customer growth in the regulated business and year-over-year growth in market-based activities.
Not surprisingly the company will continue this strategy in 2016 to provide further revenue growth. Aqua America expects total customer-base growth of 1.5% to 2% in 2016. As a result, the average analyst estimate is for Aqua America to grow adjusted EPS by 6% in 2016.
Management's own forecast calls for $1.30-$1.35 per share in diluted earnings, which would represent approximately 3%-7% growth year over year. That will be plenty of growth to raise the dividend once again in 2016.
The company's stock currently offers investors a dividend yield of 2.3%, but there's significant room for growth over the long run.
9. American States Water (AWR)
Like Aqua America, American States Water is a water utility. At current prices, the stock offers investors a 2.3% dividend yield.
Income investors primarily own utilities for their stable earnings and dividends. Utility stocks are ideal choices for risk-averse income investors, such as retirees, because of their defensive business model and secure dividends. And, since water is a necessity of human life, American States and other water utilities deserve premium valuations.
This makes sense because the value of a stock is ultimately the present value of future cash flows. Water utilities are so stable that future cash flows can safely be projected out many years into the future.
American States provides water service to approximately 260,000 customers located within 75 communities throughout 10 counties in California.
Last year, the company grew EPS by 1.9%, which isn't overly impressive, but it's the slow-and-steady nature of growth that utilities are famous for.
Investors don't have to worry much about American States' earnings. The company generates growth from new customers as well as periodic rate increases, a benefit of the regulated utility model.
American States Water generates plenty of profit to cover the dividend. With its steady profits, American States has rewarded shareholders with steady dividends for an extremely long time.
It has paid dividends to investors every year since 1931. Amazingly, the company has increased dividends for 60 years in a row. This makes the company a Dividend King. The company has paid rising dividend over a period of time encompassing plenty of economic downturns, recessions and periods of global conflict.
That is a telling sign that the business model is recession-resistant and the dividend is secure.
This article is commentary by an independent contributor. At the time of publication, the author held shares of HP and XOM.