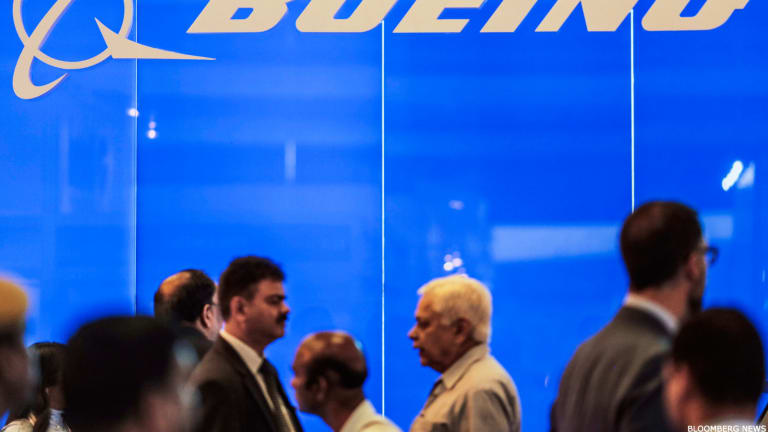 Publish date:
8 Safe Growth Stocks to Buy for 2016
Iconic aerospace and technology companies Boeing, Lockheed Martin and Apple are among those that investors should be considering.
Iconic aerospace and technology companies Boeing, Lockheed Martin and Apple are among those that investors should be considering.
The global economic recovery remains fitfully on track, but silver linings always come with dark clouds. The depressing litany of woes both domestic and foreign is long, including political dysfunction in Washington, D.C., unsustainable debt levels, a migrant crisis in Europe and a flailing China.
At the same time, investors are worried about going "cold turkey" when the Federal Reserve finally removes the drug of ultra-low interest rates.
That's why, more than ever, you should stick to high-quality stocks that are in growth mode but boast inherent strengths that should help them weather a market decline. These solidly performing stocks are your best bet to survive and prosper next year, come what may.
Below, are eight picks in two booming sectors -- aerospace and defense, and technology -- that should continue to outperform in 2016.
Aerospace/Defense
Among the largest defense stocks, the best opportunities for next year lie with Boeing (BA) - Get Report , Lockheed Martin (LMT) - Get Report , and Raytheon (RTN) - Get Report . All three are trading at attractive valuations compared to their peers and their growth prospects, but their share prices don't fully reflect their potential because of budgetary wrangling on Capitol Hill and headwinds in emerging markets.
Raytheon is particularly interesting because it is a technology leader in unmanned aerial vehicles (UAVs), a weapon much in demand and operationally vital in strife-torn places such as Afghanistan.
Annual spending on UAVs will almost double over the next decade, to $11.4 billion. That amounts to more than $89 billion in expenditures; Raytheon will get a huge chunk of that spending.
Aerospace and industrial conglomerate Honeywell International (HON) - Get Report will enjoy growing demand for its products in 2016, because it supplies the ultra-complex avionics and electronic components that major military manufacturers need. Honeywell also benefits because it's diversified in both the commercial and military sectors. The company's foothold as a supplier for popular commercial airliners position the stock for take-off amid an improving aviation sector in 2016.
Technology
Cisco Systems (CSCO) - Get Report , Intel (INTC) - Get Report and Qualcomm (QCOM) - Get Report may be on the conservative side as technology stocks, but they exemplify strong underlying fundamentals. All sit on big cash hoards and control proprietary technology that's increasingly coveted by consumers and businesses worldwide.
These three companies are leaders in their respective niches -- Cisco in networking technologies, Intel in semiconductor manufacturing and Qualcomm in chips for smartphones.
Lots of cash on hand provides these companies with a cushion for any market downturn. It also allows them to make the consistently strong research and development spending that's necessary for tech companies to maintain their competitive edge.
Meanwhile, corporate America has compiled a record amount of cash that it intends to tap for long-deferred IT investments, another boon in 2016 for this trio of technology stalwarts.
Admittedly, Intel's stock has taken a beating over the last few months (down 5.84% year to date) because of the worldwide downturn in PC demand, but it's now a bargain and poised for a comeback in 2016. That's because Intel is finally making belated forays into the exploding smartphone market with a new and advanced chip.
Another big tech stock that is primed to perform well is Apple (AAPL) - Get Report . This iconic, beloved brand has zero debt and can look forward to a prosperous holiday shopping season.
Despite problematic overall growth in emerging markets, these regions will continue to demonstrate a strong appetite for Apple's gadgets for the next several years, as incomes rise and consumer discretionary spending mushrooms.
Apple just came off a strong earnings report this week and the stock is up 7.8% year to date, with plenty of upside remaining.
So, don't fret about fiscal, monetary and political woes at home and overseas. Sure, budgetary and tax realities next year in America and globally will be less than optimal, but that shouldn't alter your number one goal as an investor: to focus on companies that boast strong fundamentals, great products and market domination.
On the flip side, for a list of weak companies poised to collapse next year, click here.
John Persinos is editorial manager and investment analyst at Investing Daily. At the time of publication, the author held no positions in the stocks mentioned.