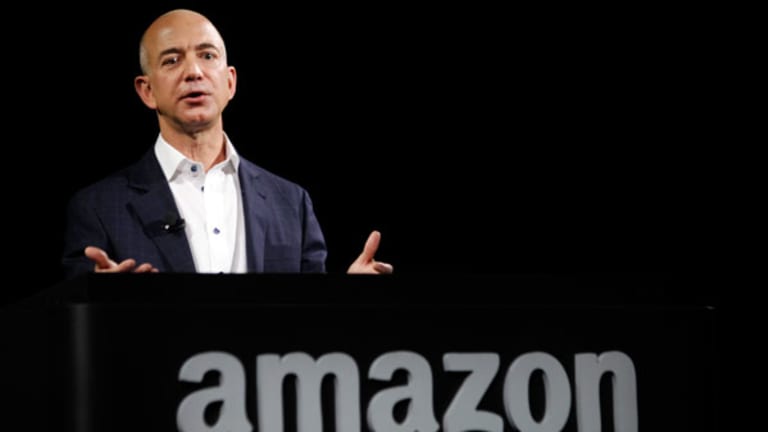 8 Recession-Proof Stocks to Prepare Your Portfolio for the Next Cycle
The more the economy improves, the closer we move to a saturation point beyond which the economy begins to decline again. Now is the time to buy recession-proof stocks.
NEW YORK (TheStreet) -- The economy is improving and 2015 is shaping up to be an even better year than 2014 was. That means that now is the time for prudent investors to start thinking about how to recession-proof their portfolios.
While a recession may not be around the corner, we're due for one in the next several years. The average time between recessions since 1982 has been nearly 100 months. The last recession ended nearly 70 months ago, meaning another one will come sooner than we want. Now is the time to stock up on equities that can help get you through tough times -- not once the recession hits and everyone else is running to these companies for shelter. At that point, it's too late.
Here are eight recession-proof stocks to add to your portfolio to help you get through the inevitable tough times ahead.
General Mills
(GIS) - Get General Mills, Inc. (GIS) Report
Granted, times are rough for General Mills at present due to the weakness in the U.S. food industry. However, the company offers a unique proposition that has help it grow through every recession -- at least over the last three decades, as shown in the chart below.
data by
In simple terms, it provides an easy means for consumers to save cost, which is usually helpful during the recession. For instance, it offers products like oats, which is one of the cheapest foods. In times of recession, consumers tend to focus on food that help them save money. Perhaps this is why the company was able to see an increase of about $2 billion in revenues during the last recession.
In addition to adding value to consumers, General Mills is also committed to rewarding shareholders through dividends.
data by
As the chart above shows, the company has consistently increased dividend payout over the past decade -- even during the last recession. It currently pays an annualized dividend of $1.64 per share.
Amazon (AMZN) - Get Amazon.com, Inc. Report
While Amazon doesn't pay dividends to offer hopes of income in recession, it is on this list mainly because it is always dedicated to offering long-lasting value to consumers. Amazon was started to help people save time and money and consumers know that it delivers on this promise. The strategy of always creating value helped the company grow during the last recession as shown by the chart below. And it is bound to help it again in the next recession.
data by
The first thing that helped Amazon -- and will probably help it in future recessions -- is that the e-commerce industry is sort of recession-proof in that more people take to the internet during recessions to save more money. During the last recession Amazon helped improve the proposition of e-commerce by making long-lasting improvements. For instance, it offered low-cost shipping both in the U.S. and abroad. This could have hurt margins, but it ensures that customers will keep coming. In addition, it started the Amazon Mechanical Turk, which helps small businesses like Kremer Signs save costs by outsourcing tasks. In addition, people can also make money through its platform that allows third-party sellers. While creating value so people could save money during tough times, it increased the likelihood of people spending their earnings on its website.
Family Dollar Stores
(FDO)
Family Dollar Stores embodies everything that consumers want in a recession -- discount deals. Therefore, in the next recession, you can expect that Family Dollar will see improved traction, as it did during the last recession.

FDO Revenue (TTM)
data by
Another reason to consider Family Dollar is that it is somewhat protected against the effect of e-commerce on brick and mortar stores. According to a 2008 Pew Research survey, low-income Americans are less likely to shop online. One other good thing about Family Dollar is that it pays dividends. It has consistently increased its dividend over the last decade as shown by the chart below. More impressively, it increased dividend payouts during the last recession.

FDO Dividend data by YCharts

Ford Motor (F) - Get Ford Motor Company Report
It might surprise you to see Ford on this list because it doesn't seem like a stock that will perform in recession. It operates in the capital-intensive automotive industry, which is not good for recessions, in theory. However, over the years, Ford has proven itself to be durable in recessions. It showed an increase in net income during the last recession, as shown by the chart below.
data by
The main reason why Ford will be strong in the next recession is that the company is good at delivering long-lasting value for consumers. Henry Ford started the company with the aim of making vehicles affordable for middle-class American.
During the last recession, Ford continued its habit of creating long-lasting value by focusing on fuel-efficient vehicles. This helped it come out of the recession the winner among the Big Three U.S. car manufacturers based in Detroit -- Ford, Chrysler and General Motors (GM) - Get General Motors Company (GM) Report ).
Intel (INTC) - Get Intel Corporation (INTC) Report
The truth about Intel is that it is not purely a recession stock. It is more of a stock you want to buy in a recession. But it's good to know what it offers during a recession before a recession so you can make the best investment decision. During recessions, companies tend to cut on their spending on technology. When this happens, semiconductor companies also feel the impact on their top line, which causes the market to beat them down. You could see this with Intel and AMD (AMD) - Get Advanced Micro Devices, Inc. Report during the last recession.
However, once the economy starts rebounding, companies start spending on technology again. At this point tech companies begins to see improved sales. Here are three reasons why you want to consider Intel for this purpose:
1. The company is the largest semiconductor company in the world, owning 14.8 percent of the market in 2013. When companies do start to increase their tech spending, Intel will be one of the first companies to see an improvement.
2. The company has increased its dividend payout impressively over the last decade.
3. With 41.82% payout ratio, its dividend payout is sustainable, even in recession.
Wait until recession hits and other investors have left Intel to make a play for it.
Wal-Mart Stores (WMT) - Get Walmart Inc. Report
Just as in the case of Family Dollar, Wal-Mart also offer the value that consumers seek in recessions. While consumer spending usually tank during recessions, Wal-Mart benefits from the fact that it presents consumers savings.
data by
Wal-Mart is also a committed dividend payer, raising its dividend twice during the last recession. In addition, it offers an attractive payout ratio, which currently stands at 43.66 percent. Wal-Mart's international presence, especially in growing markets like China, also means that the company's business isn't overly dependent on a single economy.
3M (MMM) - Get 3M Company Report
3M is a recession pick based on reliable dividend. The company has paid uninteruppeted dividends since 1916. This is made possible because the company is widely diversified. The company makes products ranging from specialty tapes and adhesives -- for the transportation market -- to films that graphic companies like Inkifi trust. In addition, 3M is by far bigger than its closest competitors -- DuPont and Dow Chemical -- in the chemical space. This makes the company even more stable.

MMM Dividend data by YCharts
Colgate-Palmolive (CL) - Get Colgate-Palmolive Company Report
Colgate is also a play on reliable dividend history. The company has paid uninterrupted dividends since 1895. This means that the company has paid dividends across some of the biggest economic tragedies in history -- the great recession, two world wars, and the 2008 recession. You can see the strength of this company in paying dividends in the fact that it increased payout twice during the last recession.
data by
One last note
As stated earlier, the point here is not to cause a panic that a recession is coming soon. Beyond GDP, other metrics also support that the economy is growing. For instance, according to a report from Moody's, casino revenue has been improving after slumping in the recession. This means that more Americans can now afford the luxury of gambling.
The cash position of banks is another place to look. As shown by CD rates hovering around historic low levels, Banks now have a lot of cash at hand that they do not need to incentivize consumers to save more. This goes to show that the economy is growing stronger.
But it won't last forever. Hope for the best but prepare for the worst when adding to your portfolio in expectation of the next recession.
This article is commentary by an independent contributor. At the time of publication, the author held no positions in the stocks mentioned.