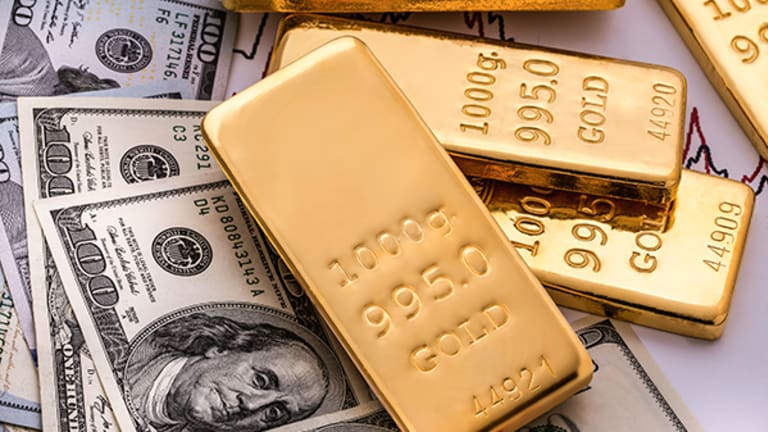 7 Ways to Profit From Gold's Rise or Fall in a Post-Brexit World
The yellow metal is hot as uncertainties about the fate of the U.K. and European Union swirl. Here is how to play it, no matter what happens.
Emotions are running high Friday in the market, as the U.K. voted by a narrow margin to leave the European Union.
The British pound has fallen to lows not seen since the days of Prime Minister Margaret Thatcher, bringing the euro down part of the way. Stock markets around the world are tumbling, with the Nasdaq Composite opening 5% down.
Investors are bracing for continued turbulence as uncertainty and panic take control.
And whenever those two emotions rear their ugly heads, investors turn to gold as a way to profit.
Gold, often considered a safe haven from the markets ups and downs, is soaring Friday. Overnight, prices for the yellow metal spiked as high as $1,362.60 per ounce, the highest level since March 2014.
In reality, gold can be just as volatile as any other commodity or even stock. This week, when it looked like a Brexit was improbable, the metal plunged to a two-week low.
Gold may be safe when stocks and currencies are plummeting, but periods of relative calm elsewhere can send gold prices off a cliff.
With gold prices just as uncertain as anything else, the metal is far from being a true safe haven. Instead, profits can be made by skillfully playing both the ups and the downs in gold's price.
Here are seven top ways to profit from gold's wild mood swings. Investors don't even need to own bars or bullion, as all seven trade on U.S. stock exchanges.
When Gold Goes Up
When gold prices are on the way up, as they are Friday, the biggest profits will come from plays that tag along for the ride. Gold exchange-traded funds hold bullion as their only asset but trade just like regular stocks.
They move directly in tandem with gold prices. There are two available for trading in the U.S.: iShares Comex Gold Trust (IAU)  and SPDR Gold Trust (GLD) .
As can be expected, both are up Friday.
Gold mining stocks follow the price of gold somewhat, but there is more risk because these companies also need to contend with the trials and tribulations of running mining and production operations. However, when there are profits, they tend to be big.
One of the best gold miners for investors is Barrick Gold (ABX) , which has already been on a roll since even before the EU referendum. The stock has climbed by nearly 230% since September, when it dropped to a new low around $5.90 during the commodities price slump.
Barrick Gold has traded as high as $21.08 Friday, near its 52-week high of $21.40.
Those with a higher tolerance for risk are reaping tremendous profits from junior gold miners. These small mining companies not only make prime takeover targets but as a whole have been the strongest performing asset class this year.
Oban Mining (OBNNF)  on the over-the-counter market is an exciting junior mining company with three prospect-filled properties in Canada. The stock hit a record high Friday of $1.85 a share and is primed to become a takeover target by a major gold miner.
Investors can mitigate some of the risk of individual junior mining stocks with a play on the VanEck Vectors Junior Gold Miners ETF (GDXJ) . This ETF has seen gains of nearly 130% within the past six months.
When Gold Goes Down
On the flip side, when gold prices tank, there are still ways to score major profits. Gold prices can be shorted with gold price inverse ETFs such as ProShares Ultra Short Gold ETF (GLL) .
This ETF is down by nearly 9% Friday as gold prices soar, but when gold slumps, the ETF's investors haul in the profits. With gold likely near short-term highs on Brexit fears, this could be a great time to grab this ETF at a discount and wait for the roller-coaster ride back up.
In addition, puts on gold offer stellar returns when the price for the commodity falters. Put options give investors the right but not the obligation to sell gold at a specific strike price for a specified amount of time.
When gold per ounce falls below the selected strike price, investors collect the difference between the strike and the current price per ounce. The best bet here is with a put option on the SPDR Gold Trust.
There are plenty of ways to profit when gold prices go up or down, so don't be tricked into thinking of gold as just a safe haven. It is a risk-filled investment just like the world's most volatile stocks, and just as with those stocks, the profit potential is huge.
---
Clearly, gold investors are laughing all the way to the bank Friday. But here is a way to make $67,548 per year or more guaranteed, just by following this simple step-by-step process. The trader who is sharing this secret has been right more than eight of 10 times, turning $5,000 into more than $5 million. Click here to see how easy it is to follow his lead and collect thousands of dollars in free money every month.
See full Brexit coverage here.
This article is commentary by an independent contributor. At the time of publication, the author held no positions in the stocks mentioned.