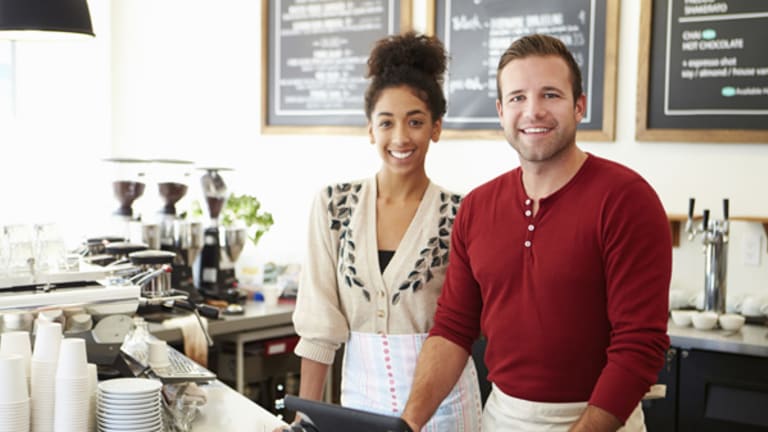 Publish date:
7 Ways Small Businesses Can Use Online Marketing to Boost Revenue
Even smaller companies can use the power of search engine optimization if they follow these steps.
Even smaller companies can use the power of search engine optimization if they follow these steps.
NEW YORK (TheStreet) -- At a time when online marketing companies such as Yodle and ReachLocal are focusing more on growing big enough to become publicly traded companies, HigherVisibility is mainly focused on helping over 200 local enterprises and small businesses make money through specialized outreach techniques based on sophisticated SEO strategies.
The Memphis-based search engine optimization firm must be doing something right because it was ranked the first last month by BestSEOCompanies.com, an independent SEO authority.
TheStreet spoke to HigherVisibility Managing Partner David McElveen about the seven ways smaller enterprises can use the power of SEO to enhance their overall sales revenue.
1. Don't Reinvent the Wheel
It isn't prudent to invest in costly analytics tools for examining your online presence. A simpler way to optimize your resources involves using the many free analytics and Webmaster tools on sites run by Google (GOOG) - Get Alphabet Inc. Class C Report, Yahoo! (YHOO) and Microsoft's (MSFT) - Get Microsoft Corporation (MSFT) Report Bing. "It's important to get the hang of what kind of foot traffic you're getting, and how it impacts your business," David McElveen said.
2. Enhance User Experience Based on Analytics Results
Once these analytics are in place, you'll find these search engine platforms show unique snapshots of how potential customers and target stakeholder groups are engaging with your organization. Understanding these patterns will give a fillip to your search engine rankings by growing your business organically and guiding strategies aimed at driving meaningful conversations that draw in more users.
3. Identify Key Influencers for Your Brand
David McElveen underscores the power of social media in facilitating sustainable relationships with key industry thought leaders who have enough online traction to boost your online visibility.
"It's just like a hiring scenario," McElveen said. "You would be more likely to recruit a candidate who has been referred by a trusted friend or colleague. In the same vein, linking your content strategically with brand leaders who will be more inclined to recommending your product or service is a better way of expanding your customer base."

4. Collect More Customer Reviews and Testimonials
An approach based on an organic increase in the number of site visitors is integral to gathering more positive online reviews on Google, Yelp (YELP) - Get Yelp Inc Report and Facebook (FB) - Get Facebook, Inc. Class A Report. Web page buttons are helpful in urging site visitors to leave a review after making a purchase or utilizing a service.
Furthermore, getting testimonials for company Web sites through online surveys would go a long way in enhancing sales by broadening your customer base -- an effort that will lead to a significant increase in annual business turnover. HigherVisibility says customer testimonials have an effectiveness rating of 89% for all content marketing efforts.
5. Get Artistic in Your Representation
According to HigherVisibility, the human brain processes visual images 60,000 times faster than text. When consumers are bombarded all the time by content from a barrage of media channels across multiple gadgets, it is important to stay away from the regular mold of text-heavy narratives. Instead, use a repertoire of quality images, slide-shows and photos that tell a powerful story and give consumers a real feel for the brand you represent.
McElveen suggests that creative, multimedia-based animated movies would work well to expand the outreach of brands across various video-sharing services, including YouTube and Vimeo.
6. Tap Into the Mobile Advertising Space
The scope of partnerships between mobile advertisers and social networking sites like Facebook is evolving from a less explored pre-recession economy to a booming marketplace ecosystem led by brands that understand the value of ROI-driven social media marketing channels. Against such a backdrop, it would be a shot in the arm for smaller businesses to allocate a portion of their total marketing spending to mobile advertising, which is expected to see fresh investment as market competition increases.
McElveen emphasizes that creative, interactive and non-intrusive rich media ad formats like location sharing would be extremely effective in improving search engine rankings for local, consumer-oriented businesses by strengthening audience engagement through enlivened user experiences.
7. Get Featured in Mobile Applications
With the growth of the mobile app ecosystem, App Store Optimization (ASO) is becoming the new normal for a rising number of smaller businesses.
According to two studies conducted by research firms Nielsen and Forrester, app stores across Google+, Apple's (AAPL) - Get Apple Inc. (AAPL) Report iTunes and Amazon's (AMZN) - Get Amazon.com, Inc. Report platforms offer organic channels that drive the largest number of downloads; 61% of consumers find apps by searching through app stores.
That's why it is important for brands to be featured in the location search and customer review sections of mobile apps such as  AroundMe and Spotipremier. "Enhanced search visibility through a growing presence on various relevant mobile apps will get you more customers, who will be instrumental to your revenue growth," McElveen said.
This article represents the opinion of a contributor and not necessarily that of TheStreet or its editorial staff.
>>Read more: GM Proves Bankruptcy Is No Cure for Sick Culture