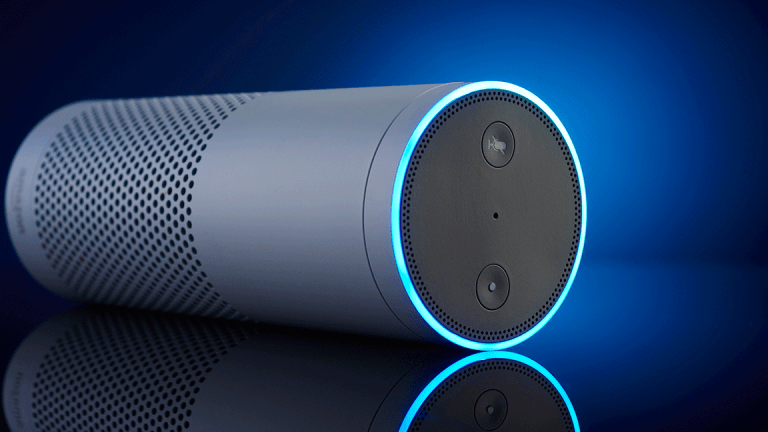 Amazon Echo, Google Home and Apple HomePod: 7 Key Smart Speaker Takeaways
The smart speaker market is still growing rapidly, but separating hype from reality is important.
Alexa, Google and Siri, what's the current state of the smart speaker market?
Thanks to a flurry of news and research reports, we have a much better read on smart speaker sales and usage than we did a year ago.
The reports reveal a market that's still growing rapidly, but also for which some products and services have been a little overhyped. Here are some takeaways from recent reports.
1. Sales Are Booming, and There's a Lot of Room to Grow Them Further
In May, research firm Canalys estimated global smart speaker shipments rose 210% annually in Q1 to 9 million units. Before that, Canalys had forecast global shipments would rise over 70% in 2018 to 56.3 million -- as with many other consumer electronics markets, Q4 is a seasonally big quarter for smart speakers -- and that the total installed base would reach 100 million by year's end.
However, an installed base of 100 million speakers still translates into a pretty low global penetration rate for broadband-connected households -- and that's before accounting for business purchases and the use of multiple smart speakers in some homes. There's especially a lot of room to grow sales overseas: Canalys estimated in January that the U.S. would account for 68.2% of 2018 smart speaker sales.
2. Relative to Smartphones, the Market Remains Pretty Small
56 million smart speaker sales is equal to just about 4% of estimated annual smartphone shipments, which are forecast by research firm IDC to total 1.46 billion this year. And the difference between the smart speaker and smartphone markets is even larger: Whereas many smart speakers sell for less than $100, if not less than $50, IDC estimates smartphones will carry an average selling price (ASP) of $345 in 2018.
It's also worth mentioning here that IDC believes 163.5 million tablets and 259.5 million PCs were shipped last year. Both of those markets also feature a much higher ASP than smart speakers.
Given the massive deltas that still exist between smart speaker and smartphone/tablet penetration rates, it looks as if the lion's share of voice assistant activity still happens on mobile devices. Alphabet/Google (GOOGL) reported back in 2016 that voice searches accounted for 20% of the queries made through its mobile apps; that percentage is likely higher now.

Amazon still easily has the biggest smart speaker installed base.
3. A Lot of Consumers Clearly Like Their Smart Speakers
Though the smart speaker market remains tiny relative to smartphones, worries that will see the fate of, say, the action camera or fitness tracker markets seem misplaced, given how much many smart speaker owners are using their devices.
A January survey of 1,057 U.S. adults by Voicebot.ai found 63% of smart speaker owners reporting that they use one daily, and 77% saying they do so weekly. It also found that six different activities -- asking questions, listening to a music service, checking the weather, setting timers, listening to radio and setting alarms -- were engaged in monthly by 48% or more of smart speaker owners.
4. Many Consumers Are Buying Multiple Smart Speakers
A July survey of 500 U.S. smart speaker owners by research firm CIRP found about one-third reporting that they owned at least two speakers, and that almost 10% of users of Amazon.com's (AMZN) Echo speakers owned three or more of them. Voicebot's survey also suggested a third of U.S. smart speaker owners have multiple devices, while putting the percentage with three or more at 15%. It estimated that on average, there are 1.8 devices per speaker-owning household.
Given how much the total smart speaker market is growing, how cheap low-end speakers have become, and the efforts that speaker vendors have made to get their devices to work in unison, there should be a lot more homes with multiple speakers in two or three years' time.
5. Amazon Remains Dominant, But Google Is Gaining Ground
A May survey by Voicebot and voice AI startup Voysis indicated Amazon's hardware accounted for 61.9% of the U.S. smart speaker base, and Google's devices 26.9%. CIRP's survey gave Amazon a 70% installed base share, and Google a 24% share.
However, Google, which entered the smart speaker market later than Amazon and seems to be doing well outside the U.S., appears to claim a larger share of recent shipments. With the qualifier that Amazon's hardware sales skew more towards the second half of the year thanks to Prime Day and holiday season promotions, Canalys estimates Google had a 36.2% Q1 smart speaker share, and Amazon a 27.7% share. It also sees Google having a 30% global installed base share by year's end, and Amazon a share of "over 50%."
As anyone who attended CES can vouch, Google has been pulling out all the stops to promote both Google Home devices in particular, and Google Assistant in general. Together with the ability of Assistant to integrate with Search and other Google services, as well as the strength of the Google brand, that has helped make the smart speaker wars much more competitive than they were 18 months ago.
6. Apple's Share is Limited, But Context Matters
Voicebot and Voysis's May survey estimated Apple's (AAPL) HomePod only had a 4.1% U.S. installed base share. And CIRP's July survey indicated it had just a 6% U.S. installed base share. The survey data follows reports that HomePod demand has cooled following strong launch-time shipments, as well as mixed reviews that praise the speaker's audio quality but criticize its Siri-powered voice assistant features.
However, it's worth keeping in mind that the HomePod only began shipping in February. Moreover, whereas Amazon and Google are content to sell their cheapest speakers for less than $50 in the name of growing usage of their services, the HomePod is priced at $349 and arguably competes more against Sonos's (SONO) hardware than devices like Amazon's Echo Dot and Google's Home Mini.
Amazon.com, Alphabet and Apple are holdings in Jim Cramer's Action Alerts PLUS member club. Want to be alerted before Jim Cramer buys or sells AMZN, GOOGL or AAPL? Learn more now.
7. Voice Commerce is a Little Overblown
Citing internal Amazon figures, The Information reported on Monday that "only about 2%" of users of Amazon's Alexa assistant have made a purchase using their voices. In addition, of those who did make a voice-based purchase, about 90% reportedly didn't do so again.
On the flip side, about 20% of Alexa users are said to have "engaged more broadly with Alexa voice shopping" by doing things asking about deals and tracking their orders. As I've previously argued, a voice-only commerce experience has its pitfalls when a user isn't sure what he or she wants to purchase, or is looking to compare deals from multiple sellers. On top of that, some consumers seem to be uncomfortable authorizing a financial transaction transaction using their voices alone.
With all that said, greater adoption of smart speakers that feature touchscreens, such as Amazon's Echo Show and Lenovo's new Google Assistant-powered
, could provide a boost to smart speaker commerce activity. Likewise, phone-based shopping experiences in which a voice search for a product or service is followed by the appearance of a relevant search page have their value.