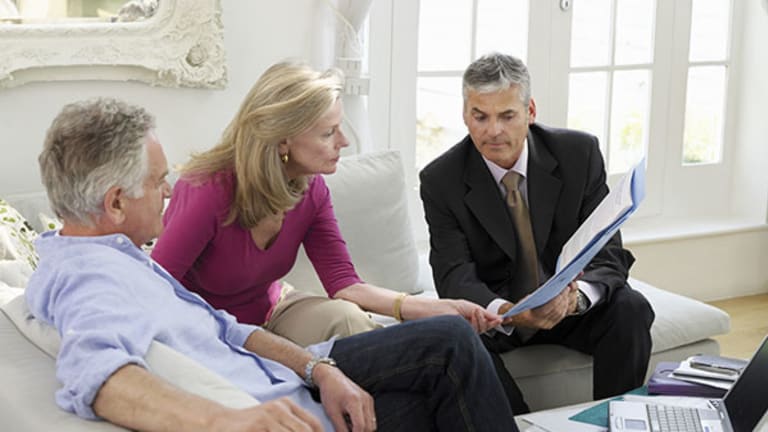 7 Reasons Investors Should Often Avoid What Wall Street Is Selling
Wall Street pitches some of its most complicated products to Mom and Pop investors. The customers don't understand how they work. Neither do some of the brokers who sell them.
When Wall Street lures Main Street into investing in the risky stuff known as "structured products," things don't always end well for the customer.
Last week's $19.5 million settlement between investment bankUBS (UBS) - Get UBS Group AG Registered Report and securities regulators is just the latest example of why Mom and Pop have no business getting involved with Wall Street's most convoluted creations.
The UBS case is full of educational takeaways, so we might as well get right to it.
Lesson 1: The more complicated the financial product, the more opportunities for your brokerage firm to discreetly move money from your pocket to theirs.
The Securities and Exchange Commission said on Oct. 13 that UBS had given investors false or misleading information about the structured debt securities known as "Medium Term Securities Linked to the UBS V10 Currency Index with Volatility Cap."
Lesson 2: If you haven't figured it out already, never buy a financial product with a name that's 13 words long. We'll truncate the long-winded title to V10.
The agency said that, among other things, UBS didn't tell customers it was taking unjustified markups on hedging trades and trading for itself before making hedging transactions in the V10. The firm's actions depressed the price of the index used to calculate returns on the product by 5%, the SEC said.
UBS neither admitted nor denied the allegations. Spokesman Gregg Rosenberg said in a statement that the firm was "pleased to have resolved this legacy matter with the SEC," and that UBS is "firmly focused on the future with an unwavering commitment to upholding a culture of doing the right thing and reducing operational risks."
Now I suppose you might like to know exactly what a structured note like the Medium Term Securities Linked to the UBS V10 Currency Index with Volatility Cap is. The SEC has come up with the only definition I could find that stands a chance of making sense to someone who doesn't have a degree from the Wharton School of Business.
A structured note is "a debt security with a derivative tied to the performance of other securities, commodities, currencies, or proprietary indices," according to the SEC. If you can quickly construe how a product like that would work, and what the attendant risks might be, it's a reasonable bet you are not among the 1,900 UBS retail customers in the U.S. who put their money in V10.
Which takes us to Lesson 3: People who understand how structured products work are not usually the ones who buy them.
We all know that Aunt Agnes doesn't wake up one morning and phone her broker to say she'd like to get her hands on a debt security with a derivative tied to the performance of other securities, commodities, currencies or proprietary indices.
Then how is it that thousands of small investors like Auntie A. wind up buying Wall Street's most complicated products?
The answer is Lesson 4: Products like V10 are sold, not bought.
The sellers, of course, are the "financial advisers" who, according to the UBS Web site, "take a holistic wealth management approach to carefully understand your overall financial situation, unique needs and goals."
Florida investor Walter Michaelson, who bought $1 million of V10 in January 2010 from one of those "holistic wealth" managers, filed an amended complaint against UBS last month with the Financial Industry Regulatory Authority, or Finra, the securities industry's self-regulatory body. 
Chris Vernon, Michaelson's Naples, Fla., lawyer, said his client's UBS broker described V10 as a safe and liquid investment and that, at worst, he would get his principal back on maturity.
According to Vernon, Michaelson's broker told him in the summer of 2010 the V10 already had made a $70,000 profit. But by the time Michaelson insisted he wanted to cash in on his profits, Vernon said the broker's story began to change. It turned out the investment was actually down $127,000. UBS did not respond to emailed questions about the case.

UBS brokers have sold other structured products that wound up on the wrong side of securities regulators. Consider the firm's efforts to peddle the "100% Principal Protection" notes of brokerage firm Lehman Brothers in the years before it went belly-up.
The disclosure documents UBS sent to investors who bought those notes gave every indication that, even if you didn't make money when the note matured, at least you wouldn't lose your principal. What the documents didn't make clear was the notes were unsecured and thus reliant on a solvent Lehman Brothers.
Lehman Brothers declared bankruptcy on Sept. 15, 2008, relegating those UBS clients to Finra arbitrations and creditors' lists.
Lesson 5: When you see things like "guaranteed" or "100% protected" in a marketing pitch, either read every word of the prospectus or leave your money in the mattress.
In the wake of the Lehman fiasco, a lot of the UBS financial advisers began to portray themselves as victims of a UBS "product failure."
Lesson 6: When an investment-gone-bad has risen to "failed product" status, brokers stand a good chance of escaping blame for their customers' losses.
Even as investors were bombarding UBS with arbitration complaints, the firms' stockbrokers were racing to file requests that Finra's arbitrators permit them to erase those claims from their public records. Arbitrators frequently accommodated.
Former UBS broker Edward G. Dulin, Jr., got 39 cases involving the Lehman notes expunged and even won a $5.4 million award from UBS. The arbitrators said the head of the UBS structured product department had told his staff not to tell brokers how bad Lehman's condition was. UBS' actions damaged the broker's name and reputation, according to the written award.
Yet, in a brief filed with Finra on Sept. 29, 2014, UBS said Dulin had put on seminars about structured products for his clients. The firm also said that in his four years at the firm, Dulin sold more than $100 million of structured products, including the Lehman notes.
Seth Lipner, Dulin's Garden City, N.Y., lawyer, said UBS sold his client and other brokers "a bill of goods" about the product's safety.
So is your broker a trustworthy expert who has mastered the fine print of the products he or she sells? Or is that person a clueless puppet of the firm who may be just as dumb as you are about Wall Street's Rube Goldberg-style financial products?
In 2011, when Finra brought an enforcement action against UBS for the 100% protected notes, it fined the firm $2.5 million and required $8.25 million in restitution. Finra said UBS had omitted important facts when it trained brokers about the notes.
In the settlement document, Finra also made observations about UBS brokers, who in some cases sounded more like finance's version of Dumb and Dumber than competent financial advisers.
Although Lehman's name was on the first page of three disclosure documents that you'd kind of hope the brokers were reading, some brokers thought the issuer of the notes was UBS. Others didn't know who the issuer was, according to Finra.
Jake Zamansky, a New York lawyer who has represented dozens of investors in structured product cases against UBS, said he's concerned that "customers don't understand what they're buying and brokers don't understand what they're selling."
Structured products "should not be sold to any retail investors," he said.
Lesson 7:
Zamansky is right