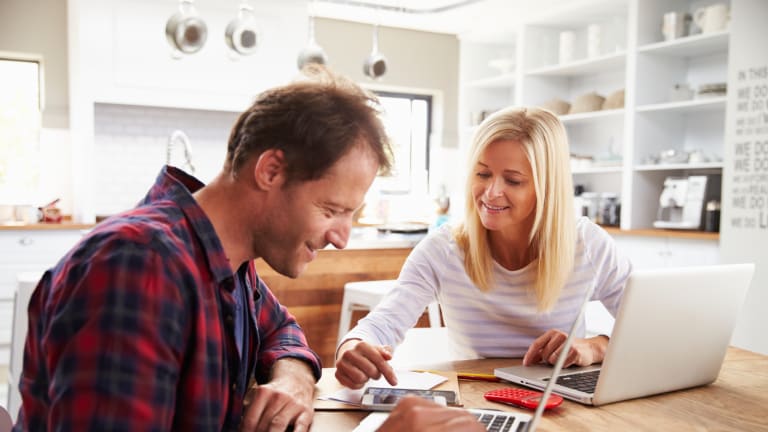 7 Expert Tips for Spring Cleaning Your Finances
Read on to learn these personal finance experts' top tips to spring clean your finances.
Read on to learn these personal finance experts' top tips to spring clean your finances.
Spring isn't just for house cleaning - it's also an ideal time to take a look at your money management. We interviewed some of the most trusted names in the personal finance industry and compiled their best tips for getting your finances in shape before summer.
1. Run Your Credit Report

Your credit score can impact everything from your mortgage rate to your credit card approvals. In some cases it can even affect your competitiveness as a job candidate. Now that tax season is almost over, Debbi King, personal finance and life coach at the
, says "it's an ideal time to get a credit report and check for errors. You can get one report per agency per year for free from
."
Find out what to look for on your credit report, and if you discover mistakes contact the company that issued the account.
2. Negotiate Better Prices and Rates

Bargaining with your current service providers for a better rate can reward you with savings this spring, and throughout the year - which frees up money for investing or paying down debt. A good place to start is your home services. For instance, you can
negotiate for better prices on cable
, Internet service, phone service, and more.
Matthew Coan, owner of the savings account comparison website Casavvy.com, suggests shopping around for the best bank, too - suggesting that online banks have a lot to offer. "Online banks do not have the overhead traditional banks do," he says. "They often take these savings and pass them onto their customers in the form of little to no fees and much better interest rates."
3. Automate Investments and Savings
Elle Kaplan, founder and CEO of the wealth management company LexION Capital, says, "An excellent way to do some financial spring cleaning is to automate contributions to retirement investments like your 401(K)."
Ryan Falvey, Managing Director of CFSI Financial Solutions Lab, suggests using Digit to enhance your savings. It's a free automated savings tool that looks at your spending habits and automatically calculates how much is safe to transfer to your Digit savings account. It's an excellent way to start an emergency fund or save for summer expenses like a vacation or kids' camps.
4. Inventory Debt
According to Dan Matysik, vice president of personal loans at Discover, understanding what you owe is paramount to financial freedom. "Knowing the big number of how much you owe in debt might be scary at first, but remember, you can't tackle what you don't understand," he says. "Getting a firm grasp on the total is a top priority."
If you receive a refund on your taxes this spring, use it to pay off any high-interest credit card debt. In some cases, getting a personal loan to pay off balances may be your best course of action. 
5. Organize Financial Paperwork
In addition to cluttering up your home, financial documents often contain information that can be used to steal your identity, so it's prudent to handle them properly. As part of your spring cleaning, shred paperwork you no longer need. Then digitize the financial documents you must keep and store the hard copies in a safe or other secure location.
Ash Exantus, financial empowerment coach at BankMobile, advises that "ATM receipts can be shredded once you verify that the transaction has been accurately recorded on your bank statement and deposits slips should be kept until you verify the funds in your account."
"Receipts for anything that you purchase should be held for one month unless the purchase is associated with tax deductions or business expenses," Exantus adds. "Bills, pay stubs, and bank statements should be held for at least one year and tax returns including your W2s and/or 1099 should be held for seven years."
6. Create a Personal Finance Statement

It's important to manage your money day to day, but you also need a solid understanding of your overall financial health. Creating an annual
helps you track your assets, liabilities, and net worth year to year. Because spring coincides with tax time, it's the perfect opportunity to compile your yearly personal finance statement.
"The goal is to see if you can increase your net worth 5 to 10% annually," says Chris George of PNC Bank in Wilmington, N.C. "Comparing your change in net worth throughout the years helps you understand what assets appreciated or depreciated in value and how you used debt or cash to fund the assets."
7. Find the Right Financial Advisor

A well thought-out investment plan can go a long way toward helping you reach your goals. No matter what your income is, finding a financial advisor who understands your needs should be on your spring to-do list.
, managing partner at HighTower's the Bapis Group in New York City, agrees: "It is crucial for investors to find a financial advisor who has the ability to create a plan tailored to their financial goals and objectives."
If you're new to investing, you'll also want to get familiar with a few good investment websites to help you learn basic principles of the market.
It's never too soon, or too late, to get your personal finances in order. Use these tips to spring clean your finances and set yourself up for success the rest of the year - and beyond.