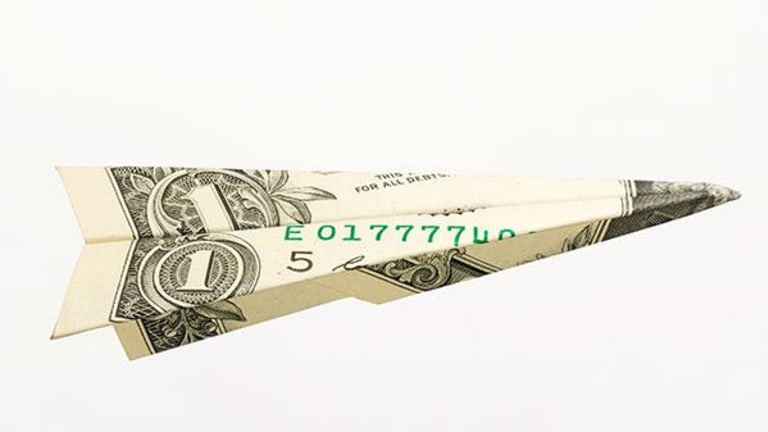 7 Dividend Stocks Boosting Their Dividends 20% or More Per Year
Each of these high quality dividend growth stocks has increased its dividend by at least 20% per year over the last five years.
UPDATE: The charts in this story have been updated. It was originally published on July 27.
In searching for income, it is tempting to be attracted to high-yield stocks. But is this always a good idea? Ultra high yields often come with a high level of risk.
What is the value of a 10% yield today if the dividend is cut three months from now? This is called the high-yield trap, and retired investors living on dividends must be careful to avoid it.
Sometimes a smaller yield may look less attractive at first. However, if the dividend is growing fast enough, it will more than make up for the difference pretty quickly.
Here are seven dividend stocks whose dividends have grown by at least 20% per year over the last five years.
All of these quality dividend stocks have bright long-term outlooks for continued income growth and are worthy considerations for this Top 20 Dividend Stocks portfolio.
Home Depot (HD) - Get Report
Call it the Orange army. I am referring to the 371,000 employees that help make Home Depot the world's largest home improvement retailer.
In the short span since 1978, the company has grown to over 2,274 stores in the U.S., Canada, Mexico, Puerto Rico, the Virgin Islands and Guam.
Home Depot thrives in a competitive environment by offering convenient locations, wide assortments and lots of space. The average store is over 125,000 square feet. For DIY's it is like going to a destination resort. Home improvement retailing is highly insulated from the threat of online shopping. But that hasn't stopped Home Depot from offering an online order and pickup service.
The sheer size and volume of products carried by Home Depot has made the traditional mom and pop hardware store an endangered species. Today the $165 billion home improvement industry has come down to a battle between Home Depot and Lowe's. According to IBIS World, the U.S. home improvement business is growing at an annual clip of 4.4%. This is faster than the U.S. GDP.
Earnings growth at Home Depot may be tapering from the 20% pace of recent years. Wall Street analysts peg the next five years to average 14%-to-15%. That does not mean slowing growth for dividend investors.
One reason is Home Depot's low free cash flow payout ratio of 38%. Compound dividend growth over the past 20 years has averaged 22.6%. The rate has actually increased to 26.7% over the past three years.
Home improvement retailers have proven to be very reliable dividend growers. For example, Lowe's has raised its dividend for more than 50 straight years and is a member of the dividend aristocrats list.
Home Depot's current $2.76 per share dividend payout offers investors a moderately attractive 2% yield. However, the pace with which Home Depot's dividend is likely to continue growing places the stock in rare and attractive company.
Qualcomm (QCOM) - Get Report
When it comes to today's smartphone and all of its cellular predecessors, Qualcomm wins the lottery. Winning has not been a matter of luck. The company has long been the biggest innovator in designing the processors and modems that are the key to connecting the world wirelessly. Qualcomm was a driving force behind mobile 3G and 4G standards. It holds a total of over 17,000 patents worldwide.
The company designs, fabricates and markets a wide variety of semiconductors for the mobile industry and is constantly challenged by Samsung and other competitors. Traditionally this segment of the business represents about 70% of global revenues.
Royalties from licensing its technology to others is what accounts for the balance. Once a licensing agreement is made, royalty income requires little additional costs, thus it is highly profitable with company-wide operating margins exceeding 20%. The vast majority of total operating profits can be traced to this royalty income stream.
Smartphones reached over 1.4 billion units by the end of 2015. Most of these are iPhones or Samsung phones. These devices have evolved into high-powered infotainment systems that are even challenging traditional television for a share of total eyeballs.
According to Gardner research, mobile devices are projected to reach a global market of that equates to virtually the entire world's population by 2019 with Smartphone's accounting for 95% of the total.
While technology is not one of the best stock sectors for dividend income, Qualcomm's current annual payout of $2.12 offers an above average 3.5% yield. Over both the past 10 and five years, dividend growth has been approximately 20% per year, accelerating to 24.2% per year in the most recent three years.
Earnings were temporarily interrupted last year but most recent reports show things are back on track. With the exception of 2015, the payout ratio has been in the 26%-to-32% range. During the explosive double-digit growth of the industry, this was appropriate.
These days, a more moderate industry growth rate, almost $4.8 billion in annual free cash flow generation, and over $17 billion in Qualcomm's bank account spell rapid dividend growth for the future.
Target (TGT) - Get Report
Target's logo featuring the familiar red bulls eye illustrates the company's near perfect aim at middle market America. Over 1,792 stores in the United States offer a full selection of apparel for the family, as well as household goods, personal care items, electronics and furniture. Recently, CVS Pharmacies have been popping up at select Target stores as well.
Being hyper sensitive to changing consumer tastes is part of what allows Target to grow sales, profits, and dividends so rapidly. While several major bricks and mortar retailers have found themselves losing out to online rivals like Amazon, eBay and others, not Target. By fully committing to online order and rapid delivery, Target's bargain-priced merchandise has once again allowed the company to adjust to changing consumer tastes.
Target is now the world's second largest retailer, and the law of large numbers is beginning to catch up. Annual revenue growth has slowed to about 2%. Strong operating and financial manage have produced five year growth of 5.8% in earnings-per-share (EPS) and nearly 10% in free cash flow. This is a very good measure of Target's ability to grow both its business and dividends at the same time.
Target's shareholders have enjoyed higher dividend payments for 49 consecutive years. Target is one of the few companies whose dividend growth rate has accelerated over time: 14.3% over the past 20 years, 19.6% over 10 and 20.8% annual dividend growth over the past five.
The quarterly dividend will increase shortly to 60 cents per share, providing investors with a 3.1% annual yield. And with free cash flow of $7 per share and a payout ratio just 40% of earnings, this favorite blue-chip dividend stock has the capacity to continue these high rates of dividend growth.
Texas Instruments (TXN) - Get Report
If you think that tiny little computer chips are making their way into everything and every product found almost everywhere you go, blame it on Texas Instruments.
They are one of the industry's biggest players in analog chips. These are the types of chips used in hundreds of markets, including the automobile industry which uses them to turn your car into an electronic monitoring system. As autonomous driving evolves, Texas Instruments is sure to evolve with it.
It doesn't stop there. Texas Instruments' second business group is known as Embedded Processing. Sometimes referred to as a system on a chip, embedded processing has dozens of applications in high growth markets such as mobile phones, video games, GPS units, cameras and other consumer electronics.
Commercial uses include traffic lights, systems controlling power plants and factories. In short there are applications for just about everything everywhere. As the so-called Internet of Things evolves even more uses will be found.
The semiconductor industry that Texas Instruments has been a part of since its founding 86 years ago in Dallas is a unique combination of intense competition and oligopoly.
On the one hand, semiconductor foundries require large amounts of capital. This limits the number participants. Over time though, even the most sophisticated chip designs become commodities subject to price competition.
Texas Instruments has built its strategy around designing, fabricating and marketing to volume markets with solid customer loyalty. This helps to mitigate the cyclicality typical of the industry.
Texas Instruments is a highly profitable company, sporting operating margins of 32%. This far surpasses giant Intel whose operating margins are still a lofty 25%.
Such high returns on capital allow Texas Instruments to finance its needs while still growing dividends by more than 20% per year over the last five years.
The current annual payout of $1.52 offers a yield of 2.1%. The company's 20%-plus annual dividend growth more than makes up for its somewhat average dividend yield.
Over the past decade, TI's dividend has compounded at a 30.2% annual rate and 23.4% over the past five. Over the last five years the free cash flow payout ratio has ranged between 26%-to-38%.
In addition to cash dividends, Texas Instruments has laid out $6 billion over the past three years in repurchasing stock. All of this is a sign that management is working for shareholders and dividend investors.
Texas Instruments has a bright future ahead of it for long-term dividend growth investors.
Union Pacific (UNP) - Get Report
All the way back in 2010, investor Warren Buffett shelled out $26.5 billion to acquire Burlington Northern Railroad, adding the company to Berkshire Hathaway's portfolio of high yield dividend stocks.
Every bit of evidence says that the deal has been a big success. If you agree, you might want to look at Union Pacific, the other big railroad line in the West next to Burlington Northern.
The company owns over 32,000 miles of track. This rail network connects customers on the Pacific and Gulf Coasts with the Midwest and Eastern United States. Virtually any and every commodity, from agriculture and chemicals to finished goods such as autos and parts and much more can be transported to market through UNP. UNP benefits handsomely from the production of shale oil and with the recent rise in drilling activity in this area, demand is rising.
In his purchase of Burlington Northern, Warren Buffet noted how rail represents the lowest cost mode of transporting goods across the country. Considering the annual volume of Asian sources goods imported through West Coast ports to be distributed throughout the US, UNP's network is well situated. In addition, the amount of agriculture, minerals and other natural resourced shipped from the western U.S. is a steady source of demand for UNP.
Union Pacific is surprisingly profitable with excellent cash flow that allows the company to grow dividends rapidly. Operating margins are 37%. Operations brought in $7 billion in cash flow in 2015 while capital expenditures are only $4 billion. Over the past 3 years, dividends have increased 20.7% per year. During this period, management also put $9 billion into stock repurchases.
The current annual payout of $2.20 offers a 2.4% yield. Maintaining Union Pacific's strong dividend growth is a good bet. Consensus estimates point to a 13% annual earnings growth in the years ahead. This, along with a gradually rising payout ratio from the current 49% of EPS, makes a forecast calling for above-average appear reasonable.
Cummins Inc. (CMI) - Get Report
In the dull and mundane world of diesel engines, who could have imagined that dividend growth investors would find a gold plated winner in Cummins? Cummins earns the prize for having the best combination of above average yield and fastest growth.
The company is one of the largest manufacturers and marketers of both diesel and natural gas powered engines (45%), components (21%) and power generating systems (12%). Through its worldwide network Cummins also distributes engines and components (22%).
Cummins customers are builders of heavy- and medium-duty truck, bus, recreational vehicles, light-duty automotive and a number of industrial equipment used in markets including, construction, mining, marine, oil and gas, railroad and military.
So how is a company like Cummins able to grow dividends so quickly? Operating margins are 11%, only average, and free cash flow at $1.3 billion last year is not particularly large considering Cummins' $19 billion in sales and $15 billion in assets.
The mystery of the amazing dividend growth is in low fixed costs. Diesel engines don't change all that much from year to year so huge capital expenditures aren't essential to success. In total, over the past three years only $2 billion has been spent on plants and equipment.
Here is the critical data. The current annual payout of $4.10 per share offers a 3.4% yield. Over the past decade, dividends have compounded at an average annual rate of 27.9% and 31.9% over the past five.
Even though EPS growth is not expected to be much in the years ahead, the days of above-average dividend growth are still likely. The dividend payout ratio remains healthy having ranged from a low of 13% in 2011 to 42% of EPS last year.
Without much need to finance growth and limited capital required to maintain existing production facilities, dividend growth investors should continue to enjoy a rising yield on cost in the years ahead.
Dow Chemical is a holding in Jim Cramer's Action Alerts PLUS Charitable Trust Portfolio. See how Cramer rates the stock here. Want to be alerted before Cramer buys or sells DOW? Learn more now.
Dow Chemical (DOW) - Get Report
A mature business, low payout ratio, and accelerating dividend growth make Dow Chemical complete our list of seven dividend stocks growing dividends 20% or more per year.
Founded back in 1897, the company's nearly $50 billion in sales ranks No. 3 in the world of chemical industry giants behind only BASF and Sinopec.
The global industry has been in consolidation mode for a long time. Throughout its history, Dow has been the acquirer of major competitors such as Union Carbide, Rohm & Haas and Olin Corp. In July, the company received shareholder approval for its proposed merger with DuPont. The merger is expected to close late in 2016, pending the receipt of all necessary approvals.
Global demand for industrial chemicals is generally mature with growth likely to match world GDP. This is the overriding force behind industry consolidation.
Having said this, the future of Dow, with or without DuPont, is likely to be highlighted by static capital spending, a reduction of fixed overhead, and maximization of cash flow. Should the merger be completed, the process of cost reduction and cash flow maximization should accelerate as duplication of facilities and personnel are eliminated.
In the meantime, recent trends in Dow Chemical's dividend are attractive. As its business has matured, dividend growth investors have been rewarded.
Over the past decade, dividend growth was only 2.5% annually but accelerated to 23.4% over the past five years. Management cut the dividend during the financial crisis, but last year Dow's dividend exceeded its previous record high set in 2008.
The current annual payout of $1.84 per share offers a yield of 3.4%. The current payout ratio of 35% of EPS is near a 10-year low, providing a nice margin of safety and plenty of room for future dividend growth. With the emphasis shifting to cost reduction, there is good potential for dividends to keep a double-digit growth rate in the future.
This article is commentary by an independent contributor. At the time of publication, the author was long CMI, UNP, and TXN.