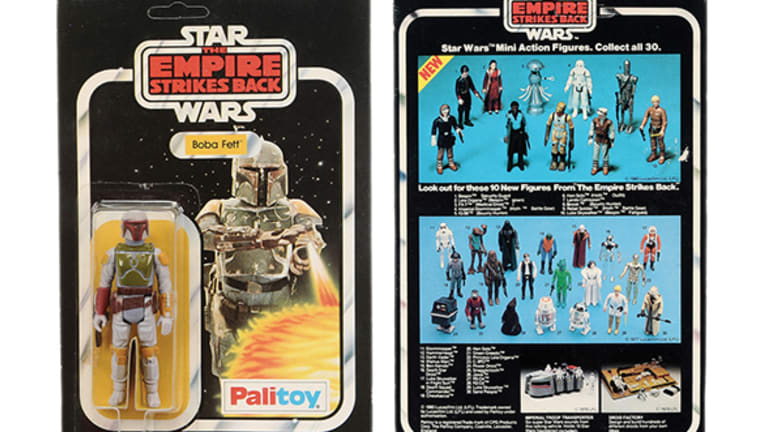 7 Collectibles That Are Worth Investing In
Many collector's items commonly thought to be great investments aren't, but these seven, from original Star Wars toys to vintage fashions, are very good bets.
NEW YORK (TheStreet) -- If there is such a thing as a golden rule for collectibles, it's buy what you love -- and if you're lucky, some of that will be valuable, too.
The collectible market is a tricky one, and a lot of what people believe will be valuable winds up becoming completely worthless (remember that '90s Beanie Baby craze?). The sector evolves over time, and interests -- and generations -- change.
"The greatest of the collecting generations, which is the World War II generation, is dying, and there's nobody stepping up to replace them in terms of buying all the stuff that they bought," said New York-based appraiser and consultant Lisa Ramaci. "The collectibles market has really shrunk."
But collectibles haven't died out all together. A number of items still fetch a pretty penny at auctions, in private transactions, or through online platforms such as eBay (EBAY) - Get eBay Inc. Report and Amazon (AMZN) - Get Amazon.com, Inc. Report . And as the market starts to look especially volatile, more and more people could start eyeing collecting as an alternative way to invest.
But as industry experts will tell you, returns aren't a sure thing, meaning whatever you buy you should be fine with hanging onto for a while.
"Buy something because you love it and you get pleasure from it and it kind of speaks to you. Never buy something purely for investment purposes unless you're absolutely 100% sure you can make a return on it," said Tracy Martin, an expert in antiques, post-war collectables and vintage fashion based in the U.K.
"If there's a downturn, if prices don't go up rapidly, are you as happy with that piece?" said Peter Loughrey, the founder of auction house Los Angeles Modern Auctions.
He says the most successful collectors are people who have a deep connection to their pieces, pointing to actor Steve Martin, whose art collection he says "has a fantastic point of view."
As for those approaching the arena purely for financial purposes, the end result often isn't as good. "It's not so much a collection as it is a dealer's inventory, and it's all sitting in a warehouse," he said.
Considering dipping your toes into collectibles? Here are seven categories where you can still find value -- financial and otherwise.

1. Childhood Toys

"We're seeing a lot of nostalgia, the growing middle class, and now people are buying things that remind of their childhood. You see a lot of toys, games," said Sarah Fysh, Online Operations Manager at valuation company Value My Stuff.
She pointed to the example of Micro Machines, a line of toys produced in the 1980s and 1990s. "The right Micro Machine could go anywhere from five pounds to 200 pounds [$7.70 to $308]," she said.
Martin mentioned Pippa dolls, which were made by British toymaker Palitoy in the 1970s, and Transformers figurines made in the 1980s.
"People really are buying into their nostalgia, their childhood memories," she said. "Toys are becoming one of the biggest areas of investment for collectors."


2. Pop Memorabilia
For those starting out in collecting, pop memorabilia may be a good way to get the ball rolling.
"If I was going to suggest somebody start collecting something, I would probably suggest where they could make the highest amount of return [are] things such as pop memorabilia," said Value My Stuff's Fysh. "We see things come up quite regularly at auction assigned value by the right name could be worth quite a lot in actuality when you didn't pay anything for it."
A set list written out by the late Kurt Cobain of the Seattle rock band Nirvana was sold for $8,750 at auction house Bonhams in March 2015. At the same auction, a suit worn by actor Sacha Baron Cohen in the 2006 Boratwent for $5,250, and a Beatles-signed copy of a With The Beatles album was sold for $36,250.
3. Mid-Century Modern Furniture
The market for antique furniture isn't what it used to be -- instead, collectors are flocking to more modern pieces made in the 1950s, 1960s and 1970s.
"Even people who are not wealthy, that's the kind of stuff that people are buying nowadays," Ramaci said. "That's probably almost a direct result of the Mad Men phenomenon, because once that TV show started, interest in it began booming."
And in the category, it's all about designers and names such as George Nakashima, Wendell Castle and Charles and Ray Eames. "A lot of specific names have gone up and down over time, but some of them are no less collectible," Loughery said.
A pair of lounge chairs and ottoman made by the Eames pair sold for $5,625 at a Rago Arts auction in June. A Nakashima dining table went for $26,250 in February, and a Wendell Castle desk was bought for $183,750 at the same auction.
"Ikea really personified this whole idea of 'this is how your house should look,'" Hill said. "A lot more people are going for decorative things that have a story connected to them. They want something to have a soul, a passion, a heart, rather than some anonymous piece of furniture mass produced in China and shipped over here."

4. Star Wars Memorabilia
In early 2015, a figurine of Boba Fett, Darth Vader's bounty hunter in Star Wars: The Empire Strikes Back, went for more than $27,000 at auction. It fetched the top price at an event at Vectis Auction, the world's largest toy auction house, in which former U.K. Star Wars Fan Club chairman Craig Stevens sold off 70 figurines from his personal collection.
"Obviously, that's very rare," said Martin.
In fact, according to Ramaci, Star Wars is perhaps the only film franchise with memorabilia worth such high prices, and even then, it depends which specific movie the items are related to.
"You've got people who collect Star Wars merchandise, but only from the first movie, because that's before people realized what a blockbuster franchise it was going to become, and so the amount of merchandise from it, in the first one or two years of its rollout, is highly collectible," Martin said. "If you were smart enough in 1978 to buy a plastic cape Jawa action figure for $1.99 and it's still in the package, you can sell it now for between $5,000 and $7,000, because it's very rare."
5. Chinese and Japanese Ceramics
The price of Chinese ceramics and porcelain has climbed in recent years, but that could soon change.
"That's been doing very well, and the reason for that is until recently, the Chinese economy has been booming. So as a result, there have been a lot of people buying back their heritage," said Mark Hill, an antiques and collectibles specialist who has worked for major auction houses Bonhams and Sotheby's (BID) - Get Sotheby's Report .
Part of what makes Chinese ceramics especially hot items is that once they are acquired by Chinese buyers, they're not likely to be up on the auction blocks again. "You will never see them on the open market again, because now they're home where they belong," Ramaci said.
China's economic slowdown and market turbulence, however, are likely to impact the market for Chinese ceramics and other collectibles as the Chinese people are no longer able -- or willing -- to buy.
Hill suggested investors start looking at Japanese items instead, for which prices could rise should that economy improve. He pinpointed ceramics and works of art from the Meiji era (the late 19th and early 20th centuries). "Lots of Meiji works of art just seem like incredibly good value at the moment, especially due to the quality," he said.


6. Contemporary Art
Contemporary art is a big mover on the art scene, and it is accessible to collectors of all kinds.
"There are levels for every collector in the contemporary art world, for example, there are levels even at the few hundred dollars to the few thousands and on up to the multi-millions," said Los Angeles Modern Auctions' Loughrey.
One such instance is American artist Jeff Koons. His "Balloon Dog (Orange)" was sold at Christie's for $58.4 million in 2013, making it one of the most expensive pieces of art work by a living artist ever to sell at auction. But not all of his pieces are so pricey.
"You could get original work for $10 million, or you could get sort of entry-level authentic edition works for $10,000. And there's also things like his skate decks for Supreme and other works that he designed for museum gift shops and things that you could get for hundreds of dollars," Loughrey said. "For a major contemporary art name like Jeff Koons, there's authentic collectible, investible works at sort of every price range, and that's one of the reasons I think that makes his work so attractive."
Loughrey added that contemporary art also appears to have multi-generational appeal. "For the last 25 years, I've found my younger collectors still being fascinated with a lot of the same pieces, and that's really good for the future of collecting," he said.


7. Vintage Fashion
"Collectible fashion is massive at the moment," Martin said. "Good vintage names, sort of 1960s boutique culture, so Mary Quant, Biba, all things that epitomize an era."
British designer and fashion icon Mary Quant is often recognized as the originator of the miniskirt, and London fashion store Biba, run by Barbara Hulanicki, was a major force in style in the 1960s and 1970s.
Fashion from the 1940s is valuable as well -- specifically from the United States,where the industry wasn't slowed down by World War II as much as it was in Europe. "It's a lot easier to buy American, especially 1940s fashion, because you didn't have the restrictions during the war, the rationing," Martin said.
Of course, newer fashion items are worthwhile collections as well -- and can be costly ones at that. In June, a fuchsia Hermès Birkin made in 2014 set a record as the most expensive handbag ever sold at auction. It was sold for more than $200,000 in Hong Kong.
This article is commentary by an independent contributor. At the time of publication, the author held no positions in the stocks mentioned.