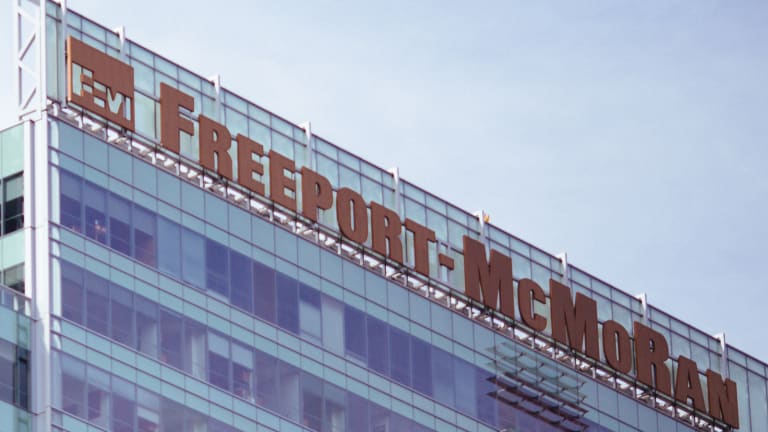 Publish date:
7 Big Stocks on Traders' Radars -- and What You Should Do With Them Now
Here's a technical look at how to trade some of the most active stocks on the market right now.
Here's a technical look at how to trade some of the most active stocks on the market right now.
Put down the 10-K filings and the stock screeners. It's time to take a break from the traditional methods of generating investment ideas. Instead, let the crowd do it for you.
From hedge funds to individual investors, scores of market participants are turning to social media to figure out which stocks are worth watching. It's a concept that's known as "crowdsourcing," and it uses the masses to identify emerging trends in the market.
Crowdsourcing has long been a popular tool for the advertising industry, but it also makes a lot of sense as an investment tool. After all, the market is completely driven by the supply and demand, so it can be valuable to see what names are trending among the crowd.
While some fund managers are already trying to leverage social media resources like Twitter to find algorithmic trading opportunities, for most investors, crowdsourcing works best as a starting point for investors who want a starting point in their analysis.
Today, we'll leverage the power of the crowd to take a look at some of the most active stocks on the market.
iShares Japan ETF
Nearest Resistance: $12.50
Nearest Support: $10.80
Catalyst: Japan Bounce
Up first on our list of high-volume stocks is the iShares Japan ETF (EWJ) - Get Report . The overnight bounce in Asian markets was enough to spur considerable interest in the iShares Japan ETF at the market's open this morning, making this $18 billion exchange-traded fund the single most active stock on the NYSE by this afternoon. Shares are up more than 3.6% on the day as I write.
Technically speaking, however, the iShares Japan ETF isn't out of the woods. Shares are bouncing higher today, but the longer-term trend is still pointed lower. It makes sense to avoid this ETF until it (and the Japanese equity market, by extension) can start to establish some higher lows. That's far from happening at this point.

VelocityShares 3x Long Crude ETN
Nearest Resistance: $2.50
Nearest Support: $2
Catalyst: Commodity Bounce
Oil bounced overnight, driving upside in shares of the VelocityShares 3x Long Crude ETN (UWTI)  today. In the last couple of months, UWTI has become investors' favorite speculative bet on oil prices, and it's been nothing if not directional. Since the end of July, this exchange-traded note has shed 88% of its market value, plunging as crude oil prices have hit new lows.
Despite the 17% rebound in UWTI this afternoon, the sheer size of the selloff since this past summer means that the move higher here is really a blip on the radar. UWTI is still stuck in a parabolic downtrend here, and buyers should think twice about trying to buy the bounce.
General Electric
Nearest Resistance: $30
Nearest Support: $27
Catalyst: Q4 Earnings
Earnings are driving trading volume into shares of industrial conglomerate General Electric (GE) - Get Report  this afternoon, after the firm's fourth-quarter top-line results missed estimates. GE still beat earnings expectations, generating 52 cents of profit per share for the quarter, besting analysts' 49.4-cent average best guess. Still, sales were almost $2 billion off the mark, resulting in Friday's 2.7% correction in shares.
The good news for GE bulls is that the downside shares are seeing today isn't especially material. This stock has been consolidating in a sideways range since the start of 2016, and it's still in that range today. A breakout above $30 means that GE is set to re-test late-2015 highs. Otherwise, if support at $27 gets violated, then this stock opens up some downside risk.
Freeport-McMoRan


Nearest Resistance: $5
Nearest Support: $3.50
Catalyst: Analyst Note
After opening Friday's trading session on a high note, shares of $4 billion miner Freeport-McMoRan (FCX) - Get Report  has been tumbling this afternoon after investors started reacting to a negative analyst note. Analysts at BB&T said that Freeport was one of their list favorite stocks heading into fourth quarter earnings, which are scheduled to hit on Tuesday. Today's 8.5% decline in Freeport-McMoRan is coming as investors try to exit the trade ahead of earnings.
Technically, the price action in Freeport is make-or-break right now. Shares remain in a parabolic downtrend, but this stock has been consolidating in recent sessions, trading in a tight range between $3.50 and $5. A breakout above $5 would mean that the downtrend is over, and Freeport could be headed higher. Expect earnings to be a major catalyst one way or the other.
Kinder Morgan
Nearest Resistance: $15.50
Nearest Support: $12
Catalyst: Commodity Rebounds, Post-Earnings Move
Shares of energy infrastructure giant Kinder Morgan (KMI) - Get Report  are enjoying an 8.6% up-move this afternoon, as this stock reacts to a rebound in the commodity markets and carries over its bullish price trajectory from Wednesday's fourth quarter earnings call. On Wednesday, Kinder Morgan announced earnings of 22 cents excluding one-time items, besting analysts' 18.3-cent average profit guess. Since that earnings report, shares are up nearly 25%.
At this point, it looks like Kinder Morgan is trying to push its way back above the top of a broadening pattern that shares have been forming for the past two months. Typically a broadening pattern is a bearish setup, as it indicates an increase in volatility entering shares. In Kinder's case, though, I'm inclined to think that what we're looking at is more of an attempt above the downtrend – if shares can clear resistance at $17.50, this stock could open up some upside potential for 2016.
Apple


Nearest Resistance: $100
Nearest Support: $95
Catalyst: Technical Setup
Apple (AAPL) - Get Report  is looking "bottomy" this week. Shares of the tech giant reversed off of long-term support at $95 this week, and they're closing in on a near-term resistance level at $100 today. A move through that big round-number would signal a return to an uptrend for Apple, at least in the near-term. And that fact is what's propelling the 3% rally today ahead of next week's earnings call.
For investors looking for an entry opportunity in Apple, and willing to take the earnings risk here, this looks like a great buying opportunity from a technical standpoint.
Jim Cramer owns Apple for his Action Alerts PLUS charitable portfolio. The stock "represents good value and it should be owned not traded even as so many analysts seem to be tripping over each other to make you bounce in and out of the darned thing," said Cramer recently.
Marathon Oil 
Nearest Resistance: $10
Nearest Support: $8
Catalyst: Oil Rebound
Last up on the list of high-volume stocks is Marathon Oil (MRO) - Get Report . This energy stock is seeing a 2% bounce on big volume this afternoon, following up yesterday's big up day for shares. Since Wednesday, a rebound in crude prices has propelled Marathon 23% higher. That strength is starting to look long in the tooth at this point, however. Shares have been fading over the course of today's market session.
Technically, the bounce in Marathon this week is a bullish change for this stock's trajectory, but this stock could still double from here and remain in a downtrend. That's some important market context to consider for anyone who's looking for a buying opportunity in Marathon (or any other large energy stock, for that matter). 
Disclosure: This article is commentary by an independent contributor. At the time of publication, the author was long AAPL.