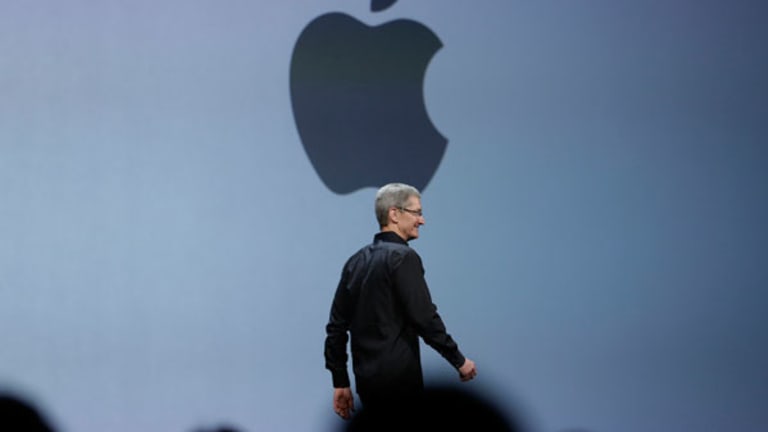 6 Things Apple Needs to Learn From Facebook, Amazon, Google, Tesla & Disney
For Apple to really flourish, it needs to change in some fundamental ways.
NEW YORK (TheStreet) -- For us at Economic Timing, earnings season is a time to take a step back and reassess current holdings. Such analysis doesn't look good for Apple (AAPL) - Get Free Report, which has several self-inflicted wounds. Tim Cook is beloved for his genius operational management, but he's really not making money for investors the way he could.
Apple is falling behind. It wasn't the mighty Apple that reversed the market's negative trend, it turned out to be the up-and-coming Facebook (FB) - Get Free Report. It wasn't Apple that disrupted an industry, it's looking like it was Amazon (AMZN) - Get Free Report.
[Read: Google: Why We Bought Nest]
Here are six very important things that Tim Cook can learn from Mark Zuckerberg, Jeff Bezos and other business innovators.
1. Less is more.
This earnings report feels like a miss to Wall Street because of the way Apple breaks out earnings details by product category. It's killing Apple. But guess what? Apple handily beat earnings per share estimates at $14.50. Nevertheless, the conversation is about how Apple only sold 51 million iPhone units. Never mind that the mix of 5s and 5c iPhones was excellent. Or that the mix of iPad Airs was incredible. Nobody cares.
What if Facebook separated results between Facebook and Instagram? It would give Wall Street a chance to criticize. What if Facebook told investors that they were having a tough time keeping teenage users? What if Amazon broke down unit sales of the Kindle? It would give Wall Street a chance to criticize.
Wall Street will ignore five good variables in order to focus on the one leak. As CEO, Tim Cook can't let that happen. Apple began breaking down product sales in the iPod era because Steve Jobs wanted to boast that Apple was back on track. It was a strategy that fit the times. But the time has come for Cook to focus investor attention on the overall growth of the company. The only guys who care about the details are CPAs and analysts. Wall Street cares about the big picture.
2. Skip forward-looking guidance.
Does Facebook offer guidance? No. Why not? Because nobody knows the future. Does Google (GOOG) - Get Free Report offer guidance? No. It's a flawed model. Get rid of it. Apple doesn't know what's going to happen at China Mobile (CHL) - Get Free Report but they offer guidance anyway. Guidance has turned into a rally killer, so get rid of it.
[Read: Wahlman: Explaining Tesla's Model X Delay]
3. Reduce the secrecy.
Jeff Bezos was on 60 Minutes (CBS (CBS) - Get Free Report) showing off Amazon's future of drone deliveries. Sure it's five years out, but it gives investors reason to reward Amazon for innovation. Google has been talking about Glass years and it's still not really available to consumers. Now the company is talking about contact lenses. On Facebook's call Zuckerberg was talking about the future growth prospects of apps. These companiess are getting higher price-to-earnings multiples than Apple because of it.
Apple secrecy has become a hallmark of the company in an effort to stop the copycats. Clearly that's no longer working. Everyone knows about the iWatch, but because the Street doesn't hear it from Tim Cook, the stock doesn't get any credit. Five years ago I wrote a piece about why the shorts love to use Apple. I discussed the stock manipulation that occurs because of Apple secrecy. This variable has been hurting Apple stock for years.
Time to loosen up. It's okay to be out in the public arena talking about a future road map. Elon Musk of Tesla (TSLA) - Get Free Report is another prime example. Investors anticipate the Model X and Gen III over the next five years. Give Wall Street an honest forecast of where the company is headed rather than always tempering expectations with irrelevant quarterly earnings guidance.
4. Hold less cash.
Mark Zuckerberg deserves to be named CEO of the decade for his gutsy move to spend $1 billion on the acquisition of Instagram without board approval. Without Instagram, Facebook would be a $15 stock. Google's acquisition of YouTube has turned out to be a gold mine.
It does nobody any good to bury cash in the sand, or in Apple's case, stash it overseas.
Where would Apple be today if it had acquired Netflix (NFLX) - Get Free Report to boost its Apple TV's streaming catalogue? Netflix could have been had for $5 billion two years ago. It can still be had for $30 billion today. Where would Apple be if it had acquired Twitter (TWTR) - Get Free Report to gain exposure to social networking? Where would Apple be if it had acquired Tesla?
For Apple shareholders it's frustrating to watch these start-ups now become better investment opportunities than Apple itself. I'm even ready to change direction. This earnings season has been eye opening.
5.Get smaller.
Carl Icahn of Icahn Enterprises (IEP) - Get Free Report needs to be made chairman of the board for a day. If Apple had already approved and executed the buyback he proposed, quarterly earnings per share would have been $19.50 instead of $14.50. Cash on the balance sheet does Apple no good. It doesn't eliminate volatility. It gets zero credit. It might as well not even exist. Ask Exxon (XOM) - Get Free Report how life is at the top of the market share food chain.
Eliminate shares outstanding as quickly as possible.
6. Make money off of the Apple ecosystem.
Amazon, Google, Facebook, Twitter and Netflix are making a fortune from Apple's ecosystem. Apple has done a great job of squeezing every last penny from hardware sales but there's no denying it has hit the law of large numbers.
Making money within its own ecosystem was something that Apple should have learned from Walt Disney's (DIS) - Get Free Report California to Orlando experience. Steve Jobs understood the importance of controlling a closed ecosystem and he immediately recognized the potential of the App Store within a year of its launch. Steve commented that he had never seen anything like it.
The problem here is that Apple hasn't been able to execute. iOS usage data is off the charts. Who is it benefitting? Half of Amazon sales are now performed on smartphones. Facebook is dominating mobile advertising. Where is Apple? It has iAd -- a gigantic failure. It has iTunes Radio. It continues to hold a Worldwide Developers Conference where it showcases Pages, Numbers and iPhoto. iPhoto has gotten creamed by Zuckerberg's Instagram. As Apple sits back, Ebay's (EBAY) - Get Free Report Paypal, Square and Amazon are all making major dents in the retail landscape.
[Read: Super Bowl Savvy Savings]
Thus far software qualifies as a missed opportunity for Apple. But the opportunity still exists. The problem is it's looking like it might not be part of Apple's DNA.
This brutal analysis of Apple reveals numerous chinks in the armor. I will temper the negativity by stating that long term cycles imply investors should own Apple in 2014 for the iWatch launch just like you should have owned Apple ahead of the iPad launch in 2010 and ahead of the iPhone launch in 2007.
We won't ignore this opportunity as it presents itself, but we do recognize that this earnings season has elevated a new generation of Wall Street winners. Facebook's report was sensational. Mobile advertising is set to explode via Instagram and video ads. Upcoming Facebook apps should boost market share. Zuckerberg is proving to be a smart and capable CEO.
Facebook call premiums remain inexpensive, which is a major bonus for options traders. Today we're adding a 10% allocation of FB September 2014 $50 calls. Netflix's domestic and international subscription growth is more than worthy of a $25 billion market cap. Today we're purchasing a 5% allocation of NFLX April 2014 $370 calls. Under Armor's report showcased massive growth potential in China as its apparel and shoe lineup take share around the world. Under Armour (UA) - Get Free Report is a force to be reckoned with in online sales. We've purchased a 5% allocation of UA January 2015 $80 calls. Amazon and Google report after the bell today. Because of Google's high option premiums we will refrain from a flyer position but we are purchasing a 2% allocation of AMZN February 2014 $390 calls.
The bottom line is that there are always ways to make money in the stock market. As Apple deals with structural inefficiencies caused by too many earnings details, momentum killing guidance, secrecy about innovation that inhibits price-to-earnings growth, a lack of acquisitions, too much cash, and too few profits from within its software ecosystem, there are other opportunities for investors.
The honeymoon for Tim Cook is over.
At the time of publication, the author was long AAPL, AMZN, UA, FB, but held no positions in any of the other stocks mentioned.
Follow @EconomicTiming
This article represents the opinion of a contributor and not necessarily that of TheStreet or its editorial staff.
Jason Schwarz is an option strategist for Lone Peak Asset Management in Westlake Village, Calif. He is also the founder of the popular investment newsletter available at www.economictiming.com. Over the past few years, Schwarz has gained acclaim for his market calls on the price of oil, Bank of America, Apple, E*Trade, and his precision investing in S&P 500 option LEAPS. His book, The Alpha Hunter, is available from McGraw Hill.