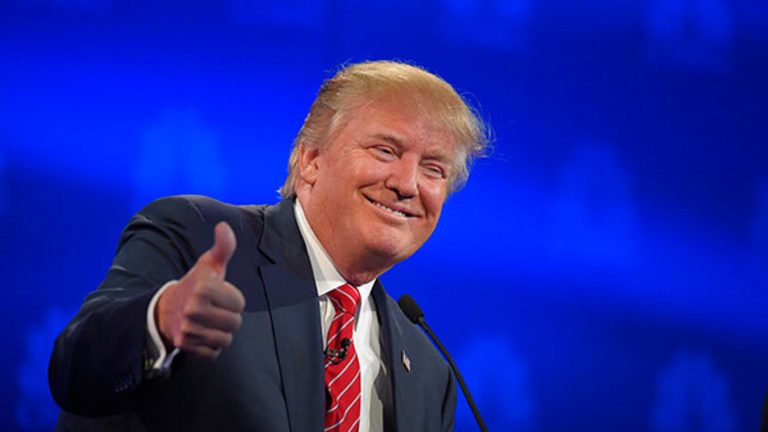 6 Stocks to Buy When Donald Trump Is President
Donald Trump in the White House could be huge for stocks such as Apple, Exxon Mobil, and Smith & Wesson.
Editor's note: This story was originally published in November 2015. With Donald Trump having been elected president of the United States, it's worth taking another look at where you should be investing when he arrives at the White House. Introduction has been updated with new information. Also, check out what Donald Trump's policies will mean for the U.S. economy.
Donald Trump in the White House might be 'uge for some stocks.
On the campaign trail, Trump exhibited a doomsday view of the current stock market. "Be careful of a bubble because what you've seen in the past might be small potatoes compared to what happens," he said in his campaign announcement speech in June. 
In a subsequent interview with The Hill, Trump reiterated his bubble theory and warned that Americans are "being forced into an inflated stock market and at some point they'll get wiped out." And in April, he said he still wasn't seeing anything better, warning that the U.S. is headed for a "very massive recession" and that "it's a terrible time right now" to invest in stocks. 
But if Trump wants to make good on his "make America great again" promise, he'll likely have to make sure the stock market keeps buzzing along -- which, according to some, is feasible.
"If Trump wins, or, frankly, any other Republican, they're all talking about making economic growth their number one priority," said Michael Busler, public policy analyst and professor of finance at Stockton University. "What somebody pays for a share of stock is based on their anticipation of the future earnings of the company, so since we'll have growth, leading to more earnings, that should lead to higher stock prices."
The billionaire real estate magnate and Republican presidential candidate has apparently done well with his own investments. When he originally launched his bid, a filing with the Federal Election Commission revealed the Donald made about $27 million on 45 stocks he sold in 2014. As president, he would have to put his stock-picking days behind him and park his investing cash in a blind trust.
Trump outlined a number of policies to varying degrees of detail during his campaign that would impact both the economy and the stock market in one way or another. He has promised massive immigration reform and a repeal of Obamacare. He has pledged to reform the Veteran's Administration, get tough on trade deals, and protect Second Amendment Rights (in fact, he might be carrying a gun right now).
He has also promised upwards of $11 trillion in tax cuts, which would likely lead to a bigger deficit and interest rate hikes from the Federal Reserve. "If the government cut taxes by $10 trillion, it would be a massive short run injection," wrote Austan Goolsbee, an economist at the University of Chicago's Booth School of Business and former Chairman of the Council of Economic Advisors in Washington, D.C., in an email. "Facing such a move, the Fed would likely try to limit the overheating from such a big stimulus by raising interest rates."
To be sure, there are no guarantees Trump will do all that he says once in the Oval Office. He will also have to get his proposals through the Republican Congress as well, which might not be extremely tough. If he is successful in enacting his plans, the economic implications will be significant, as will market impact.
Here are six stocks where investors might want to go long now that Donald Trump is president-elect:
data by
1. Apple
Trump's tax plan calls for the lowest earners to send a one-page form to the IRS saying, "I win." But they won't be the only ones declaring victory should his proposals be enacted. Major corporations would have a lot to celebrate as well.
Under Trump's plan, no business of any size would pay more than 15% of their business income in taxes. Corporations would no longer be able to defer taxes on income earned abroad as they do now; however, a foreign tax credit would guarantee no company would face double taxation. And, Trump would enact a one-time repatriation tax holiday at a 10% rate.
That means companies holding lots of cash abroad such as Apple (AAPL) would finally bring their money back to the U.S.
Apple is a holding in Jim Cramer's Action Alerts PLUS Charitable Trust Portfolio. See how Cramer rates the stock here. Want to be alerted before Cramer buys or sells AAPL? Learn more now.
"This is a big deal," said Alan Cole, an economist with the Center for Federal Tax Policy at the Tax Foundation, a non-partisan research think tank, based in Washington, D.C.
According to a 2015 study from Moody's, Apple currently has more than $150 billion parked overseas -- nearly 90% of its total cash -- and today, that number is closer to $200 billion. And given that it recently expanded its capital return program to $250 billion, it would likely appreciate the opportunity to bring some of its funds back stateside. Not to mention the European Union's probe into its tax deals in Ireland. 
"The point is, if Donald Trump were successful, multinationals like Apple, Google, they wouldn't have to try to use the tax system to hide their profits in other countries," said Merrill Matthews, resident scholar at the Institute for Policy Innovation, a Texas-based, right-leaning think tank.
While Trump would create a positive tax environment for Apple and companies like it, he appears to have a personal vendetta that might impact the company and his dealings with it. On the campaign trail, Trump has called for a boycott of Apple products and said he would force it to start "building their damn computers and things in this country instead of other countries." Billionaire activist investor Carl Icahn, who is backing Trump, announced in April he had dumped all of his shares of Apple after being one of the company's most boisterous proponents for quite some time. 
But even if Trump doesn't particularly care for Apple (although he does still often tweet from an iPhone), his tax plan to drop the corporate tax rate to 15% from 35% would benefit it, beyond his repatriation plans.
"That would totally be a huge boon to shareholders ... from a profits perspective," said Cole. "Right now, [corporations] are only keeping, as a margin, 65% of their profits right now, that could go up to 85% if the tax rate drops to 15%. That's a pretty big deal. That would substantially change the valuation of stocks."
But a simplified tax plan wouldn't be great for everybody -- i.e., tax preparation firms, accountants and lawyers. "You don't need H&R Block anymore, you don't need expensive tax lawyers anymore," said Busler.
data by
2. The GEO Group
Cracking down on illegal immigration has been the main pillar of Trump's campaign platform. And while most agree that such a maneuver would come at an enormous cost to the U.S. economy, some companies would make bank on its execution.
"The only businesses that would benefit would be those with government contracts to enforcing these new rules -- private prisons, security and defense firms," said Alex Nowrasteh, immigration policy analyst at the Cato Institute, a libertarian think tank based in Washington, D.C.
Cue The GEO Group (GEO) .
The private prison real estate investment trust has a long-standing relationship with the federal government and U.S. Immigration and Customs Enforcement (ICE), dating back to the opening of the ICE Processing Center in Aurora, Colorado in the mid-1980s. It is the largest provider of correctional, detention and community reentry services to the federal government.
The federal government accounted for 45.5% of GEO's revenue in 2015, and ICE specifically accounted for 17.7%. With Trump in the Oval Office, those numbers would only increase.
The crux of the billionaire's immigration plan is the deportation of 11 million undocumented immigrants, but before anyone hits the road, individuals would need to go through a judicial process that entails some time in jail. In 2013, the Department of Homeland Security reported that undocumented immigrants were detained by ICE for an average of 33.5 days at a cost of $118.88 per day per bed, beds such as those provided by GEO.
data by
3. Cemex
"Nobody can build a wall like me," Trump writes in his new book, Crippled America. To enforce U.S. borders, he has proposed securing about 1,000 miles of the southern border with Mexico with a wall. And he aims to make Mexico pay for it. 
And if that came to pass, the Mexican government would surely rather source materials locally, including cement from San Pedro-based Cemex (CX) .
The company generated $14.1 billion in net sales in 2015, $2.8 billion of which came from Mexico. Most of its local sales came from the residential and industrial and commercial sectors, but should the country be tasked with the endeavor of building a 1,000-mile wall, Cemex would likely get a big boost on the infrastructure side.
The Government Accountability Office in 2009 estimated that building fencing at the border cost somewhere between $2.8 million and $3.9 million per mile on average at the time. A CNBCanalysis put the price of a border wall at $16 million per mile and a total cost of $15 billion to $25 billion.
"There are a lot of different estimates on how much [a wall] would cost," said Lizet Ocampo, associate director of immigration at the Center for American Progress, a progressive policy research and advocacy organization based in Washington, D.C. "What [Trump's] proposing is not practical."
Practical or not, it would likely be a major payday for Cemex -- even if border security experts agree it's not a great idea. 
data by
4. ExxonMobil
Trump said at the CNBC Republican presidential debate that he likes to be unpredictable when it comes to carrying a gun. He has a similar stance when it comes to the Middle East.
"You have to be in a position where people have to be able to guess," he said in a September interview with Fox News. "They can't have you be so consistent that they know every single move you are going to make."
He has, however, revealed some of his plans for the region -- and indicated a big payday for oil giant ExxonMobil (XOM) should they be executed.
"I say that you can defeat ISIS by taking back their wealth," he told conservative pundit Bill O'Reilly last June. "Take back the oil. Once you go over and take back that oil, they have nothing. You bomb the hell out of them, and then you encircle it, and then you go in. And you let [ExxonMobil] go in."
Exxon has been hit hard by low oil prices, even though it exceeded analysts' expectations with its first quarter earnings results. Earnings for the first three months of the year were 43 cents per share on $48.7 billion, above Wall Street expectations but well below the same period last year. So a golden ticket to Middle East oil fields from President Trump would bring a much-needed boost to the oil and gas company.
In fact, Trump's militaristic zeal would mean big bucks for a lot of companies. Sam Stovall, managing director of U.S. equity strategy at S&P Capital IQ, said that while Trump's "bomb the hell out of them" plan is a "ridiculous proposition," it would make many firms a lot of money by pushing up oil prices.
"Anything that one could do from a militaristic perspective would benefit the defense companies and at the same time, if it's related to the Middle East, would probably cause oil prices to skyrocket," Stovall said. "[That] would assist the international integrated companies as well as the upstream firms, meaning those closest to the well site as found in the oil and gas drilling, exploration and production, as well as the oil services area," he said.
data by
5. HCA Holdings
Trump laid out his complete plan to reform the Veterans Administration at the end of October, promising in true Trump fashion to "make the VA great again." Part of his proposal is to make the VA "compete for their dollars" by allowing veterans to go anywhere for care.
"Under a Trump Administration, all veterans eligible for VA health care can bring their veteran's ID card to any doctor or care facility that accepts Medicare to get the care they need immediately," his policy paper reads.
"If they do that, it [would] increase the use of non-VA hospitals and make them more profitable," said Busler.
One major beneficiary might be HCA Holdings (HCA) .
The health services holding company operates and manages around 168 hospitals and 116 freestanding surgery centers in 20 U.S. states and England. It also draws huge amounts of money from Medicare.
According to its 2015 annual report, HCA brought in $8.7 billion from Medicare and $4.1 billion from Managed Medicare in revenues in 2015, comprising 32.2% of total revenues from third-party payers and the uninsured.
An influx of veterans could drive HCA Holdings' Medicare revenues even higher. "The hospitals would be happy to take anybody, as long as they get paid," Stovall said.
He did warn, however, that another part of Trump's platform might hurt HCA and other hospital stocks: his proposal to repeal and replace Obamacare.
"All that [Trump] will be doing is injecting uncertainty into the health care environment, which would probably have more of a negative effect than a positive one, mainly because the health care companies have already learned how to survive under the Obamacare plan," Stovall said. "So upsetting the apple cart injects uncertainty which, even in the long run, if it might be an improvement, in the short-run could add pressure to health care stocks."
SWHC
data by
6. Smith & Wesson Holding Corp.
Trump likes his guns, and as President, he has vowed to protect Second Amendment rights in his quest to make America great again. He has pledged to lift gun and magazine bans, allow firearms at military bases and recruiting centers and put in place a national system so that gun permits are valid in all 50 states.
"The Second Amendment to our Constitution is clear. The right of the people to keep and bear arms shall not be infringed upon. Period," his policy statement on the subject reads.
A more firearm-friendly White House would almost certainly mean good things for the gun industry and manufacturers such as Smith & Wesson undefined . "Anything that makes the purchase of guns easier is going to benefit a manufacturer of guns," Busler said.
Not that Smith & Wesson or other companies in the business of firearms have been doing particularly poorly lately. Smith and Wesson's share price has climbed more than 45% over the past year, while that of rival Sturm, Ruger & Company has gained over 10%.
"They've done so well recently, I'm not sure much higher they could go," said Stovall.
This article is commentary by an independent contributor. At the time of publication, the author held a position in Exxon.