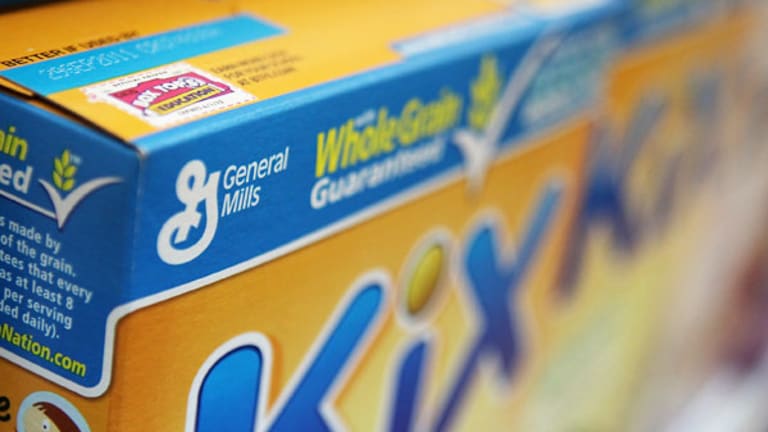 6 Star Picks in Food Stocks
These stocks are well-positioned to capitalize on global rallies in food prices.
These stocks are well-positioned to capitalize on global rallies in food prices.
NEW YORK (
) -- In the U.S., last year's drought conditions reached their worst levels in more than 50 years, with more than one-third of the country categorized as "severe" or worse by the National Drought Mitigation Center.
These conditions led to sharp increases in global crop prices. Soybeans rallied 40% in early in the year and wheat prices rose by nearly 50% during the same period. In the fall of 2012, prices eased after crops were harvested. But many of the most commonly used commodities in this space remain at elevated levels.
The United Nations Food and Agriculture Organization expects global wheat supplies to fall to 661 million tons this year, which is below average global consumption levels for wheat (roughly 685 million tons). The U.S. Department of Agriculture forecasts food prices as a whole will rise by 3.5% to 4% in 2013. Wheat prices globally have risen to their highest levels in four years and are vulnerable to further increases if adverse weather conditions return.
Thus, the underlying bullish scenario continues and there are still opportunities for investors looking to capitalize on companies that are in a position to cash in on these market changes. Here, we will look at some of the best examples.
Archer Daniels Midland
(ADM) - Get Report
sells agricultural products to an international consumer base, and offers a dividend yield of 2.4%. With a P/E under 16, the stock has seen a 22.8% rally year to date but is still well below its 2008 highs, creating the potential for further gains as most of its production assets continue to meet demand.
>>Also see: Obama AIG Fix-It Man Bets on Fannie and Freddie Turnaround >>
Mosaic Co.
(MOS) - Get Report
produces phosphate and potash crop nutrients. With its P/E of 13.6, the stock has experienced much more subdued gains this year (3.3%). Wall Street price targets are seen just below $85 (which is a massive 46% above current levels), creating excellent opportunity for a investors with a one-year time horizon.
Traditional favorite
General Mills
(GIS) - Get Report
is another option for those focused on dividends. General Mills has increased its dividend by 65% in the last five years, shows institutional ownership of 70%, and offers a forward yield of 3.2%. The stock has seen a substantial run so far this year but can still be viewed as a viable option for those with multi-year investment horizons.
In the restaurant and packaged food space,
Brinker International
(EAT) - Get Report
has seen rapid growth in recent quarters. The company owns Chili's restaurant, which reported sales increases of 1% (even with traffic declines of nearly 2%). POS systems and updated kitchen technology are key examples of the company's growth investments which are expected to improve on overall efficiency of the company and to generate cost savings. The company's stock price is made more attractive by its EPS estimate $2.60 for 2014, dividend yields at 2.5%, and $500 million in expected share buybacks.
Dole Foods
(DOLE)
is a more traditional choice for those looking for exposure in packaged foods. Recent analyst upgrades have been based largely on strong cash flow but markets have yet to respond, with share prices dropping by 6.6% so far this year. This pullback opportunity should be viewed in light of the broader bullish environment for the space, as there is still significant upside potential for value investors as we move into the later parts of this year.
Original Soup Man
(SOUP)
rounds out the choices for the packaged food space, and offers an alternative option for those focused on growth prospects. The company's $17 million market cap is supported by its well-publicized #1
Zagat
rating as the "best-tasting soup in the world."
>>Also see: Jobs Report Take Away: You Won't Find Work >>
Soup Man's dual product approach (offering its items in both restaurants and supermarkets) has been touted as advantageous by CEOs at its larger competitors. Soupman recently increased its distribution partnerships, adding more than 200 Harris Teeter stores to its list of active customers. Plans for continued national expansion make SOUP a solid long-term investment choice for investors looking to add to growth portfolios.
Food prices have been on the rise for most of the last decade, and most indicators suggest that these trends will not end anytime soon. Population growth puts upward pressure on food demand and global supply levels have encountered numerous factors that limit output potential.
This bullish scenario for food companies has received long-term validation from the United Nations Food and Agriculture Organization, which projects that global food output will need to increase by 70% before 2050 in order to keep pace with global population trends.
This adds to the safety of long-term investments in this space as the above-listed companies benefit from the consistent cash flow that is generated by these factors. These companies also benefit from regular dividend offerings and are shielded from many of the risks associated with the use of new technology items.
For more investing tips, binary options strategies and forex trading signals, visit
.
At the time of publication the author had no position in any of the stocks mentioned.
This article was written by an independent contributor, separate from TheStreet's regular news coverage.
Richard Cox is a university teacher in international trade and finance. His articles appear on a variety of Web sites, including Seeking Alpha, Marketbulls.net, FX Street and others. Investing strategies are based on technical and fundamental analysis of all the major asset classes (stock, currencies and commodities). Trade ideas are generally based on time horizons of one to six months.