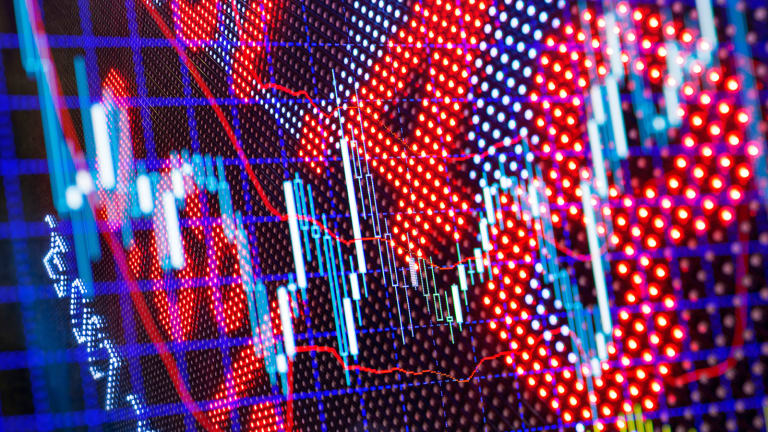 6 Solid Reasons You Should Invest in U.S. Stocks Now
The global economy may be frail. But the U.S. stands strong. The recent correction is just a blip in the bull market.
NEW YORK ( TheStreet) -- When China -- the planet's second-largest economy -- takes a dive, it understandably unnerves investors globally.
It's the most cash-rich, with the biggest hoard of foreign exchange reserves in the world and low levels of debt compared to other G20 countries. China's government debt amounts to 41% of GDP versus 92% for the Eurozone, more than 100% for Uncle Sam and 230% for Japan.
However, you must put in perspective that the People's Republic makes up only about 17% of global gross domestic product. In addition, the Chinese powers that be have more armaments to juice economic growth. On Wednesday, China pumped $22 billion into its economy.
To be sure, the global economy may be frail, but the U.S. stands strong. There's a bifurcation between the domestic and foreign stock markets.
Here are six solid reasons why you should invest in U.S. stocks now in light of the stock market correction.
1. Real U.S. GDP growth in the second quarter will probably be revised up to a 3.0% annual rate from the 2.3% rate reported initially. Most of the revision upward reflects final sales numbers. UBS projects real U.S. GDP to grow 2.3% for 2015 and 2.8% in 2016. Therefore it's not likely that the high for the S&P 500 from May 20th was the final high for this bull market cycle given that over the last 25 years, bear markets have occurred because of a looming U.S. recession. Quantitative easing is credited for fueling the first stage of the bull market while hearty economic fundamentals support the second stage.

2. The Conference Board Consumer Confidence Index bounced back in August to its highest reading since January after a poor reading in July. The index added 10.5 points to 101.5, topping consensus forecasts of 93.4. One main reason was a low 5.3% unemployment rate, as of July -- the lowest since 2008. Owing to a robust labor market, an equal number of survey respondents said they see jobs as plentiful as do not. In the months before, more people said thought jobs would be hard to come by.
3. New home sales jumped 5.4% month over month in July and a mighty 25.8% year over year to 507,000 units, the Census Bureau reported. The inventory of new homes for sale on the market -- at 5.2 months supply -- gives sellers the upper hand. Six to seven months of supply is deemed a healthy balance between sellers and buyers. A low unemployment rate and high consumer confidence levels should promote household formation, and decrease "doubling up."
4. "Household formation finally has started to materially pick up, as surveys show increased plans to either buy or rent on the part of adults currently living with friends or relatives," UBS wrote in a report Aug. 24. In June, the S&P/Case-Shiller U.S. National Home Price Index rose 4.5% year over year versus a 4.4% uptick in May 2015, according to the S&P Dow Jones Indices. Since the March 2012 trough, the 10-City and 20-City Composites have rebounded 33.8% and 34.9%. Considering that some 63% of families in the U.S. own their homes, the resulting wealth effect from home value appreciation on top of cheap energy prices should spur consumer spending. At the same time, low-interest rates decrease people's motivation to save. Personal saving rates should drop below their longer-term averages.
5. The question around the timing of the Federal Reserve's interest rate hike is giving the stock market indigestion. The consensus expects the Fed to delay an interest rate hike because of the global stock market turbulence. U.S. quantitative easing has to end eventually. The stock market and economy can benefit either way. If the Federal Reserve leaves rates the same, investors will want to take on more stock market risk for lack of better options in bonds. If the Fed increases interest rates, banks would have more motivation to lend, especially to small enterprises. As a result, that would stoke job creation and economic expansion. Also, Federal Reserve policy will want to be supportive of economic improvement ahead of the presidential election of 2016.
6.A strengthening greenback has dampened demand for U.S. exports, squeezing sales for multinational companies. But a strong U.S. dollar in a low-growth global environment has many economic benefits and will be supportive of the U.S. stock market in the long run. A strong dollar boosts American's buying potential by making imports cheaper. It enhances the terms of trade as the U.S. receives more imports for every dollar of exports. That in turn improves the country's living standards.
Where To Invest Now
We have reached the bottom in terms of price but perhaps not time. Expect seasonal volatility in September and October. The timing is right to invest on pullbacks or dollar-cost averaging into U.S. large-cap value stocks with big dividends. Vanguard High Dividend Yield (VYM) shows a dividend yield of 3% -- about 50% greater than the SPDR S&P 500's (SPY) dividend yield of 2.19%. Vanguard High Dividend Yield is trading at an attractive valuation of 17 times forward earnings with lower volatility than the SPDR S&P 500, as shown by its 0.90 beta. SPDR S&P 500 trades at a larger price-to-earnings ratio of 18.7. VYM's biggest holdings among 437 are Exxon Mobil (XOM) , General Electric (GE) , Johnson & Johnson (JNJ) , Microsoft (MSFT) and Wells Fargo (WFC) .
Correction Overdue For A Long Time
One reason this correction is so jarring is because U.S. stocks have been flat for a number of months. Going into last Friday, stock markets were flat for the year. The past three years have been calm for stocks. The stock market was way overdue for a 10% correction or more. It has gone some 1500 days without a 10% pullback - the third biggest streak in the past five decades.
In the summer of 2011, the Dow Jones Industrial Average sold off 16% from a peak of about 12,724 to an August trough at 10,700 and found a bottom in October at 10,655. The catalysts back then were the eurozone sovereign debt crisis (Greece, Portugal, and Spain) and the U.S. credit rating downgrade to AA+. It was painful - as is the current correction. But looking back long-term, it just a blip for the bull market that kicked off in March 2009.
This article is a commentary by an independent contributor. At the time of publication, the author held positions in the stocks mentioned: Bank of America (BAC), Citigroup (C), General Electric (GE), Vanguard High Dividend Yield ETF (VYM), Chevron (CVX) and Exxon-Mobil (XOM).