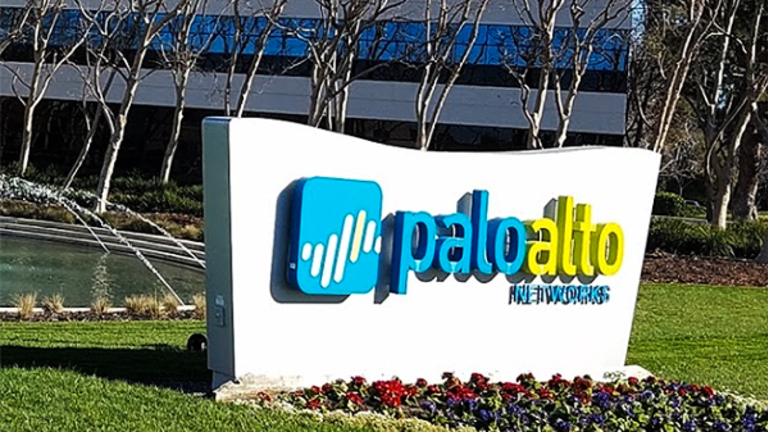 Even With the Nasdaq Ripping Past 6,000, These 6 Tech Stocks Could Still Soar
Though it's harder to find tech value plays now, they still exist.
As the Nasdaq has blown past 6,000 less than a year after topping 5,000, the ranks of tech companies that sport low multiples and have businesses on reasonably good long-term footing has steadily thinned. Here are some names that might just fit the bill.
Akamai Technologies
Akamai (AKAM) - Get Akamai Technologies Inc. Reportwas clobbered three weeks ago after providing soft Q2 guidance with a Q1 beat. The company once more reported soft demand for its relatively low-margin Media segment (31% of revenue), which delivers bandwidth-intensive content such as video, music and software downloads, as tech giants take care of more and more of their content delivery needs in-house.
But Akamai's massive content delivery network (CDN), which features over 200,000 servers on more than 1,500 global networks and relies on proprietary routing algorithms, is still seen as the gold standard for quickly and reliably delivering content such as ads, e-commerce content and mobile app and web pages. And it underpins a security services business (18% of revenue) that saw sales rise 36% last quarter. Shares now trade for less than 17 times a 2018 EPS consensus of $2.87.
Skyworks and Qorvo
Though near their 52-week highs, RF chipmakers Skyworks (SWKS) - Get Skyworks Solutions Inc. Reportand Qorvo (QRVO) - Get Qorvo Inc. Reportstill only respectively trade for 15 and 14 times their consensus fiscal 2018 EPS estimates, multiples below those of quite a few chip peers. Fears about slowing smartphone growth have helped keep multiples down, and it's also possible that there have been worries about intensifying competition and margin pressure -- whether from existing players or from Qualcomm (QCOM) - Get QUALCOMM Incorporated Report, which recently launched an RF filter JV with Japan's TDK.
But even if smartphone shipment growth remains low, the dollar value of the RF chips going into them should keep growing meaningfully faster, thanks to trends such as rising 4G phone sales, growth in the number of frequency bands supported by the average phone and the adoption of more advanced 4G radios that can support gigabit download speeds or close to it. In the 2-to-3 years time, the arrival of 5G phones, which present a whole new set of major RF challenges, will act as another tailwind for RF dollar content growth.
And looking outside the phone market, sales of mobile, Bluetooth, Wi-Fi and ZigBee RF chips for automotive and IoT hardware continue to swell. Mizuho reports that during Thursday's analyst day, Qorvo forecast that the addressable market for its non-mobile products (currently a quarter of its sales) would see a 25% compound annual growth rate (CAGR) from 2017 to 2021.
Fitbit
This is more of a speculative/contrarian idea. Fitbit (FIT) - Get Fitbit, Inc. Class A Reporthas justifiably been crushed over the last two years as markets gradually realized that the addressable market for its fitness trackers and smartwatches is much smaller than expected. Analysts on average forecast that sales will drop 25% this year to $1.62 billion, and that a $0.35 per share loss will be recorded along the way.
But Fitbit now has an enterprise value (market cap minus net cash) equal to a paltry 0.3 times its consensus 2017 sales estimate, after accounting for over $700 million in cash. And after backing out all that cash, shares only trade for 3 times what Fitbit earned in 2015, a year in which its sales ($1.86 billion) were only moderately higher than what it's expected to produce this year. The current lack of profits have much to do with the spending increases (gradually being undone) that have happened since the start of 2015.
Moreover, while a substantial number of those who bought Fitbits over the last few years grew tired of the devices, the company's hardware, apps and value-added services have yielded a loyal core base of fitness enthusiasts; 36% of Q1 sales came from repeat buyers, and active users grew 37% in 2016 to 23.2 million. Fears that the Apple (AAPL) - Get Apple Inc. Report Watch and Android Wear watches would decimate the fitness tracker market haven't panned out, and with Fitbit still able to deliver a 40%-plus gross margin and a $90-plus average selling price, the same goes for fears that sub-$50 rival trackers would cause severe price pressure.
At such a depressed valuation, it's also possible that Fitbit could find a suitor. Or that an activist could jump in, seeking additional cost cuts, buybacks (courtesy of that huge cash balance) and a "strategic review." Fitbit certainly isn't for the risk-averse, given the possibility that sales to new buyers could tumble further still, but this is still a business with some value.
Palo Alto Networks
Palo Alto Networks (PANW) - Get Palo Alto Networks Inc. Report, which reports on May 31, hasn't recovered from the bludgeoning it took three months ago after missing January quarter sales/billings estimates and issuing below-consensus April quarter and fiscal 2017 (ends in July) guidance. Shares are down about 40% from their 2015 highs, and sport an enterprise value that's equal to only 13 times a fiscal 2018 free cash flow consensus of $782 million.
Intensifying competition from Cisco Systems (CSCO) - Get Cisco Systems Inc. Report, which has gotten more serious about growing sales of next-gen firewalls (NGFWs) and subscription security offerings that compete directly with Palo Alto, seems to be a headwind. But Palo Alto insists a lot of its recent problems are due to sales execution after dramatically growing its salesforce in recent quarters, and notes it still added 2,000 customers last quarter (raising the total base above 37,000).
But Palo Alto's NGFWs still get very high marks for their ease-of-use, integration and software features. And subscription-based add-on products such as WildFire (malware detection) and Traps (endpoint protection) have been well-received. Sales could still be bumpy over the near-term, but between how much shares have fallen and the solid numbers posted by many security tech peers in April and May, the worst might not be over.
Acacia Communications
After having soared above $120 last September amid intense post-IPO hype, Acacia (ACIA) - Get Acacia Communications, Inc. Report has fallen below $50 following multiple earnings/guidance disappointments. The most recent one happened two weeks ago, and was largely blamed by the optical module maker on slowing sales to Chinese telecom equipment makers seeing weaker demand from local carriers. It also noted that an OEM client has seen sales of its data center interconnect (DCI) systems to cloud giants slow.
But excessive hype may have given way to excessive pessimism -- particularly given recent analyst reports indicating Chinese demand is set to rebound. The likes of Facebook (FB) - Get Meta Platforms Inc. Report , Alphabet/Google (GOOGL) - Get Alphabet Inc. Report and Amazon (AMZN) - Get Amazon.com Inc. Report continue to steadily grow their capital spending, and along the way consume large quantities of optical modules sporting 100-gig and higher capacities.
And Acacia, whose modules feature proprietary digital signal processors (DSPs) and silicon photonics transceivers that enable superior integration and higher bandwidth densities, still looks well-positioned to capture a healthy chunk of that demand. Though Acacia's 2018 EPS consensus has fallen by about 30% since the end of January to $2.96, shares now only go for 16 times that estimate.
Apple, Cisco, Facebook and Alphabet are holdings in Jim Cramer's Action Alerts PLUS Charitable Trust Portfolio. Want to be alerted before Cramer buys or sells AAPL, CSCO, FB or GOOGL? Learn more now.
Read More Trending Articles:
Sears Mind-Blowing Loss and Evaporating Cash Should Only Question If It Could Survive