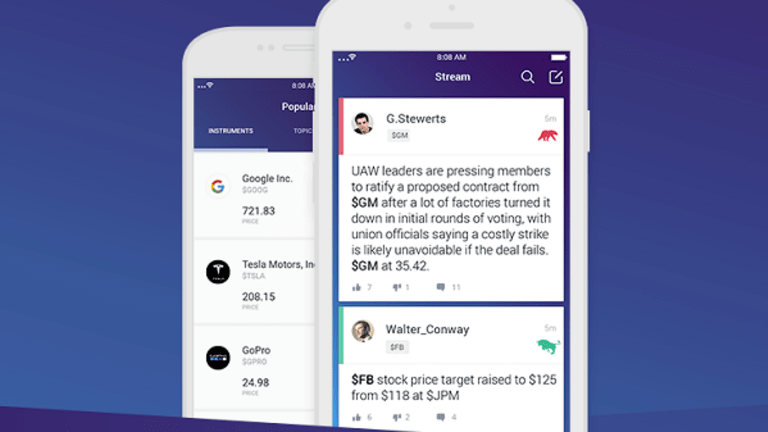 6 Investments Traders Say Will Rally: Bitcoin, SolarCity, Swiss Francs and More
Here's what traders have been saying about six important investments, including bitcoin, SolarCity (SCTY) stock and the Swiss currency.
Bitcoin and Manchester United (MANU) - Get Free Report  are going to soar, at least according to what traders have been saying at Tradebird, a social trading app. It's important to know what real traders think, because it can provide clues about the future direction of currencies, stocks and commodities. Here's their take on six important investments they say will rally. (For a look at investments that traders say will decline, click here.)
1. Bitcoin 
Bitcoin is surging at a 92% bullish sentiment. Australia will auction about A$16 million dollars worth of confiscated bitcoin next month, resulting in the first auction to occur outside the U.S. Many saw the news as confirmation the digital currency is going mainstream.
(The chart above is for the Bitcoin Investment Trust (GBTC) - Get Free Report , a trust designed to track the value of the digital currency.)
2. SolarCity (SCTY)
This renewable energy provider launched a Solar Loan Program in 14 states, allowing customers to pay less for power and receive more in tax credits. Investors have received the program with applause, and the stock has 73% bullish sentiment.
3. Manchester United
Manchester United, the Premier League U.K. soccer team, recently announced the appointment of new manager Jose Mourinho. Investors responded positively to the team's decision, and bullish sentiment is an impressive 91%.
4. Gold
The precious metal is seen as hanging in the balance by traders with 53% of them bullish last week. The last months have seen it swing between bulls and bears with equities around highs, prompting some to start looking for a safe haven if indices turn south.
(The chart above is for the SPDR Gold Trust (GLD) - Get Free Report , an exchange-traded fund that tracks the value of the precious metal.)
5. Coffee 
Coffee appears to be in a 74% bullish market riding a recent run. Exports from Uganda increased by 24% as farmers released more stocks to the market, but long-term threats to supply remain.
(The chart above is for the iPath Bloomberg Coffee Subindex Total Return ETN (JO) - Get Free Report , an ETF that tracks the value of the commodity.)
6. Swiss Franc 
The Swiss currency appears to be in bullish mode, with 81% of traders saying it will climb. Members of the trading community said it had reached its lowest level in weeks.
(The chart above is for the CurrencyShares Swiss Franc ETF (FXF) - Get Free Report , an ETF that tracks the value of the Swiss currency.)
The above data were gathered from the social trading app Tradebird during the week ending June 3.
This article is commentary by an independent contributor. At the time of publication, the author held no positions in the stocks mentioned.