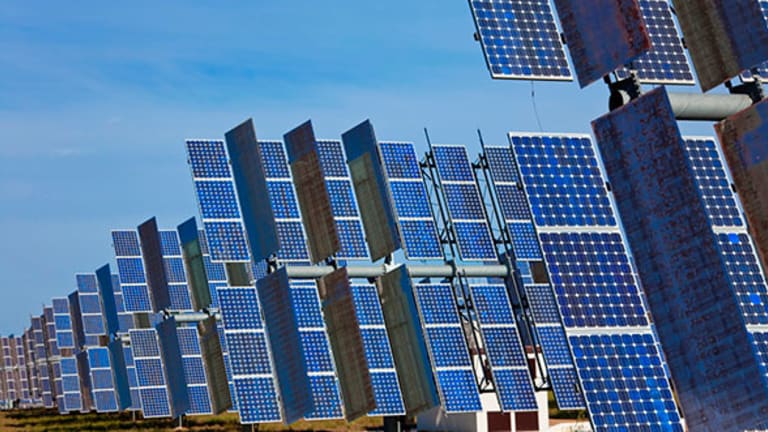 6 Green Stocks With Big Upside
Companies in solar energy and the Internet of Things have slumped, and they now look ready to rally. Here are six green picks to buy now.
Shares of Sierra Wireless (SWIR) - Get Report are down almost 60% in the past year, but there is huge growth ahead for this Internet of Things solutions supplier, said Garvin Jabusch, portfolio manager for the Shelton Green Alpha Mutual Fund (NEXTX) - Get Report .
"They've got 35% market share in that 3G and 4G broadband space for wireless modems, and we think that with the booming growth of the Internet of Things that they are ideally situated," said Jabusch. "Their valuation has come back into line with this pullback."
The Shelton Green Alpha Mutual Fund is down 4% thus far in 2016, according to fund-tracker Morningstar. The $36.5 million fund has returned an average of 12% annually over the past three years, outpacing 92% of its peers in Morningstar's mid-cap growth category.
Jabusch is similarly bullish on shares of InvenSense (INVN) , which are down 46% in the past 12 months. He said the motion-tracking systems-maker is another contrarian play on the Internet of Things, and will turn around with the market because of its impressive customer base.
"They have a huge stable of clients, everyone from Apple (AAPL) - Get Report to Samsung (SSNLF) to [Facebook's (FB) - Get Report ] Oculus Rift to Nintendo (NTDOY) to Acer," said Jabusch. "And with the explosive growth of devices that require a motion sensor, they are ideally situated to turn it around, and the pullback has brought their valuation into line with what we like to see."
Jabusch is also a fan of First Solar (FSLR) - Get Report , which is up 16% in the past year. He said the environmentally friendly energy provider has held up well in the face of falling oil prices.
"We really like to see the solar and oil stocks decouple in terms of the trade," said Jabusch. "We don't think that energy is energy. We think that solar is a technology which gets less expensive with increasing demand, whereas oil and fossil fuels are a commodity which get more expensive as demand goes up."
Finally, Jabusch predicts a turnaround in Chinese solar stocks Trina Solar (TSL) , JA Solar (JASO) and Jinko Solar (JKS) - Get Report , which have dropped 18%, 11% and 20%, respectively, in the past year.
"They have been so beaten up that there is not much downside left in these names," said Jabusch. "They are the tier-one Chinese solar companies and, as solar explodes, you want to be in the low-cost, high-volume producers that come out of China."