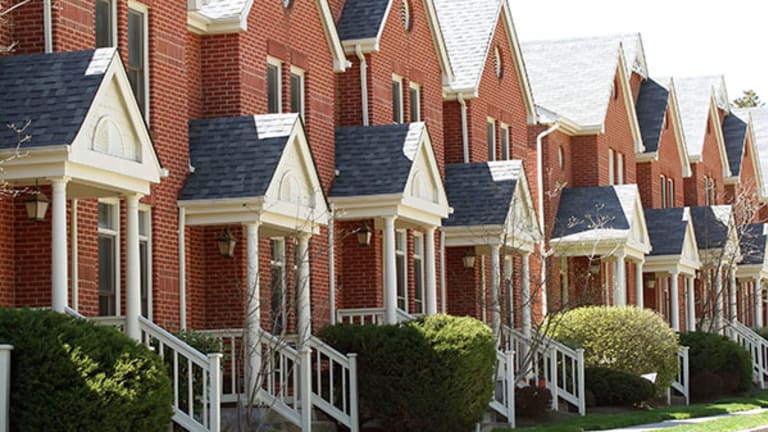 6 Great Real Estate Investments for This Week and Beyond
The five REITS and one ETF have performed well and have solid growth potential for the coming year.
Whether you believe in an impending market crash or not, the recent pullback in real estate stocks has created a great buying opportunity for income-producing holdings. Below are five real estate investment trusts and one exchange-traded fund that you should consider adding to your portfolio in the near future, both for long-term appreciation and short-term cash flow.
All six offer compelling recent financial performance and operate in robust sectors of the real estate industry. In some cases, it may be best to be patient before diving in. But all six investment products are likely to reward investors in the not-so-distant future.  
1. Realty Income (O) - Get Free Report
Realty Income has in-house teams for nearly all aspects of real estate deals and management of its properties. Realty Income has issued more than 500 consecutive monthly dividends to its shareholders and provided approximately a 17% annual return. Realty Income reported adjusted earnings per share of $1.09 for 2015 and pays monthly dividends of 19.9 cents a share. Currently there are two analyst sell ratings on the stock, and the other eight ratings are a mix of buys and holds. Two recent insider sales might be a signal that insiders agree with many on the Street that it is a bit overbought and is trading at the upper end of its range. If you currently hold Realty Income, trim your position to lock in some gains and hold the rest for cash flow. Load up on this REIT if it falls back into the mid-$50s.
2. Universal Health Realty Income Trust (UHT) - Get Free Report
Universal Health Realty Income Trust specializes in health care and human services facilities such as acute-care hospitals, stand-alone medical offices and surgery centers. Currently Universal Health Realty is off analysts' radar with no current analysts and no price targets issued. Universal Health Realty is trading in the low to mid-$50s. The company reported adjusted EPS of $1.78 for 2015. With a healthy quarterly dividend of 64 cents and strong company cash flow, this is another one that merits watching closely. Universal Health Realty is only a couple of points off its 52-week highs so watch for a pullback into the mid to high $40's where there is strong support. Then add this one to your cash-flow portfolio.
3. Medical Properties Trust (MPW) - Get Free Report
Medical Properties Trust is another medical properties investment trust that acquires and then leases single-discipline hospitals, inpatient centers and health care facilities. The company has had a great run since February and is currently trading about 10% above its target range, so it is due for a pullback. Three recent insider sales underscore this point. With a quarterly dividend of 22 cents and a low-teens purchase price, however, Medical Properties Trust is an attractive company for a cash-flow holding. That said, the stock is trading for more than the average 12-month price target of analysts who cover it, and there have been those insider sales, so investors would be wise to wait and see how it performs in the coming weeks before they buy shares.
4. Diamond Rock Hospitality (DRH) - Get Free Report
DiamondRock Hospitality Company is a REIT that operates upscale hotels in North American urban areas. Currently Diamond Rock Hospitality is offering a 12.5-cent quarterly dividend and is trading at the low end of analyst price targets, which range from $10 to $21. There have been no insider trades in the last three months. The kicker that makes this a buy? Diamond Rock Hospitality is in a strategic property sourcing relationship with Marriott International. Marriott recently announced its intention to expand its Autograph Collection of hotels in the U.S. and a new push into the U.S. Virgin Islands. Diamond Rock Hospitality is likely to have some involvement in these ventures. With a wide target range and some good prospects in sourcing relationships, the company likely has room to run, which makes it a solid buy in the low $9s.
5. Ashford Hospitality Trust (AHT) - Get Free Report
Ashford Hospitality Trust is another hotel-based real estate trust. Much smaller than Diamond Rock Hospitality, Ashford Hospitality holds two Radisson and four Embassy Suites properties, in addition to eight more management and consulting agreements with other properties. Ashford is trading just below it's target range of $6-$8 and boasts a modest quarterly dividend of 12 cents a share. But the real gems in this company are its 2015 adjusted EPS of $2.04, much higher than most of the other companies in this list, and a recent announcement of a sale of five properties for $142 million. That will leave the company with a net gain of $37 million after debts are retired to use for future acquisitions. The share price still hasn't recovered from the general real estate selloff at the end of 2015. Ashford is in a good position and so might be investors who purchase shares soon.
6. iShares Residential Rel Est Capped ETF (REZ) - Get Free Report
iShares Residential is an ETF composed of 45 U.S. residential, health care, hotel and self-storage REITs. Its No. 1 holding is Public Storage, a ministorage company that comprises 12% of the fund. In contrast to the REITs on this list, which target commercial and retail holdings, iShares Residential focuses on the residential side of the market. From the 1.4 million new households expected to form this year, an all-time high of 93% are anticipated to be renters. That's a trend from which iShares Residential is likely to benefit. With a strong quarterly dividend of $1.01 a share, this is one ETF worth watching for it's cash flow alone, not to mention its strong prospects throughout 2016.
This article is commentary by an independent contributor. At the time of publication, the author held shares of O.