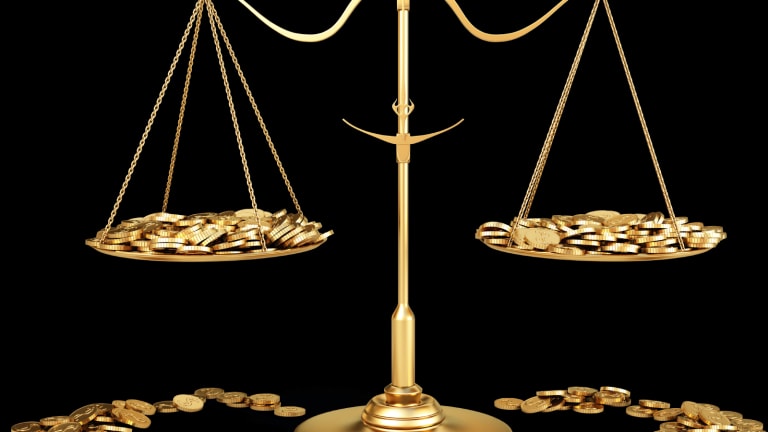 6 Gold Stocks You Can Buy to Protect Yourself From a Market Crash
This roller-coaster market is dangerous to your portfolio, which makes gold increasingly attractive now. Here are six of the best gold plays around.
Gold prices may be far from the record highs of $1,900 an ounce they touched in 2011 in the aftermath of the Great Recession, but they likely are headed that way again.
Crashing global prices of crude oil, anemic growth in China, loose central bank policies in developed economies like Japan and Europe, and uncertainty on interest rate action by the Federal Reserve is causing investors to rush for cover to perceived safe haven investments such as gold. It's almost like déjà vu.
While the rest of the equity markets have witnessed a bloodbath since the start of the year, stocks of gold-mining companies are benefiting from the renewed interest in gold. These gold stocks are among the most promising investments available in this crazy market.
One factor supporting gold is a lesser supply of the yellow metal in the market. As gold prices have slid over the past three years, production was not exactly viable for miners, with many producers holding production steady or scaling it back. As a result, after seven years of higher production, global output for gold is expected to decline by 3% this year, according to Thomson Reuters' metal research unit, GFMS.
All of these trends suggest you should include gold stocks in your portfolio to insulate it against other volatile industries. The following six companies are our top picks.
ABX data by YCharts
Barrick Gold  (ABX)
Things have improved for Toronto-based gold producer Barrick Gold on two fronts since last year.
First, the company made some serious efforts to cut down its gargantuan debt, which stood at $13 billion at the start of 2015. With a mix of asset sales, joint ventures and cost cuts, the company achieved its target of lowering debt by $3 billion. 
Miners such as Barrick are also benefitting from increasing gold prices. Gold futures for April delivery have risen by 6.43% so far this year.
Both factors combined have helped Barrick advance 44% on a year-to-date basis. The stock still has a long way to go to come close to its 2011 levels of $50 when gold prices were at record highs. But it's among a class of fast-growth investments you should consider in this extremely volatile market.
According to Barrick's president Kelvin Dushnisky, 2016 will be about continuing to lower operating costs and improve productivity to further cut down debt. In the long run, the company is expected to cut back on operations to cap them at about six core mines in the Americas.
High debt makes Barrack's balance sheet more levered and thereby more sensitive to the price of gold. But the way the company is moving toward managing its debt, the stock is one of the smarter growth picks available today. 
Newmont Mining (NEM) - Get Newmont Corporation Report
Montreal-based global mining company Newmont Mining has beat earnings expectations for the previous four quarters, despite challenging market conditions.
Reductions in the all-in sustaining costs for its gold-mining operations and lower debt on account of noncore asset sales have made the company leaner than before.
For the first nine months of 2015, the company's AISC for gold mining came in 16% lower than the same period in 2014, at $864 per ounce. Lower AISC cost, which is the average cost of producing gold, helps drive profitability for miners.
The company recently sold one of its noncore assets, Newmont Waihi Gold Limited, in New Zealand for $101 million, bringing the total funds it's received through noncore asset sales to $1.7 billion over the past couple of years. It used the funds to reduce debt and invest in profitable ventures, using two years of depressed gold prices to its advantage.
With the price of gold on an upswing, Newmont is set to continue to appreciate. Year to date, it's up 29%.
GG data by YCharts
Goldcorp (GG)
Shares of Vancouver, Canada-based gold exploration and development company Goldcorp have not run up as much as its peers, but they've still logged a handsome gain of 12% so far in 2016.
Yet Goldcorp stands out from its peers in many ways.
Firstly, owing to the Peñasquito and Éléonore mines, Goldcorp had, till the end of the third quarer of 2015, been able to increase annual production by 29%. This figure overshadows the little change in output expected to be shown by Newmont and Barrick, and Goldcorp's stock will stand to gain in the likely event that gold prices spike further.
Secondly, the company is in a comfortable debt position with its debt equity ratio at 0.1, lower than the industry average of 0.4.
Finally, if dividend yield is what you are looking for, then you need to look no further. Goldcorp offers a dividend yield of 1.8%, which is significantly higher than Barrick's 0.7% and Newmont's 0.4%.
Franco-Nevada (FNV) - Get Franco-Nevada Corporation Report
For those who want the exposure to gold stocks minus the risk associated with miners, gold-royalty company Franco Nevada is a safer bet.
For the uninitiated, such companies pay cash upfront to miners who are in need of funds for their operations in return for, on average, 2% of the gold produced over the life of the mine. The other option is for the royalty company to pay the miner a decided amount for a portion of its gold, typically at cost, which the company can sell at market value.
Royalty companies such as Franco Nevada, Royal Gold (RGLD) - Get Royal Gold, Inc. Report and Silver Wheaton  (SLW) do not have to worry about the concerns miners face such as operating expenses, maintenance of mines, legal hassles and unexpected increases in costs. Their balance sheets also are also more robust as they are not highly levered.
The company, which is listed on the Toronto Stock Exchange and the New York Stock Exchange, has no outstanding debt. Add to that a dividend yield of 1.7% with dividends growing even in the backdrop of a weak economic scenario and you have a gem of a stock. Franco-Nevada belongs to a group of well-positioned stocks that should "beat the bear" this year.
PGLC data by YCharts
Pershing Gold (PGLC) - Get Pershing Gold Corporation Report
Nevada-based explorer and gold miner Pershing Gold has one advantage that other miners don't.
The company's 25,000-acre Relief Canyon may be the lowest-cost, near-term gold producing mine in North America.
While the mine is production-ready, Chairman and CEO Stephen Alfers is waiting for prices of the yellow metal to rise to start production. A state-of-the-art production facility will also augur well for the company.
The launch date is still not out, but other developments suggest progress on that front. In a Jan. 20 press release on 2015 drill results, Alfers stated that Pershing had identified a new high-grade zone while discovering that high-grade zones extend throughout larger areas than previously thought.
In addition, even in the event of a reversal in gold prices, Pershing is one of the few companies that can viably produce gold at price levels of $1,050 an ounce, according to Cantor Fitzgerald's Rob Chang.
Newcrest Mining Limited  (NCMGF)
According to a Bloomberg report, Australian gold producers have performed quite well this year, with an index of 22 stocks of Australian gold producers gaining 8.9% year to date. The depreciation of the Australian dollar vs. the greenback is one of the main reasons.
However, Melbourne, Australia-based precious metal producer Newcrest Mining also has other factors working in its favor.
For the quarter ending in December 2015, the company recorded production of 620,691 ounces, up 6.3% from the previous quarter, and beating analyst estimates for 606,000 ounces. The company lowered its AISC by 3.5% to $757 an ounce.
Despite lower production from its Cadia mine, Newcrest managed to increase overall production and seems on track to achieve its annual gold production guidance of 2.4 million-2.6-million ounces.
We've found a small-cap biotech "rocket stock" that's about to take off. UCLA researchers are stunned by a Nobel Prize-winning cancer breakthrough that's proven in clinical trials to eliminate lethal forms of cancer with a single dose. One small company owns the patent to this life-saving treatment. Now trading at about $5 a share, the stock of this innovative company is projected to surge 2,700% on an imminent FDA announcement. Learn the details now, before the regulatory decision happens. To download the full report, click here.
This article is commentary by an independent contributor. At the time of publication, the author held no positions in the stocks mentioned.