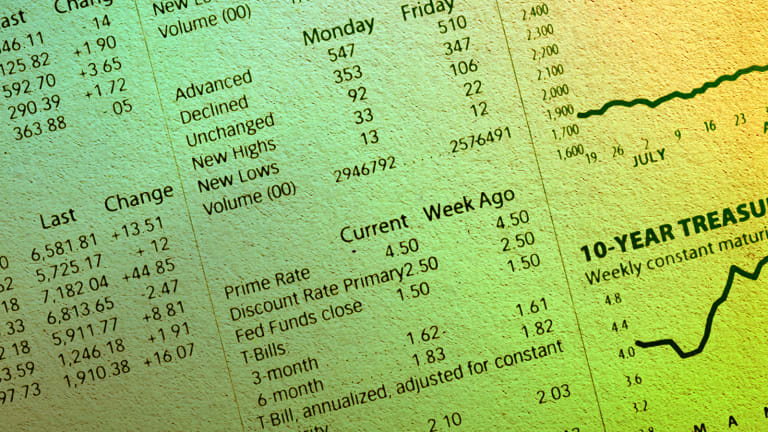 6 Fixed-Income ETFs to Buy When Interest Rates Rise
Here are some fixed-income exchange-traded funds to add to your portfolio when interest rates are rising.
Here are some fixed-income exchange-traded funds to add to your portfolio when interest rates are rising.
NEW YORK (TheStreet) -- Global interest rates are near historic lows, and it seems likely that the Federal Reserve will start raising short-term interest rates soon. Obviously, that is a cause for concern among fixed-income investors.
But even if the Fed decides to begin a series of rate hikes, investing in fixed-income exchange-traded funds still makes sense -- and not only for fixed-income investors. They offer reasonable investment manager costs and diversified portfolios.
The key is choosing the right fixed-income ETF for the environment.
Bonds with longer durations have a greater potential for losses when interest rates rise. Therefore, in anticipation of a rate hike, investors should opt for low-duration investments.
As Bill Chepolis from Deutsche Asset & Wealth Management points out, a Treasury bond fund with a 20-year duration could experience a 20% drag on performance if interest rates rise by 100 basis points, or 1 percentage point.
To offset that possibility, floating-rate products make the most sense, as their coupons fluctuate with interest rates.
The iShares Floating Rate Bond ETF (FLOT) - Get Report is the most popular fund in this area. It grants access to more than 300 shorter-term investment-grade bonds in a single fund. The fund has an effective duration of 0.15 years and an expense ratio of 0.2%.
Other interesting products include the SPDR Barclays Investment Grade Floating Rate ETF (FLRN) - Get Report (0.13-year duration, 15 basis points in annual fees) and Market Vectors Investment Grade Floating Rate ETF (FLTR) - Get Report (0.13-year duration, expense ratio of 0.14%).
These ETFs focus on corporate bonds instead of Treasuries, which is beneficial in the current macroeconomic environment. By increasing the amount of corporate bonds in their portfolios, investors can focus more on credit risk instead of interest rate risk.
Another option is to invest in interest rate-hedged bond ETFs. Fund managers use short Treasury positions to create the hedges.
Deutsche Bank's (DB) - Get Report Db X-trackers ETFs unit introduced three such products in March 2015. Especially interesting is the Deutsche X-trackers Investment Grade Bond - Interest Rate Hedged ETF (IGIH) - Get Report, which tracks investment-grade corporate bonds.
BlackRock (BLK) - Get Report has launched interest rate risk-hedged ETFs as well: Interest Rate Hedged Corporate Bond ETF (LQDH) - Get Report and Interest Rate Hedged High Yield Bond ETF (HYGH) - Get Report. Both actively managed funds minimize interest rate risk by taking short exposure to U.S. Treasury futures.
They have a low duration (0.11 years and 0.50 years, respectively), which confirms minimal interest rate risk. The Interest Rate Hedged Corporate Bond ETF holds bonds with high credit ratings, while its high-yield counterpart is riskier but offers considerably higher yields.
Keep in mind, however, that these funds are only hedged against interest rate risk. Therefore, there is still credit risk, so it's wise to take a look at the bonds included in the ETF. Additionally, if interest rates happen to go down, hedged ETFs will underperform nonhedged products. Nevertheless, in light of the current interest rate environment, that possibility seems very unlikely.
This article is commentary by an independent contributor. At the time of publication, the author held no positions in the stocks or ETFs mentioned.