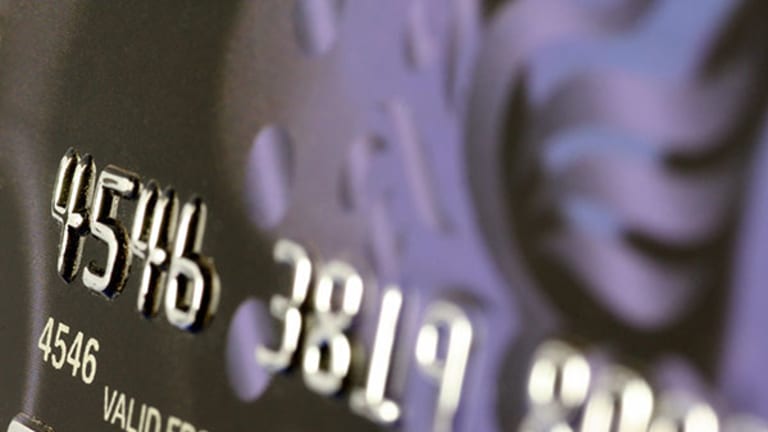 6 Credit Cards That Give You the Most Cash Back
Don't run away from annual fees if you want the biggest reward for your purchases, a report from Nomura Securities advises.
NEW YORK (TheStreet) -- You already know using credit cards can cost you big time. But it can also reward you, now more than any time in the past several years, as credit card companies grappling with a more skeptical market ramp up rewards.
Since September 2013, the value of rewards offered for new cards has risen between 25% and 80% depending on which card you look at, according to a report by Nomura (NMR) - Get Nomura Holdings Inc. Report investment bank analyst Bill Carcache. Most of the rewards come in the form of cash back, which you can use to pay off future balances.
The extra rewards are arriving as the number of cards used by Americans falls. Last year, 29% of consumers didn't carry one at all, up from just 17% in 2002, according to a Gallup survey. Meanwhile, those who do use credit cards are keeping fewer of them. In 2014, the average number of cards per consumer was 2.6, down from 3.3 in 2002.
Millennials, the largest generation in U.S. history at 92 million, are particularly dubious about using plastic. Per person, the people born between 1980 and 200 carry the fewest credit cards of any age group, averaging 1.57 cards per person as opposed to the 2.66 for Baby Boomers, the next-largest generation.
"Millennials have come of age during a time of technological change, globalization and economic disruption," New York-based investment bank Goldman Sachs said in a report. "That's given them a different set of behaviors and experiences than their parents."
Contrary to popular opinion, Nomura says, card issuers don't seem to be losing money by offering high rewards. They're just sacrificing part of their profit margin.
"We still believe we're in the early stages of the rewards war and expect competition to continue to intensify before it abates," Carcache wrote in the report. "Against this backdrop, we see consumers and the payment networks, Visa (V) - Get Visa Inc. Class A Report and Mastercard (MA) - Get Mastercard Incorporated Class A Report, as the biggest beneficiaries."
Want to get the most out of your cards? Following are the ones with the highest-value rewards, as determined by Nomura's report and broken down by the type of purchase for which they are best.
Best for Everyday Spending
If maintaining multiple cards doesn't appeal to you, or you don't buy large quantities of either gas or groceries, try the Citi (C) - Get Citigroup Inc. Report Double Cash or the Fidelity Investment Rewards American Express (AXP) - Get American Express Company Report cards. Each offers 2% cash back and no annual fee or limits on purchases of any type.
Best for Gas

The Bank of America (BAC) - Get Bank of America Corp Report Cash Rewards Visa offers 3% cash back on gasoline purchases of up to $1,500 per quarter. That should be a fairly high ceiling, unless you pay $3.61 for gas in California (currently the highest price in the nation) and drive multiple SUVs.
While other cards, such as the American Express Blue Cash Preferred and Everyday Preferred cards, offer the same cash back rate without a ceiling, their annual fees mean users must spend at least $2,500 to break even.
Carcache also recommends best all-around cards Citi Double Cash and the Fidelity Investment Rewards American Express for filling up your car's tank.
Best for Groceries
While many users are attracted to cards that don't have annual fees, Carcache says consumers can earn between 3.0% and 4.8% yields with the American Express Blue Cash series of cards, even counting the $75 annual fee. Yields on similar cards without fees range from 2.4% to 3.0%.
There is a catch, though: Rewards for the cards are capped at $6,000 annually. With that limit, Nomura recommends that savvy buyers who shop for multi-person households get a second card to get the most out of their spending.
Best for Travel Purchases
As with groceries, swallowing the annual fee on a card may pay off later, especially if you want to accumulate airline miles or similar points quickly. For cash back, though, also consider how much you spend on travel each year.
If it's less than $13,000, consider the Bank of America Travel Rewards card. It pays 3% back with no annual fee. Travelers who spend more are better off with the Citi ThankYou Premier card, which pays as much as 3.8% back but carries a $95 annual fee.