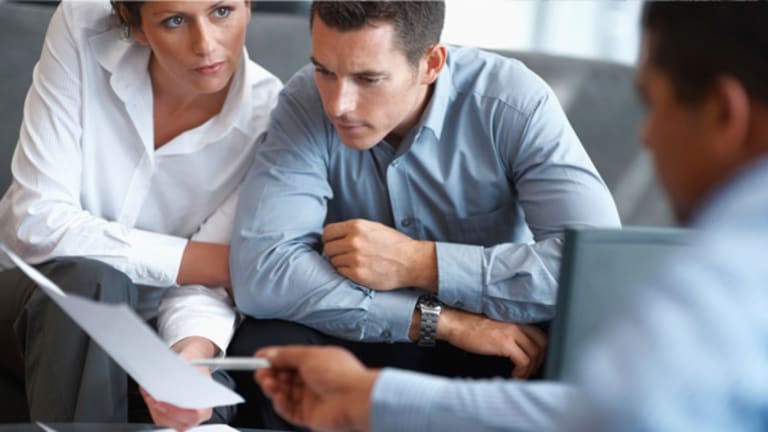 6 Considerations for Hiring a CEO: The Innovators
Hiring a leader requires much more. It's hard work. It's an alchemy of subjective and intuitive review.
NEW YORK (TheStreet) -- Has Obama, like most company CEOs, been set up to fail? Hopefully, that question is provocative enough for all leaders to question their current and future career moves as well as those who hire them.
As someone who has consulted with boards, as well as coached and been an adviser to CEOs themselves, once someone reaches this level, the stakes are too high to rely on resumes and charisma.
Many are now looking at President Barack Obama and wondering what's gone wrong?
To be fair, no one has ever been perfectly qualified to be a CEO, let alone CEO of the United States of America. Even in a corporate presidency, the qualifications tend to lean toward whatever is the pressing problem at the time. Whether the issue is innovation, crisis recovery, or growth we tend to look for experienced individuals in that specific area. If there is a collection of issues, the job and the appropriate candidate are much tougher.
To be sure, the ultimate goals of a CEO are two-fold:
1. The CEO must enhance confidence in the integrity of the firm; and
2. The CEO must strengthen the sustainability of the firm's ability to move toward its vision.
The greatest problem arises when we take a liking to a CEO candidate and begin rationalizing and/or overlooking inadequacies, negative associations, or past incidents that conflict with the defined qualifications for the position.
Why do we do this? Call it human nature and the complexities of interviewing:
A candidate may display a beguiling charm.
A candidate's background, personality, or skill set may be very similar to the interviewer(s).
There may simply be an unbridled optimism for the future of the position or firm without direct regard to the candidate's experience.
Perhaps interview fatigue has set in and there's simply an eagerness to settle for a candidate thinking he or she is the best we can hope for.
Time constraints may encourage the flawed benefits of a quick decision rather than a thoughtful one.
Regardless, a president -- and for that matter -- any and every hire is too important to base on a resume or a flashy interviewing campaign.
Hiring a leader requires much more. It's hard work. It's an alchemy of subjective and intuitive review. It's evaluating both hard and soft skills. Hiring a leader must be rooted in uncovering the applicant's values, style, and critical thinking that may enhance or detract from a new CEO's effectiveness in the position.
Here are six considerations for hiring a CEO:
1. Someone who is good at a few things may not be good at more, and certainly not all.
2. Charm is never an equal replacement for competency -- and vice versa. It's the company's culture, history, immediate tactical, and ultimate strategic needs that dictate the mix.
3. Never focus on someone's psycho/socio-economic/ethnic/gender graphics to determine failure or success. This is about finding a fit, not finding favor by checking a box.
4. Paraphrasing the infamous
Peter Principle
: Everyone hits his or her level of incompetence if promoted often enough. CEO may or may not be the next logical step for someone simply based on their longevity or background.
5. Absolutely clarify point-by-point expectations and measurements for the position's success. Ensure a minimum of two formal reviews in a new CEO's first year.
6. Regardless of the situation, if things aren't working out, the sooner you determine that and intervene with counseling, coaching, and corrective measure, or termination, the better.
Regardless of our stake/shareholder status, we are excited, nervous, or angry when there is leadership change. There is no in-between and yet, rational thinking suggests anyone/everyone in a new position be given a chance. The question is, "For how long?"
Performance and results should be the meritocracy that rules all positions, appointed, selected, or elected.
There is a classic conundrum of hiring the
right
person simply for the
wrong
job. The person may be a stellar choice but if their traits aren't exactly aligned with the position requirements, they inevitably fail. When that happens, the decision must be made to find a more suitable position for that person or dismiss him or her altogether. In a high profile C-Suite position, the latter is often the better choice, but it must be handled with a serious eye toward the consequences and a strategy to combat the ramifications.
Sadly the more insidious suspicion of this CEO set-up-to-fail scenario would be someone being placed in a position to demonstrate that a certain candidate or candidate profile is incapable of success. The latter is simply too cruel to contemplate for a company president and certainly for the Office of the President of the United States.
Vince Crew, is founder of REACH Development Services (www.REACHdevelopment.com). He has more than 30 years of Communications and Ethics experience and holds a master of science degree in marketing and communication, with an emphasis on "Leadership and Ethical Decision Making During the Lifecycle of an Organization." Vince is a national media expert on business innovation, strategic growth and leadership. He has been interviewed by Entrepreneur magazine, Fox Business Network, CNN, CNBC and more. Crew is the author of four books, including his latest, Everyday Ethics, Everlasting Consequences.